Less expensive XM Weather, Navionics Gold+ too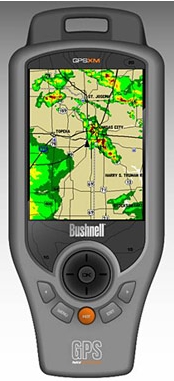 EliBoat made a good catch last week, spotting this Bushnell ONIX400CR GPS and XM handheld. The specs, as spied out by the sat radio blog Orbitcast, look impressive—waterproof, 3.5" screen, XM weather & audio, aerial and satellite photo overlays—and all supposedly retailing for $500 when the product ships in February. That's a big discount from the Garmin handhelds that offer this same great ability to carry your XM subscriptions from boat to car to house, etc. Mind you that Bushnell shows no interest in the marine market; its thing is hunting, as shown by its Web write up for sister product ONIX200CR. Still, I want to try one and see if it might make sense, even without nautical charts, as a boating accessory. This product, by the way, is an 'honoree' in the Wireless Peripheral category of the 2007 CES Innovations Awards, always a geekerrific list.
More good news on the cost of marine electronics front: Navionics is apparently going from XL3 to XL9 Gold+ chart cards, three times the area for the same $200 price. That's the whole East Coast and Northern Bahamas on one card, with full NOAA chart detail (unlike the Silver all-one-cards), plus "enhanced port services" POIs (flawed though everyone's may be), coastal roads, and a mail-in coupon for a free Fish'n Chip bathy card. This price drop is not on Navionics' Web site yet, and may not be effective until 2007, but Peter James of Jack Rabbit Marine has the scoop on his new blog, askjackrabbit.com. A blog by a guy who professionally installs marine electronics? Now there's some really good news.