Lowrance iWay features, coming to boats?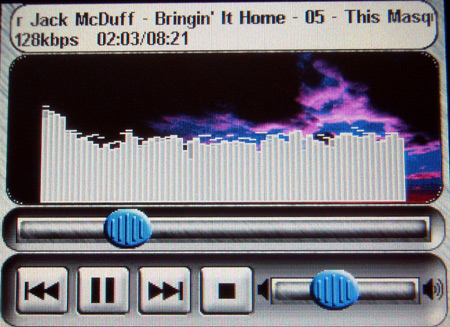 The music screen above is from a Lowrance iWay automobile mapping system. It has a touchscreen and a 20 gig hard drive—partitioned so that 10 gigs are for onboard maps, 10 for tunes. PC Magazine made the iWay its Editor's Choice in a May roundup review that included units from Garmin, Magellan, and Navman. I just came across it and was reminded of how Darrell Lowrance enthused about touch screens for multifunction marine displays during a press conference at the Miami Boat Show last winter. Lowrance's best 2005 plotter/fishfinders are already similar to the iWay series in many aspects, like the hard drive; will they get touchscreens and MP3 players next year? There's a ferocious competition going on to be a dominant player in the car plotter market, which has got to explode at some point. What are the manufacturers learning and developing that might migrate to boats?
I hesitate to report RUMORS, but given that strong caveat, these seem worth a "head's up": supposedly Lowrance's NMEA 2000 GPS sensors have trouble with radar transmissions, and supposedly its NauticPath marine charts don't properly show obstructions that are awash between high and low tide. Mind you, these are only rumors and, even if true, may have been fixed already or are about to be.