Lowrance XOG, first impressions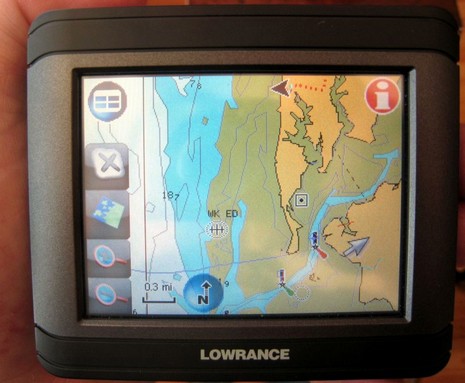 I've actually been testing Lowrance's XOG for months now, and have become quite a fan. Primarily it's a touch screen car navigator with voice directions and two gigs worth of Navteq street maps (U.S. and Canada) and three plus million POI's built-in. But it's also splash proof and can display all sorts of Lowrance and Navionics cartography on preprogrammed SD cards, or downloaded to your own card from www.map-select.com. What you're seeing above, and bigger here, is an older Navionics Silver card.

It is shallow around here, but there's not quite as much low tide mud flat as shown. The Garmin BlueCharts and NOAA rasters I have along do show better detail, here, but I'll bet a Navionics Gold card, and probably a Lowrance NauticPath, would too. In most places I've tried the Silver card, the detail is fine, and XOG understands and displays all the underlying info—like tide and current icons and marina details—fine. It's screen is quite bright but is not transflective, so when out in the sun you have to make it some shade. There are some annoyances—like it doesn't know nautical miles, and it takes a couple of menu taps to switch from street maps to charts—but overall the interface is decent. And the auto navigation is quite good. Like check below how it had the POI for my new office at the Great Machipongo Clam Shack, and calculated a route even from down a long driveway. More later.