Maritime Robotx Challenge & the WAM-V USV, heads up!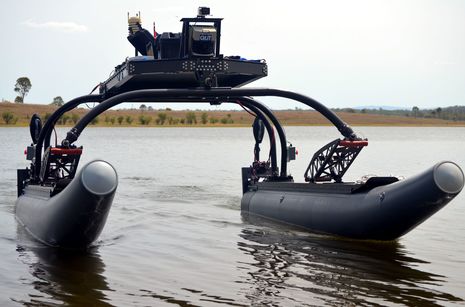 Right now it's possible to come upon an unmanned surface vessel (USV) like this trying to navigate waterways all over the world, though rest assured that there will be a boatload of attentive geeks nearby. That's because fifteen student/professor engineering teams from five countries have been given a basic 16-foot WAM-V articulating catamaran to which they are adding propulsion and control systems for the upcoming Maritime RobotX Challenge in Singapore. The contest strikes me as a great way to accelerate robotics development, but of course one eventuality would be unmanned vessels roaming the coasts. In fact, that may already be happening…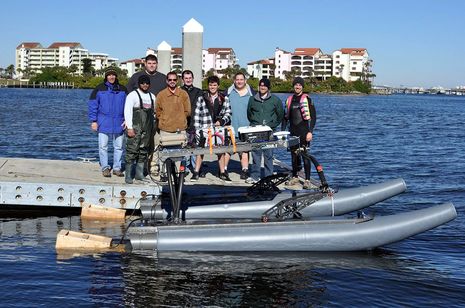 The Team QUT USV in the top photo is being prepared in Queensland, Australia, while the Embry-Riddle Aeronautical University team above is in Daytona Beach, Florida. I have no idea what those wooden "outdrives" are about, but I have learned that the big red kill switches on the cross beams are required so that a manned support vessel can come alongside and disable an unruly USV. A redundant and more elegant wireless kill switch is also required, suggesting that unruliness is to be expected.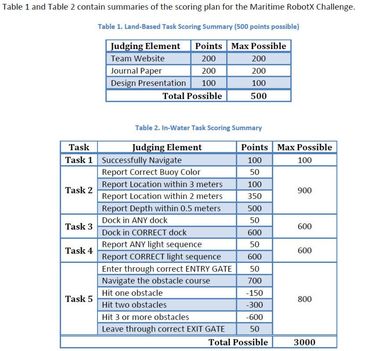 One reason the team websites are fun to browse is that they are one element in the Challenge judging, though the big points get earned for robotically reporting location, accurate depth, buoy colors and more, while negotiating a course. 600 points also go to a USV that can maneuver to the "CORRECT dock," though teams get 50 points for making "any dock" (kind of like cruising :-).
Incidentally, the AUVSI Foundation organizing this first ever event already runs annual RoboBoat and RoboSub contests. What's noteworthy about Maritime RobotX — besides the focus on electric propulsion and robotic control — is that the U.S. Office of Naval Research stepped up with the "boats" and grant money. Go Navy!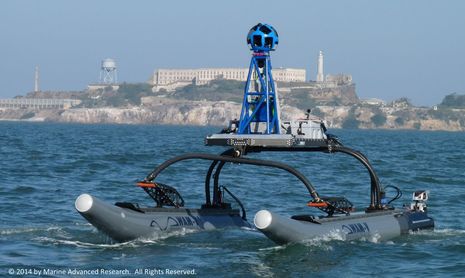 Marine Advanced Research — developers of Wave Adaptive Modular Vessels (WAM-V) — is based near San Francisco. In fact, the company and chief designer Ugo Conti got some Panbo attention in 2007 with a large, wild-looking manned WAM-V called Proteus. The 16-foot unmanned WAM-V looks tame by comparison, but also seems practical for many tasks. And yes, that is a Google "street view" camera mounted on one above…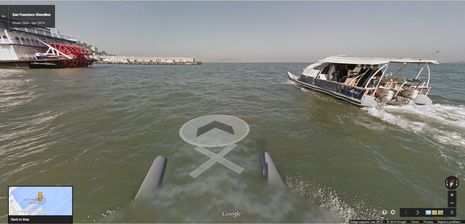 The Google Maps WAM-V footage is pretty limited so far, but still a neat way to see some of the SF waterfront. (It also pairs well with the "street view" of a research vessel once docked here). But I'm pretty sure that the odd RIB I screen-captured above is making sure that the USV doesn't get itself into unmanned trouble. How, for instance, does a USV handle right-of-way situations? Maybe that will be part of another Maritime RobotX Challenge in 2015? Meanwhile, it will be interesting to see how things go in Singapore starting on October 20th. They even have a cool logo.