Geeks win America's Cup 34, Larry E. & Oracle Team USA also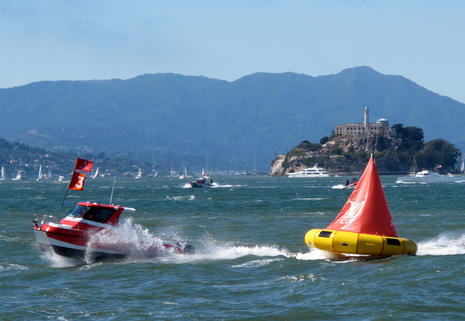 "Pretty cool…ESPN says one of the greatest upsets in sports history!" my brother-in-law emailed me last night, and he's a guy who knows who pitched World Series games decades ago and how well, but bupkis about the America's Cup. Yes, indeed, AC34 was incredibly unpredictable and exciting, but I'll argue that the winners all along were the teams who made the race management, umpiring, and broadcasting so innovative and so effective…
Consider, for instance, those huge floating race marks that showed up so well on TV and must have been easily visible to the racers even as they flew at 40 knots with gale-like spray in their faces. Remember that they were supposed to be 42-foot mark/VIP boats (Dan's Panbo profile here) with Volvo Penta dynamic positioning so that race management could modify the course easily. Well, "easily" if you've put together amazing telemetry and data communications systems and the ability to push course changes out specially modified Garmin chartplotters on all the support vessels (Panbo committee boat visit here).
   But the Artemis accident forced new safety measures including the decision not to put humans at the race marks, and AC Race Management (ACRM) apparently designed, sourced and built those floaters in three weeks. They are, in fact, giant megayacht-toy-style inflatable trampolines equipped with some sort of pyramid structure and a telemetry/comms pack so that ACRM, the umpires, and the LiveLine coverage would all know precisely where they were. I'm told that they're quite comfortable inside, but a bitch to anchor and/or move in San Francisco Bay.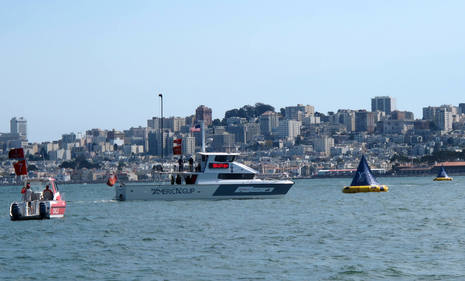 Nonetheless, a few nattering nabobs of negativity at Sailing Anarachy still complained about how the ACRM aboard Regardless (above) could have changed the course, so that some of the cancelled races had run. But note who didn't complain about the race management or the umpiring. The racers themselves neither complained nor argued, and I think that's one key to why this event was so compelling (though perhaps not obvious unless you've suffered through contentious AC events).
   So how about a big hand to AC34 uber geek Stan Honey (Panbo profile here) and team members like Eric Steinberg (Panbo profile here) and many others?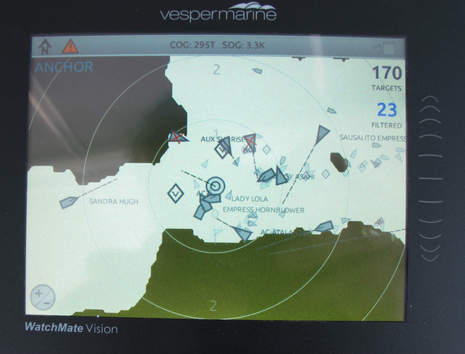 You may notice that most of my writing about AC34 dates back to the ACWS event in San Diego almost two years ago (thanks again, Garmin). However, it's largely the same tech team who ran the AC72 series in San Francisco and they clearly had their systems down. Heck, the umpires didn't even need Eric's tricked-out PWCs anymore, and I never once saw the impossibly complex Liveline overlays go out of register with the real and fast action on the Bay. (While the system wasn't very useful in the fog, in my book that was only validation that Honey is not actually a god and was genius to keep the Virtual Eye system in reserve 😉
   Before I got to visit the ETNZ compound two weeks ago, ACRM had not only dealt with issues like the floating marks, but had also added goodies to the system like those virtual AIS spectator boundary buoys seen on the Vesper Vision screen above…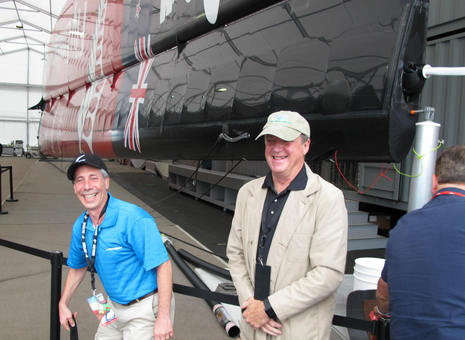 The giggling geeks above are myself and Vesper founder Jeff Robbins (and note the video and audio microwave link antenna at the top of ETNZ's wing). Jeff had worked with Stan Honey so that a single Vesper virtual AIS beacon transmitter (Panbo detail here) could not only place a row of virtual beacons along the spectator "fence", but Stan's course management system could automatically move them if and exactly when the course changed.
   There are many AC34-happy geeks around. At the NMEA Conference exhibit hall opening last night, for instance, the USCG's AIS guy, Jorge Arroyo, was excited to talk about the virtual beacons and also the AIS-transmitted geographical boundary notice that Robbins and Honey trailblazed for the USCG (unlike the virtual beacons, most AIS displays — even Vesper's — couldn't see the lines, but they were there). Jim Dodez was also excited to talk about KVH's several contributions to the Honey system and how it may have value beyond future sailboat racing.
   All of this is not to say that Larry Ellison and Team Oracle didn't do outstanding work. This is how I ended my Yachting article about AC34 technology and I planned to quote it even if Oracle had lost.
Larry Ellison may be one of the most competitive guys on earth, but wouldn't a second Cup victory be sweetest if won on an ultrafair playing field in front of a huge crowd? In fact, I think Ellison may become a boating hero, not for winning the Cup once, twice or more, but for making it a truly great sporting event.




Finally, here's a shot of Oracle beautifully losing race 2 on Sept. 12, when I was not the only one who thought that New Zealand had the Cup wrapped up – deservedly, too. I hope you agree that Larry and his teams of sailors and geeks still would have been winners.