METS 2012 show report part 2: NMEA 2000 related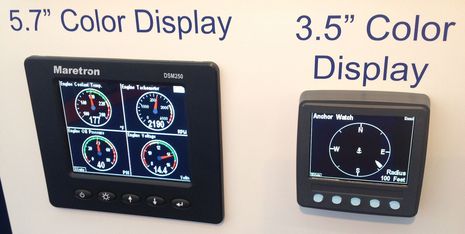 In part 2 I'd like to talk about the items related to NMEA 2000 in some form or fashion. Actually it's becoming hard to find a new marine electronics product that does not have an N2K interface! From batteries to sensors, they all seem to grow a NMEA 2000 interface. Lets start off with the better known specialists first. Maretron had a lot of gear that I hadn't seen before like a very new 3.5″ color display, unnamed as of yet, that is essentially a smaller version of the DSM 250. Not only does this fit in better with the 110 mm displays from other manufacturers, I thought the screen actually looked better as well because it has the same amount of pixels at higher DPI. Thus it gets rid of the slightly grainy display that I felt let the DSM 250 down. It probably also uses less power too…
If you like a big, high res display Maretron now also has new outdoor versions of the DSM 800 in the TSM 800 (8″) and TSM 1330 (13.3″) vessel monitoring displays running N2Kview. Note that although these devices are nominally generic computers they are dedicated N2Kview displays.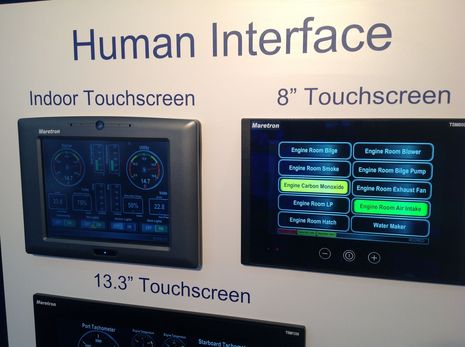 Maretron's VP of engineering, Frank Emnett, also gave me a demo of the Windows software they are developing that accompanies their VDR100 vessel data recorder. Like flight data recorders it is colored orange so that the box and data can be retrieved after an accident. We agreed that this wasn't the most likely use though — this product is very much oriented towards charter operators or other fleet owners that want to be able to see what has happened in the boat. Frank gave an example of a charter operator that found out that its customers were siphoning off fuel, and that could now prove this because the VDR100 showed they hadn't been using the engine as much as they said.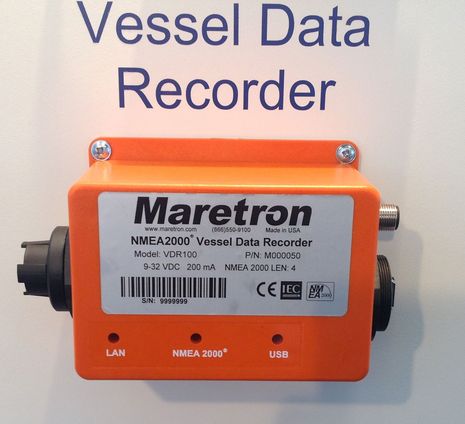 Actisense announced that the EMU-1 engine monitoring unit will be ready soon. The hardware has been ready for a while, but apparently they got stuck with trying to put too much functionality into the microcontroller that they were trying to use for this, and have now upgraded to a newer chip that will allow them to speed up development. Let's hope they do, because what I heard regarding their solution to calibration sounded quite useful.
As an engine monitor measures analog values or speed pulses it needs to translate these into digital values that can then be shown on our displays. But who knows how many pulses of a sensor form one rotation of the engine? Maretron "solved" this by limiting their EMS100 to a number of Yanmar engine ranges. Noland "solved" this by letting the customer figure it out. Actisense proposes to build an online database, and will supply programming software that will use that data to program your onboard recorder. Maybe they could also use crowd sourcing whereby a user who has an engine that is not in the database yet can easily upload this data into the database? They also announced an end-user price of GBP 295, with international pricing to be determined still.
Ben wrote about Offshore Systems (UK) no longer being just about N2K tank sensors last May, but still I was amazed how much their product range has grown. They seem to be developing a large number of products that are catered to the boat builder, like a NMEA 2000 to MODBUS interface which makes navigation and sensor data available to PLCs, a J1939 interface and a DC switch input module. The fact that most of these are meant to be 35 mm DIN rail mounted also points towards the professional market.
Another promotor of AIS and NMEA 2000, and thus very much in my favour is Vesper marine. Last year they showed the Watchmate Vision, an AIS collision avoidance screen with a color touch screen, and a AIS transponder with WiFi built in. As usual with these things it has taken a while for them to get these products to the stage where they are now ready for sale. The Vision is now FCC and NMEA 2000 certified, and can be released for worldwide sales. The production run has started and they should be shipping before the end of the year, so if this is what you have been waiting for this could be a great Christmas gift! The list price is $ 1249, so I imagine not everyone will find one in their stockings!
The XB8000 AIS transponder with WiFi is the 'headless' version of the Vision. The XB8000 is also FCC and NMEA 2000 certified, has been shipping for a while at a list price of $ 799 USD. The most interesting features of these devices, and at the moment the most unique, is the flexibility and functionality that Vesper puts into the WiFi Ethernet connection. These can be configured to set up their own WiFi network, allowing PCs and tablets access to the AIS data. If you already have a wireless router on board they are just as happy to join that network and send the AIS data out on the existing network. Furthermore, they are also capable of translating NMEA 0183 to and from NMEA 2000. The specific PGNs supported for this is growing via software updates. This means that you can do not need any WiFi transmitters other than this, and your tablet applications such as iNavX will happily show sensor data translated by the Vesper device. That data can arrive at the Vesper over the NMEA 2000 interface or directly from its NMEA 0183 input.
As usual the Vesper marine products seem very well thought out and they seem to be continuously coming up with better solutions. Bravo!
The power company with the telltale "blue" color scheme had a number of novelties to show. There was the world premiere of a new Blue Power IP67 battery charger that is completely sealed thus making it more robust and easier to install. As a gimmick they had frozen it into a large block of ice, but I did not attend the party where it was supposed to be dug out and then started up! These will be available in 12V with 17A and 25A capacity and 24V with 8A and 12A, and look like excellent chargers for smaller boats.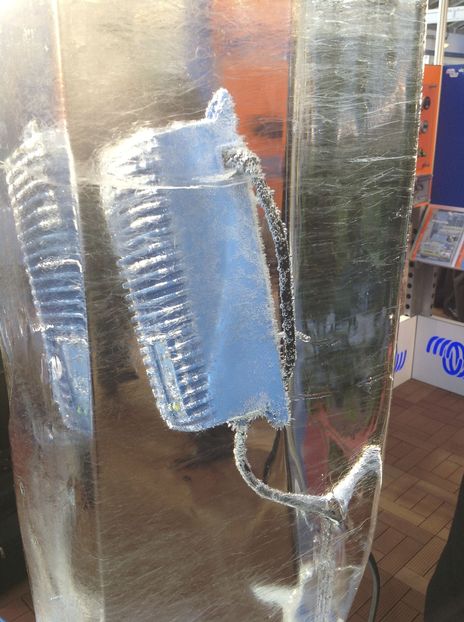 They also showed off Lithium batteries in two sizes, smaller 12V / 90 Ah and bigger 24V / 180 Ah. As with Mastervolt you can't just buy the batteries but you need to obtain a complete system that makes sure that the batteries are not overcharged or discharged too far.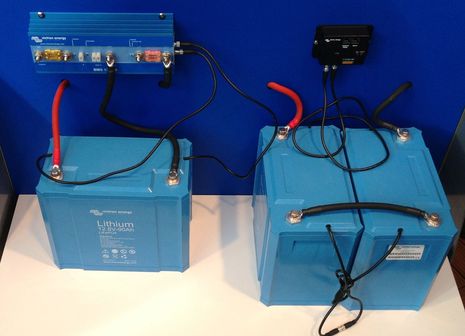 As a last note I'd like to point out that Victron seems to be moving over to using standard NMEA 2000. The newer products use NMEA 2000 / CANbus directly whilst there are interfaces to the older VE.Net CAN devices, as documented here.
I already talked about the new Qbox in METS part 1, but Mastervolt had two other things that interested me. First is a refresh of their Lithium batteries. Version 2, called the "Ultimate", has an improved battery management system mounted onto the battery itself. It is also mounted in such a way that it becomes easier to install these batteries on their side, and the BMS is now IP rated against water ingress. The final classification is not known yet, but the idea is that you can mount these in sloppy bilges.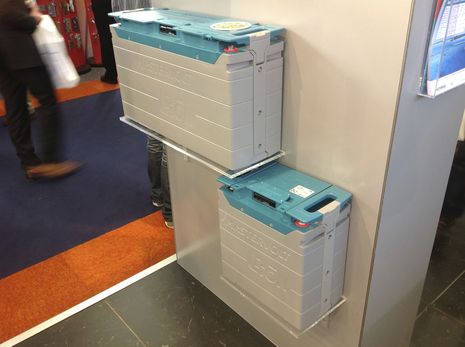 The other development is something that I've known about for a while since I'm supposed to get one Real Soon Now, and that is the successor to the Alpha Pro charge regulator. This will have a MasterBus interface, making installation easier especially if you use the Lithium batteries, as the "Stop Charging" message coming from the battery can now be processed directly by the charge regulator instead of requiring an extra interface box.
With regard to networking it looks as if Mastervolt is sticking with their private CANbus named MasterBus, with explicit interfaces to NMEA 2000 and to/from Czone, although the latter interface is still not on the BEP or Mastervolt websites. A good subject for a future post!
At METS for the first time, LCJ Capteurs is a French company that specializes in measuring wind using ultrasonic waves. They have been doing this since 1999, and are now ready to move into the marine electronics world on their own. Previously they focused on the French market, and mostly did their international business as an OEM producing devices for other companies. Under new management they plan to expand internationally in 2013 including the USA.
Their CV7 wind sensor has improved directional accuracy, 2 degrees instead of 10, over the OEM product sold elsewhere. They also have a racing version, the CV7C that has a higher data rate for racing purposes. And completely new is a conversion box that converts the NMEA 0183 stream produced by the sensor into NMEA 2000.