FLIBS 2012 redo 2; Garmin, Navico, Furuno, Standard Horizon, Lumishore, ACR, Yacht Phone, & Si-Tex/Sailor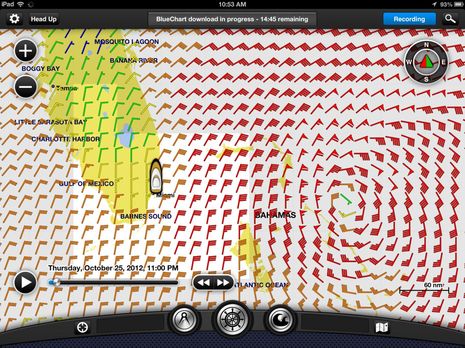 I didn't really need an app to know that Sandy was causing trouble on the opening day of the Lauderdale Show, but I was tickled that Garmin loaned me an iPad3 so I could try BlueChart Mobile (which apparently can't run on my iPad1). It's beta software — as is the WiFi appliance that let's you share tracks, routes, waypoints, and GPS with Garmin networked MFDs — and so they'd rather I didn't write much about it quite yet. But here's a recent and informative BlueChart Mobile YouTube video that goes with my first impression that it's a rich and well-crafted planning app that will be popular even with folks who don't own Garmin gear. Meanwhile, rumors that Garmin will have major product introductions at both METS and MIBS continue to gain steam…
I also used the new iPad to take photographs and tweet them during the show, but I've realized that Twitter entries like that don't do the photos justice and don't hold up over time. That's why I'm republishing the photos in these "redo" entries, along with new ones like the shot of the new Lowrance HDS-12 Gen2 Touch below. I was glad to see that it includes the variable window sizing that I've found valuable on earlier HDS models and on the Simrad NSE (and that I wish was available on the Simrad NSS and other MFDs). I also like how touch has made Lowrance's standard and extensive numeric data overlay features even more flexible and easy to use. After over 1,000 miles of intensive MFD use, I'm even more appreciative of MFD designs that let you build customized favorite screens that put graphic and numeric data just where you want it. Entry to come!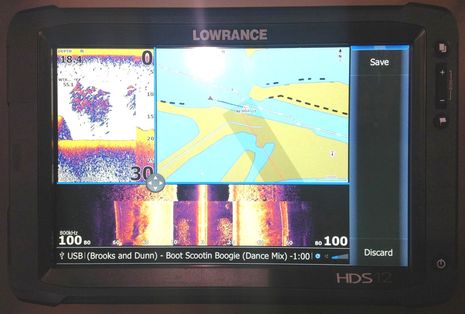 I also saw an impressive demo of Lowrance's recently announced Insight Genesis map making system, which is now up and running online. I hope to try it soon and am also looking at the Navionics crowd-sourced soundings system, which is about to emerge from beta testing. It looks like it's about to get a lot easier to collect depth data either for your own benefit or to share with fellow boaters…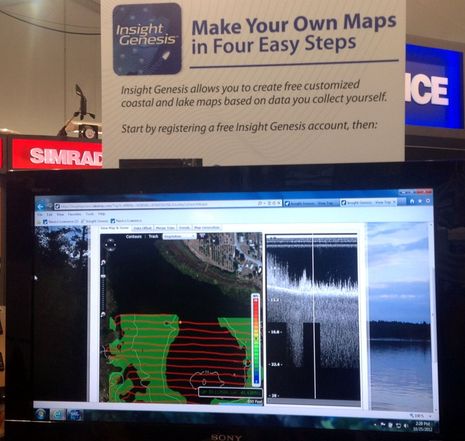 Below is a shot of Furuno's Matt Wood demonstrating a slew-to-cue FLIR thermal camera feature that's coming to the NavNet TZT series. It's very similar to the FLIR M-Series camera support added to MaxSea TimeZero in 2010, but it's noteworthy that the relationship has continued even after FLIR became a competitor by acquiring Raymarine. However, this was FLIR's multi-channel business strategy all along, as mentioned when we looked at Raymarines's new slew-to-cue features.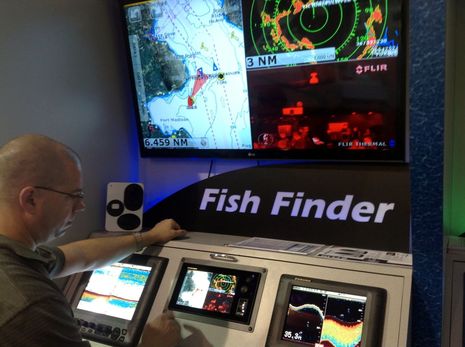 Furuno also showed off a prototype black box TZT which is essentially the back side of TZT14 bolted to a mounting plate with added USB and HDMI ports to support two (mirrored) monitors; it will purportedly sell for less of a premium than the NavNet MFDBB does. And finally there was an interesting new GP-1850F plotter/fishfinder on display though you had to look for it. Apparently FurunoUSA hasn't really introduced the series yet for lack of inventory, but it struck me as a nice display of long-awaited Jeppesen C-Map 4D cartography, including the auto routing I saw on a GeoNav MFD the year before. (Sorry to add that the GeoNav brand has been discontinued, though Humminbird plans to include some of its features in future models.)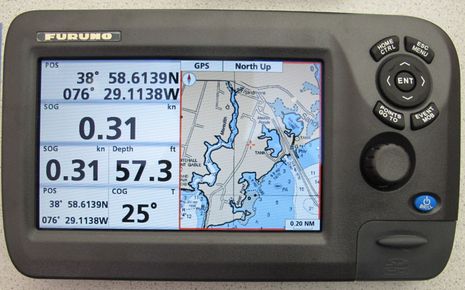 Another implementation of C-Map 4D is the Standard Horizon CPN series, which again looked good in a boat show display but has received little marketing. Word is that its NMEA 2000 capabilities will soon be unleashed with a software update and then SH will push to get it out there more.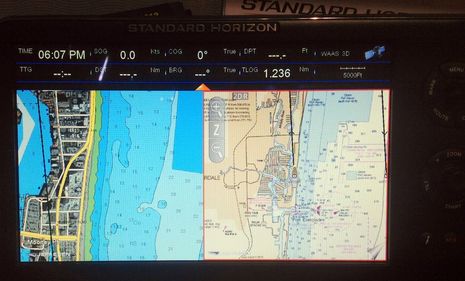 I did see more at FLIBS than just MFD screens. For instance, I finally spent some time with Lumishore underwater lighting, and came away thinking that the company is similar to Lumitec in the sense of outstanding LED technology at reasonable prices. By the way, after FLIBS I installed a sample Lumitec 6.75-inch Touch Dome interior fixture and it's everything I'd hoped for. And now that Gizmo is down south, I feel freer to use her OceanLED Amphibians without offending someone 😉 Can't we all just get along on that subject?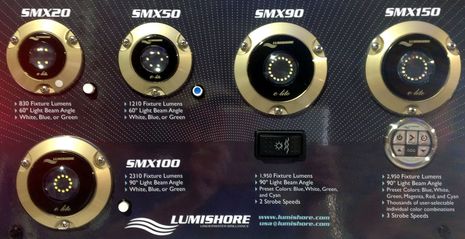 I also learned that ACR has started Survivor Club where folks who had to use their distress beacons can share their experiences. I'm hoping that there or elsewhere we'll learn more about the details of the remarkable USCG rescue of 14 Bounty crew, during which an ACR Satellite 2 EPIRB served well.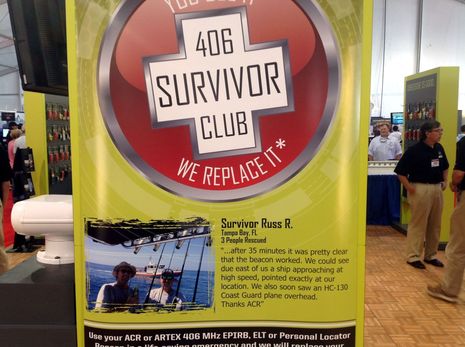 I was pleased to learn that Si-Tex is now distributing the Sailor 6216 VHF radio in the U.S. It happens that I've tested this high-end radio and was very impressed with its performance and especially its best-ever "rewind" recording feature. I never wrote about it because U.S. distribution remained mysterious, but I'll fix that soon…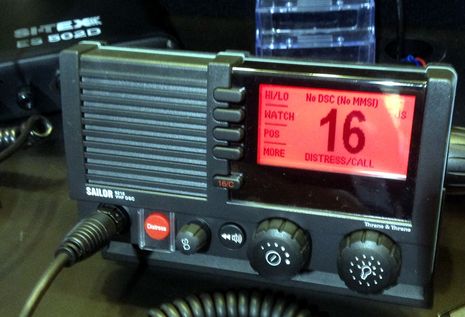 And, finally, one of the busiest spots in the FLIBS electronics tent was an exhibit for the new Yacht Phone, a little $99 handset meant for use when your smartphone should stowed in a safe place…or for use after your good phone gets dunked 😉 I have a test unit, so more to come.