MIBS CZone tour, enabling the car-like boat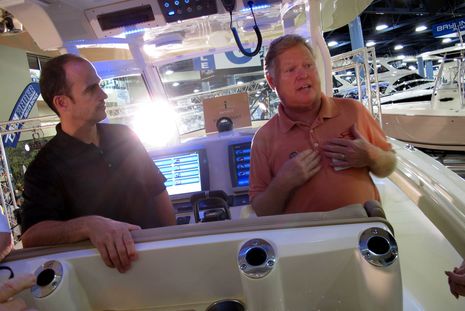 In Miami Actuant Electrical invited a few boating writers like Ed Sherman, Steve D'Antonio and myself to tour several production boats that have chosen to use BEP CZone distributed power and digital switching systems. A highlight for me was getting to hear the founder of Scout Boats explain why he would do such a crazy thing. I joke of course — and there's an argument that you have to be a little nuts to build boats anyway — but Steve Potts (seen to the right of BEP's Jarrod Sagar above and interviewed here in Soundings) made a compelling case for why systems like CZone are critical to creating boats that truly satisfy modern customers…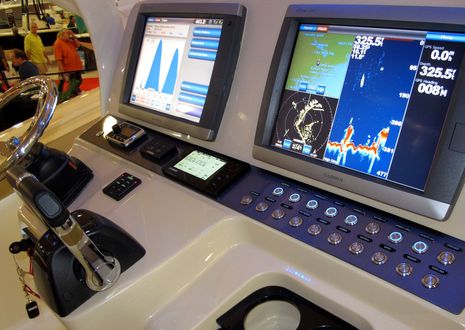 A key feature of the Scout 320 LXF is that little BEP Wireless Remote hanging on the key chain above. Because it can integrate with CZone and because one section of the 320's CZone system is set up to stay on 24/7, the owner of this boat will be able to tap the remote while walking down the dock and the boat will be ready to go when he or she gets there. Which is probably similar to what he or she experiences when approaching their automobile or even their house. Potts said that many of his potential customers simply expect this level of automation and ease-of-use these days. (It's an expectation I too am acquiring; after putting 5,000 miles on my new and highly automated Ford Escape Titanium, I found myself annoyed last night when I realized that my rental economy car wasn't smart enough to turn off its headlights while I bought provisions in a Myrtle Beach supermarket 😉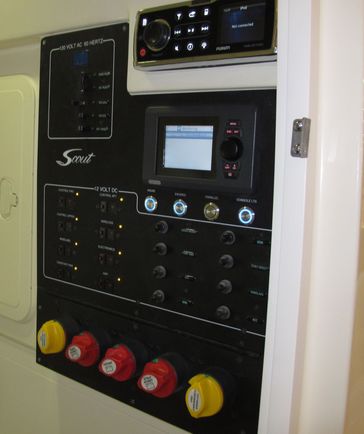 On a more traditional boat, the user would probably need to mess with the main panel above at least before and after a session underway. But those are BEP motorized battery switches that can be managed in many ways by CZone, and often the owner might only visit here to dock an iPod or iPhone in that Fusion MS-IP700 (that I'm long testing on Gizmo). Note though that there are some normal mechanical circuit breakers for certain loads like the windlass, and also that this non-digital switching can be mixed neatly with all those buttons that mostly activate CZone circuits from the helm. In other words, a builder doesn't have to completely commit to CZone, though the commitment is major…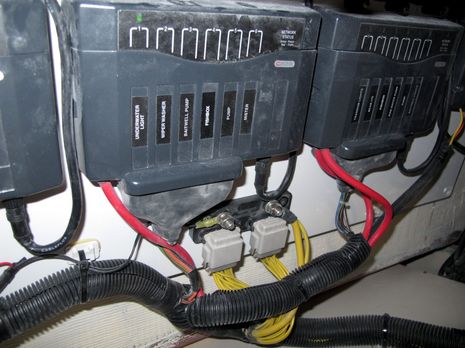 I took the shot above by sticking my camera through a transom access panel and it shows distributed power in action. You can see the red positive feed from the main panel and battery banks to two CZone switching modules, as well as the NMEA 2000 drop cables that control them. All those smaller positive DC feed wires and the neatly ganged yellow grounds represent cabling that is not going all the way to the main panel in the traditional fashion. So lots of wiring weight and hassle are avoided while those digital circuit breakers can be controlled in infinite ways and can also monitor the passing current (as can the Maretron DCR100 I just installed).
In fact, BEP claims that once a builder gets in the CZone groove, the total system and install cost is similar to conventional wiring systems and thus all the digital features become 'free'. But, wow, imagine what a change it is on the shop floor and what a huge headache it would be if such a system developed recurring issues and had to be entirely replaced. Which has happened with more than one distributed power scheme, at least according to the rumor mill. Ed and Steve naturally had lots of good questions about professional and owner troubleshooting; it's obviously harder but we were assured that these boats will have a manual identifying all the individual CZone circuits and how you can bypass the digital switch by simply moving a blade fuse.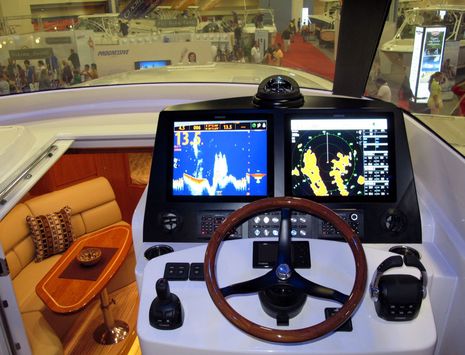 At any rate, I found it impressive that BEP could show us not one but three CZone-using manufacturers who were exhibiting at the main MIBS location. That's the helm of a new, and quite sexy, Jupiter 41 Express above and, though I wasn't able to change the screens on those Simrad NSO monitors, I know that all sorts of CZone features like lighting modes are integrated in (as discussed before on Panbo). And while I didn't get any photos and the company doesn't say much about it on their web site, I did see several high-end YellowFin center consoles that were all touch screen and CZone. I also heard company president Wylie Nagler express deep commitment to the system…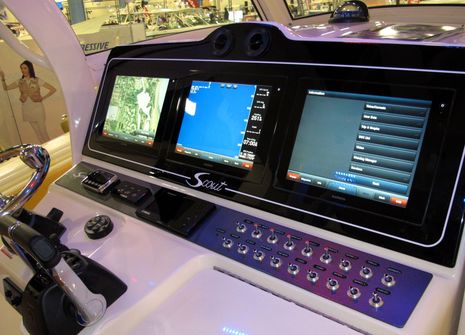 Because I photographed the helm above on a separate visit to the Scout Boat exhibit, I don't know if it too has CZone (the boat was too busy for me to poke around). But digital switching certainly would go nicely with ease-of-use features I saw briefly on those new Garmin 8000 MFDs; SmartMode is the similarly activity-oriented equivalent of lighting modes, for instance. And I did get a chance to ask Jarrod Sagar if BEP was working with other MFD manufacturers besides Simrad; he was a bit reserved, saying that "We are working with Simrad for now, but as the integration between MFD's and digital switching becomes mainstream then both parties will need to look at other options. The technical challenge to get different systems working together is not insignificant." However that goes, CZone's apparent success with builders plus Raymarine's entry into digital switching makes me think that the technology has turned a corner.

Oh, and will there be a CZone app that brings its monitoring and switching abilities to smartphones and tablets (as N2KView does for Maretron/Octoplex systems)? You bet! We saw the demo below, boatbuilders will start working with it in May, and the finished app is scheduled to debut at next fall's IBEX show.