Nauticast B, the hardware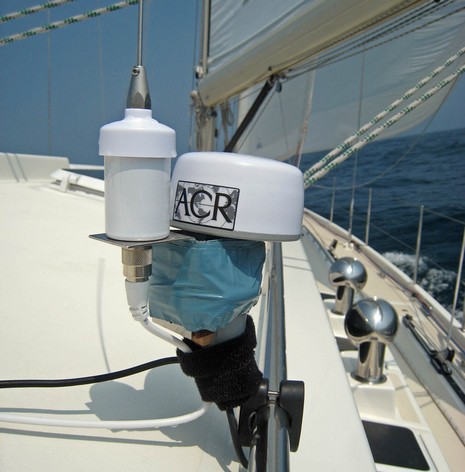 Apologies to ACR and Visions of Johanna! But here's how I used duct tape and hose clamps, those old quickie install standbys—plus a new favorite, velcro tape—to marry the Nauticast B's AIS tuned VHF antenna with its GPS antenna so I could secure both with a single rail mount. The antenna duo are not as compact or elegant as Y-tronic's combo, but they seemed to work well. It's also worth noting that while both come included in ACR's $1,180 kit (still not approved for sale in the U.S.), you can use your own GPS source or your own VHF antenna (and you'll find that the Nauticast B's PL258 VHF connector is more the norm in the U.S. than the BNC type).

Also note in the earlier hardware shot that ACR includes both a standard DB9 PC serial connector and an RS-422 lead so that both a plotter and a PC can receive GPS and AIS info simultaneously. Plus there's a lead for a switch which can be set up to either activate silent mode or send an SRM (safety related message), both of which can also be done using the included Link2AIS software. I now also have a True Heading transponder in the lab and though I can't try it yet, I will report on its particulars soon. Meanwhile, behold below my little geek corner in VoJ's pilot house, where I not only had the Nauticast B and CE going, but also Iridium data communications and a backup GPS logging the trip. Almost as powerful a mobile set up as Skip's bag!