Navico's numbers, should you care?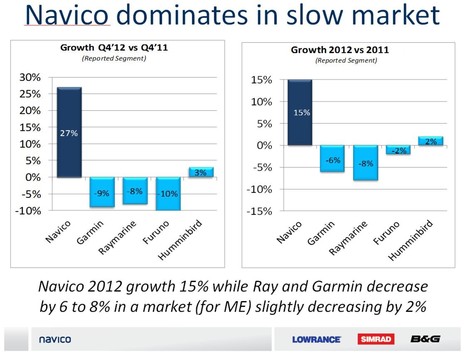 As a privately held corporation Navico doesn't have to reveal anything about its financial state, but last week it issued a proud press release claiming a dramatic 15% sales increase in 2012, which resulted in revenues of 256 million dollars and EBITDA earnings of 41.4 million. And at the Las Palmas B&G event, the mother company added some claims about what their numbers meant versus the competition, as seen in the slide above. Is Navico painting a fair picture of where the recreational marine electronics market is at? Does it matter to consumers anyway?
Well, when I asked Navico's CFO how confident he was about his competitor's sales figures (apparently gathered in several ways), he first said "80 to 90 per cent" and then "let's just call it 80." I also passed these slides to a well-informed industry observer who'd already checked out the press release, and she (or he 😉 believes that Navico's numbers are quite realistic except that "Furuno didn't do as badly as that" (and also that Furuno's commercial marine electronics division has been doing great). But let me be clear: If any company doesn't feel fairly treated by Navico, please speak up or contact me directly, and feel free to include your own charts for possible addition to this entry.
Should you care about business news like Navico picking up market share, at least in the short term? My answer is yes but not too much. When I recently created a Trawler Fest seminar about the state of primary navigation systems I made the case that we're no longer just buying a product — bolt it down near the helm and use it until it's done — we're choosing a primary electronics company to move forward with. There's a good chance that a system you buy today will already have a software update available by the time it gets installed, and it's reasonable to hope that the system will continue to get improvements and bug fixes for a long time, not to mention new integration options like digital switching (Raymarine Miami 2013) or forward looking sonar (Garmin Miami 2012). Trends toward interoperability like NMEA 2000 and easy tablet integration ease the pain, but nonetheless choosing your primary system is becoming a bigger and bigger decision.
As an occasional stock investor, though, I'm more interested in stories than numbers, and right now it looks to me as if the plot lines at all the major manufacturers are moving along nicely. Sure, Garmin's marine division may have had a tough 2012 — what with the camera disappointment and no other major releases — but no competitor is counting them out, that's for sure (and they all wish they had The Watch). And I suspect that Raymarine's sales decline is simply a hangover from the time when it was on the injured list (which was once occupied by Navico), and that consumers are realizing how irrelevant that's become. What I see is a Big Four in saltwater marine electronics which have all streamlined their operations with unified development, (fairly) efficient manufacturing, and global distribution, a Big Four which is now surfing a giant wave of innovation and integration. Today's consumer can't go too far wrong, in my opinion, though I still encourage lots of research to get the system best suited to one's particular style of boating and gizmology.
I surely look forward to the comments that will follow, but let's first consider a larger point evident in these claims. Recreational marine electronics really is a "cottage industry" as the insiders joke. If Navico's 256 million in 2012 revenues is "more than 30% market share," doesn't that mean that the five largest manufacturers (freshwater-oriented Humminbird gets included) took in about 825 million? Heck, my local semi-rural health conglomerate has revenues well about 100 million. And consider, say, the iPad, which had sales of 10.7 billion dollars during the last quarter of 2012. Yes, if my math is correct, essentially one consumer electronics product (iPad models aren't much different) generated revenues of 839 million dollars per week, more than the five leading marine electronics companies generate in a year. The next time you get miffed because your navigation system doesn't update itself as easily as a Mac, shouldn't you consider the numbers?