Navionics NavPlanner2, from Fugawi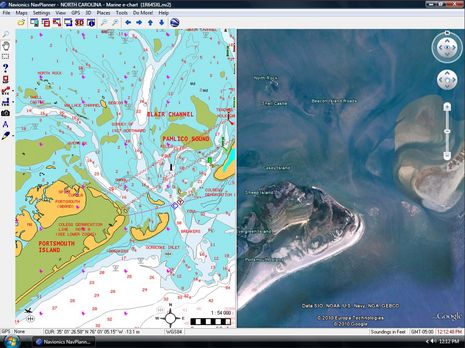 I've always liked the idea of route planning software, but Navionics NavPlanner was somewhat troubled from the start. Hence it seems like great news that Navionics dumped it entirely in favor of a partnership with Fugawi, leading to this recent joint announcement of NavPlanner2. Fugawi figured out how to present Navionics data well years ago, and then went on to produce the excellent Navionics HotMaps Explorer. Judging from the NavPlanner2 screen shot above — which shows off Google Earth synchronization — it shares a lot of code with the HotMaps lake planner. But NavPlanner2 has many added features…
For one thing, the $129 NavPlanner2 comes on a DVD with Navionics Gold charts of the entire U.S. plus the Northern Bahamas, and a card reader that can access all data on any current Navionics format card you may already own. In fact, my experience with Fugawi ENC suggests that this new software may give better access to all the extras on a Platinum or Platinum + card than your plotter does. Plus it has place name searching and GRIB weather file overlay facilities. Plus, it includes even more U.S. freshwater data than HotMaps, with all of Navionics High Definition lake surveys (like my Lake Megunticook).
Now, you can't navigate on this massive portfolio of charts and maps, but you sure could do a lot of planning on it. Then you can transfer routes to most any plotter via cable, card, or Internet. Note that I said any, because NavPlanner2 supports not only all the formats used by Navionics-based plotters but also GPX, KML, and others. And it can be used with Fugawi's X-Traverse to transfer data online with iNavX or iMap on an iPhone or iPad, Facebook, and more. And all the transfers are two way, so you could conceivably use NavPlanner2 to collect and enjoy tracks you made on all sorts of devices.
Fugawi has a good run down on NavPlanner2 here, but Navionics also has a downloadable user guide here (with detail on many plotter relationships). The only question I haven't seen answered yet is the possible upgrade path for original NavPlanner owners who already have the Navionics card reader. I'll ask, and also try the software when possible. It's already shipping supposedly, and I hope other users will report in.