Vexilar T-Box WiFi fishfinder & Navionics SonarChart Live wow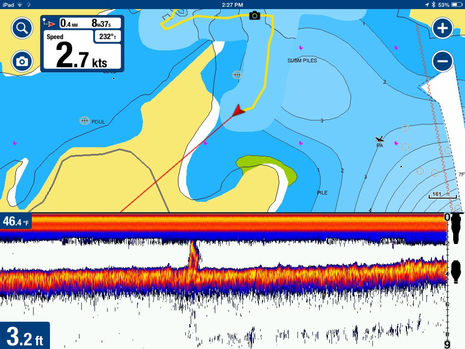 This mid-January screenshot represents a very pleasing experience in marine electronics testing. Thanks to a Vexilar SonarPhone T-Box SP200 and the Navionics Boating app I'm cruising around in my 9-foot dinghy with more than just charting and a fishfinder. I have access to three different chart formats plus a live SonarChart being created as I move along, and the data I'm collecting will be available to my fellow cruisers a week or two later. It sounds exotic, but the total cost was about $250 (iPad mini excepted), installation was fairly trivial, and it all worked quite well right out of the box.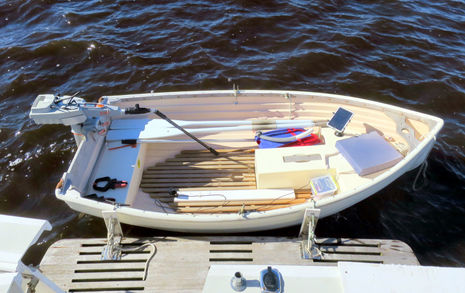 Here's the tentative Vexilar test setup on Gizmo's tender, which had just been dubbed Gadget when the iPad got TorqTrac monitoring for the Torqueedo electric outboard. I just mounted the little dual frequency T-Box transducer on an Azek board that I could clamp to the transom and went "belt and suspenders" with the waterproof wifi box itself by putting it in a tight plastic food box with a 4 amp hour rechargeable AGM battery from Walmart. (Dinghy afficionados may appreciate the custom fender/cleat hardware I had made last summer so I can use the swim platform like a dock without adding cumbersome Weaver clips to the fine Fatty Knees 9. The clips would be more secure, especially with Gadget "folded up" and Gizmo underway, but I like how I can easily haul the light FK9 into the cockpit, right side up and heading in the proper direction.)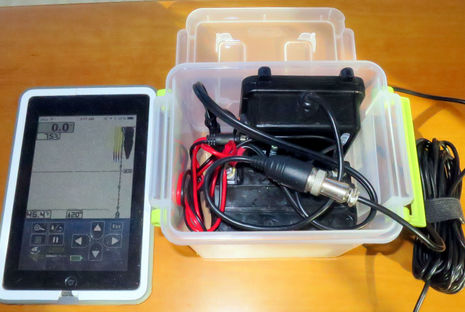 Here's the $150 T-Box SP200 being tested in Gizmo's salon with the included SonarPhone app running on the mini. I also tried the Android version when I tested the Vexilar T-Pod model meant for shore fishermen, and saw that app made even that "bobber" style transducer act like a pretty full-fledged fishfinder. Incidentally, I was pleased to meet "Mr. Vexilar" Tom Zenanko and learn more about Vexilar's long and distinguished sonar history. They are not a small company, apparently dominating ice fishing in the icy midwest, and they're darn excited about the global opportunity they're finding with the SonarPhone line.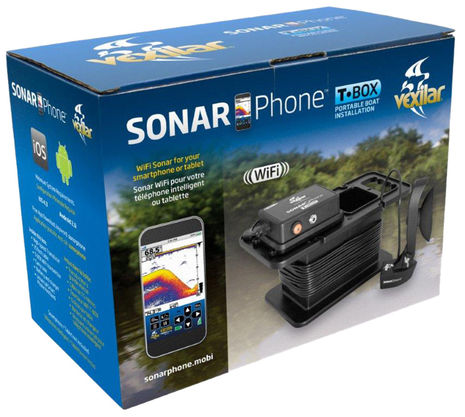 In fact, Vexilar is already out with the SP300 T-Box portable boat install kit that seems to do what I did better and cheaper. For $200 you get the SP200 with transducer suction mount, a 4.5 amp hour battery, a case that organizes all of the above, and a 1a charger. Obviously, this makes trying T-Box WiFi sonar on a small boat much easier, but I'm probably going to install it semi-permanently in Gadget — think solar-powered battery for sonar, bilge pump, and whatnot hidden under new seat hatch — mainly because the SonarChart integration is such a blast.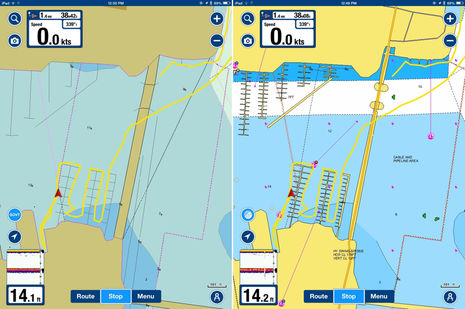 The first you'll notice about the integration between the Vexilar sonar and the Navionics Boating App is that it just works. As long as the iPad (or Android device) is pointed at the T-Box WiFi, that little fishfinder box will pop up on the screen and can be made split window with a tap. Before moving on to the Live SonarChart feature, note the depths around New Bern harbor as presented on the "Govt" chart — the Navionics version of NOAA vector charts that comes with the free version of Boating — and on a regular Navionics+ chart. I point this out because the SonarChart I downloaded before this testing was terrible!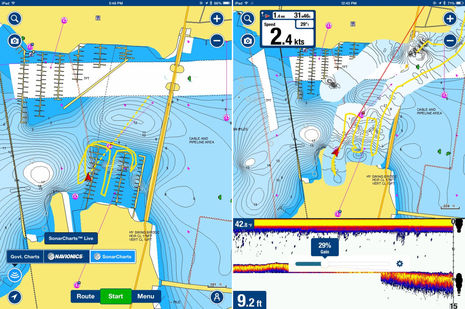 If the actual depths were remotely like what was shown on the existing SonarChart, Gizmo and a whole lot of other boats currently tied up in those two marinas would be hard aground. Fortunately, this is about the worst SonarChart example I've ever seen, and Navionics subsequently told me that marinas can be a particularly difficult issue. But be careful, boaters, a whole lot of bathy lines do not necessarily connote accuracy. These screens also show what the chart selection and SonarChart Live overlay buttons look like when you tap the Chart Type button, plus the sonar Gain control you can tap into on the full Vexilar window. And if you click the screen above bigger , you may notice the funky spot soundings in the Live sonar swaths that had me confused for a while.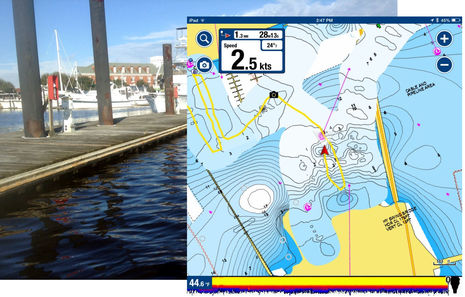 I guess it makes sense in retrospect, but the depth numbers shown in SonarChart Live are not related to the live data being collected; they come instead from the underlying chart. So, given the bad original data in New Bern, I was seeing sensible bathy lines and shading with weirdly shallow spot soundings. Also, somewhat disconcerting is the aggressive way SonarChart Live guesstimates bathy lines about 80 feet to either side of your track, regardless of depth, and also wipes out bridges, shorelines and docks along the way. If what I mean isn't obvious from the screens above, the dock photo was taken right where the Camera icon is (a nice Navionics feature).
But my North Carolina test site probably highlights this aspect of SonarCharts Live a lot more than other uses like, say, mapping a lake or pond with little or no existing bottom info (which still exist all over this country and the world). And because Navionics has just gotten started with this Live presentation, it will probably improve over time. For instance, I'd like to see all the yellow tracks (or a light dotted representation) shown for all Live SonarChart data. (Tracks are displayed independently now and only one at a time while the SonarChart Live data seems to accumulate as a single overlay). Overall, though, SonarChart Live should always be thought of as raw data, and you may be as pleased as I was with what it looks like after processing back at the cartographic mothership.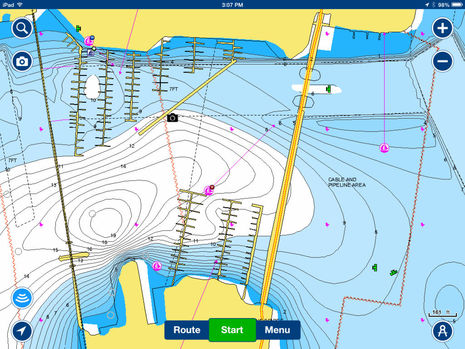 Here's the SonarChart I downloaded from Navionics to my iPad a few weeks after my SonarChart Live data was automatically uploaded, and it may well be the best bottom detail of New Bern available, if I do say so myself. Actually, it would be even better if Navionics hadn't ignored some of the data I collected along the shorelines. For instance, I surveyed that deep water slip (just above the "Route" button) where BridgePointe Marina has its pump out station and boat project area (pictures here).
But I quibble. Navionics SonarChart Live is a big deal, I think, and definitely worthy of the MIBS Innovation Award it received in Miami. I can picture all sorts of fishing and cruising uses, and it's great how many other ways there are now to access (and contribute) SonarChart data. You can, for instance, easily check out my New Bern work via the fast Navionics WebApp chart viewer. And anyone with a current Raymarine MFD can get fresh SonarCharts either via a Navionics card update or wirelessly via from the Boating app (as I first experienced last summer). However, crowdsourced chart data is becoming such a hot and potentially lucrative area that there may be some trouble brewing, and that will be the subject of the next entry.