Navionics SonarCharts, now via SonarPhone or GPX file, plus the Lowrance autopilot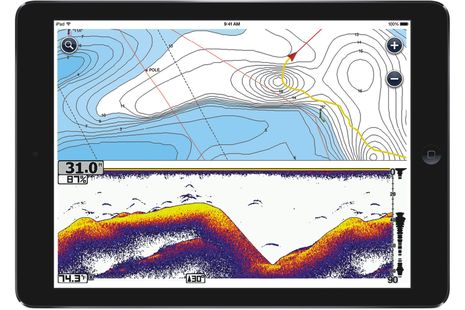 Wow. Combining the Navionics Boating apps and the Vexilar SonarPhone WiFi fishfinder seems like an obvious development now, but there are so many marine electronics integration possibilities these days that even the ripe low-hanging fruit can be surprising. Announced yesterday at ICAST (PDF here) and available for iPhone/iPad in August (and Android later), the combined Navionics SonarPhone app means that a small boater can have a fairly sophisticated plotter/fishfinder for about $200, phone or tablet not included (and note the issue of screen visibility in an open boat). I was impressed with the SonarPhone bobber-style T-Pod in April and suspect that SP200 T-Box small boat model works even better. And there's more: the users of this system can very easily contribute their sonar logs to Navionics' SonarChart collection, which they can access (along with chart updates) with an additional $25 Navionics+ annual subscription.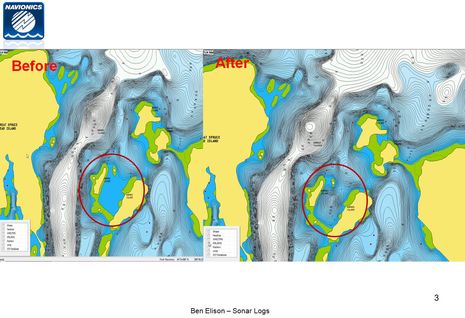 I first mentioned nearly effortless Raymarine sonar log uploading when Navionics Boating 7.0 came out and then bragged about how neatly the data had come back to me as a SonarChart during a June shakedown cruise. The subject deserves more discussion. It helps, for instance, to see the before and after images that Navionics sent me after I uploaded a sonar log that included the Barred Island anchorage above. You can also see how the improved SonarChart next to the NOAA chart on the Raymarine gS12 here. I'm tickled that I was able to improve charting of that neat spot, but I must add that it seems like Navionics made a lot of soundings presumptions from just a track or two of my sonar. I also wonder where the heck all that other SonarChart detail comes from…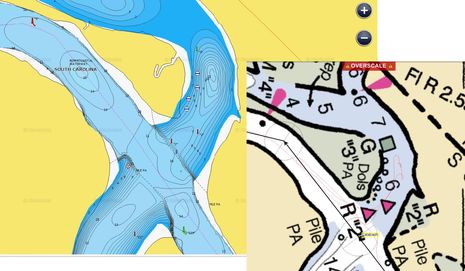 When SonarCharts first came out on Navionics+ cards last summer, I was somewhat disappointed because almost all the data seemed to be what Navionics used to call Fish'n'Chip, which I first saw in 2006, and not based on soundings recently collected by cruisers. I have no idea where the Fish'n'Chip data came from or how old it is — which is also the case with the "hi def" bathymetry offered by Garmin, Furuno, C-Map, etc. (I think). And when I looked at the SonarChart data for some difficult places I know firsthand, it didn't look right. One spot I remember not liking is the Callabash River anchorage above, which is vaguely charted by NOAA and has confusing nav aids to boot. But I failed to take a screenshot last summer and when I just looked again, the SonarChart (above and live here) is looking like what I remember. In fact, it might have been updated with my data (you can see Gizmo's 10/2012 track line on the inset NOAA chart).
At any rate, I recommend using SonarCharts carefully and wish they included some source/date info. It's also telling that the chartplotters that can show SonarCharts do not overlay them with aids to navigation (as you can see on the Ray gS12 screen). I hope that will change but will certainly understand a prominent disclaimer about how the soundings are not official data.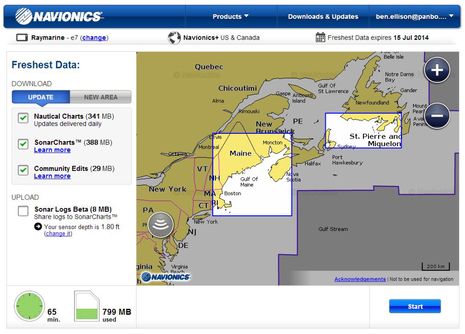 Now let's note that you don't need the Navionics app and a tablet to upload sonar logs, and you don't need a Raymarine MFD to create sonar logs either. On July 8th, Navionics announced that they are also accepting sonar logs in GPX and other formats used by Garmin, Simrad, Lowrance, and Humminbird. You upload them using a plain SD card (or Navionics card) and the Chart Installer software that will download under the Navionics website's Downloads & Updates button. The screen shot above shows Chart Installer working with a Navionics+ card last summer when sonar logs were being beta tested (and were hard to set up). I've found Chart Installer to be a little flaky sometimes, but it is getting better and it's generally pretty easy to upload sonar logs and/or update a card with an associated + subscription.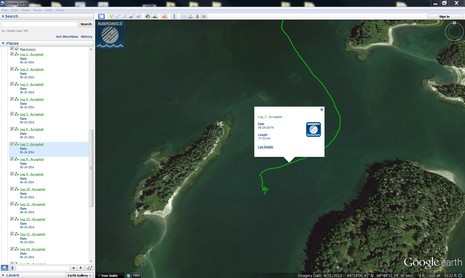 Using the Navionics Boating app with a Raymarine MFD is by far the easiest way to contribute sonar logs, but I've successfully tried the SD card method and also GPX files. One neat feature of the system is that once Navionics has checked out the file and added it to the SonarChart database, they sent a KMZ file of your track that opens Google Earth nicely. So the track above began after lunch on the day I'd already seen an improved SonarChart of Barred Island harbor, and this track's data hopefully improved on what I'd already uploaded. I'm looking forward to collecting sonar logs and KMZ tracks as far as South Carolina this fall, and hoping that others will be doing the same before I get there.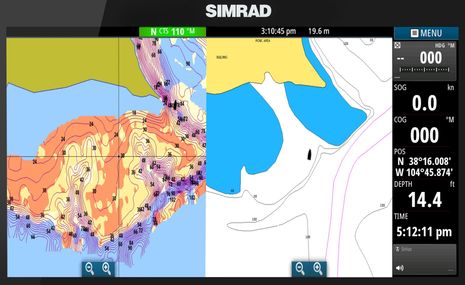 Navionics is trail blazing crowd-sourced depth charting, but who will be surprised if other companies also make this possible? Actually Navico, who already offer the private Insight Genesis custom charting I tested a bit last summer, just announced a Social Map layer that sounds a lot like SonarCharts. It's based on existing contour data with fresh user-collected soundings added by Insight users willing to share their data, and it can be viewed on Lowrance and Simrad MFDs. Judging from the NSS16 evo2 screen above, it also includes information on bottom composition. Meanwhile, Humminbird is out with its AutoChart system, which lets you make your own custom MFD charts at home, no subscription needed.
Mapmaking is particularly important to freshwater fishermen, and some of them want to keep the data to themselves, but maybe Humminbird will eventually allow the others to share with the world. And before I go, I've heard about a couple of other fishing-related electronics announcements at ICAST. Garmin announced a DownVü/SideVü thru-hull transducer to be shipped 3rd quarter, which can also be installed in a pair so most any big boat will be able to use the technology Bill Bishop told us about. And Lowrance announced an outboard autopilot that won't be available until November but sounds intriguing. It can, for instance, switch from controlling an outboard to running a MotorGuide Xi5 Pinpoint electric-steer trolling motor, and as shown inset below it can do all sorts of automated maneuvers. Plus, it seems reasonable at $999 for the hydraulic model and $1,499 for cable steering, with Point 1 heading sensor included.