Vexilar SonarPhone T-Pod, WiFi fishfinder in a bobber!
It's 2014 and a sealed plastic 5-inch bobber can indeed contain a fairly able 400 Watt, 125 kHz fishfinder and a WiFi radio, plus enough rechargeable battery to run both for a few hours. The SonarPhone T-Pod will strike many as a toy, but it actually works quite well considering its small size and price tag ($130). And the manufacturer Vexilar puts the same technology into models meant to install on small boats, which means that dedicated iPad (or Android tablet) boaters do indeed have a fishfinder option…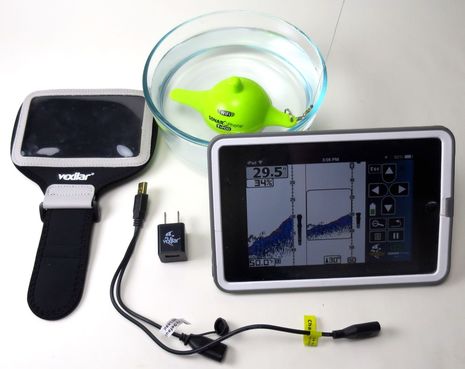 That's the SonarPhone T-Pod kit above, my iPad mini excepted. The bobber has a waterproof three-pin port that accepts a battery charge via that USB cable, and submerging the pins in water is also what turns the T-Pod on. In fact, if I'd videoed this in dimmer light you'd see that the T-Pod was glowing green and blinking because it was powered up and transmitting. (The shorter wire is used to reset the T-Pod to factory defaults, because in 2014 you might also space out the password to your fishfinder bobber 😉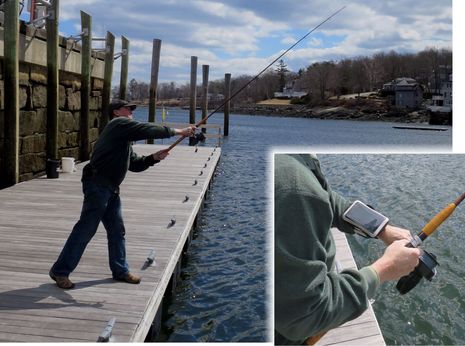 To test the T-Pod I hauled out a lovely 7-foot surf casting rig inherited from my dad, and I'd like to think I'm showing some pretty good form in the photo above. I can get the bobber at least 100 feet out on the harbor or lake (I'm getting better) and then check out what it's seeing on my Android phone in the included wrist case, either as it drifts in current or as I reel it in. The main market, of course, is fishermen who stand on bridges or banks, but there are other uses. In this case, for instance, the photographer is my friend and Wayfarer Marine dockmaster Ben Cashen, who's concerned about a possible bottom "lump" along the fuel dock. We decided to put the project off to warmer weather, but I can even picture explorers standing on their bow using a T-Pod to check out a possible, but poorly charted, anchorage.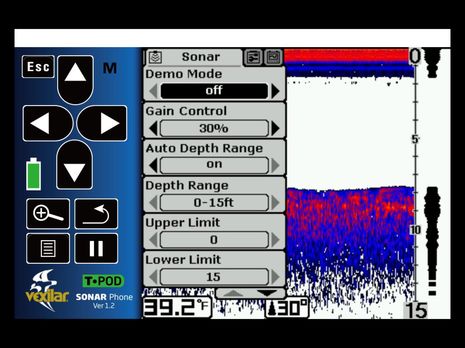 Here's an iPad mini screen of the T-Pod in action on the iOS SonorPhone app. The menu button cycles through three menus that you can then browse and change with the big direction arrows. It works fine for me on both iPad and phone, and actually you can, at least, view the T-Pod output with both at once. One device acts as the control "master" and the other is a view-only "slave." This is fully developed software, not a toy (excellent online manual here).
Above is a collage of three Android SonarPhone app screens. The only difference I noticed from the iOS app is the indication of WiFi strength. I didn't test Vexilar's claim of a 100 yard WiFi range, but I was pretty amazed that it worked as well as it did, even when almost submerged in wavelets. I also didn't test with real fish, which may have something to do with the 39 degree water temperature the device measured. In that first screen I had turned on both the fish symbols and depth, but what the T-Pod was actually seeing was a schooner's winter anchor line. Most any fishfinder I've tried can make that mistake. The last screen shows how nicely the app can switch from portrait to landscape mode, and also what a clean dredged harbor bottom looks like when you occasionally pull the transducer out of the water and cast it again.
This final photo shows the $150 SonarPhone T-Box SP200, designed for permanent boat mount. I haven't tried it yet, but note that it has a 200/83 kHz dual beam transducer and that the apps can purportedly switch frequencies or show the fish that are in the 40-degree wide 83 kHz beam but not in the 20-degree wide higher frequency beam. (And note that there's already a dual frequency Deeper fishfinder bobber that communicates with apps over Bluetooth and looks pretty sexy.)
In conclusion, a fisherman in a small boat might be quite happy switching between a T-Box and a charting app, as long as he or she can see their mobile device screen (a bit of shade often needed in my experience). Greater integration of WiFi fishfinder and charting apps is obviously possible — and on my scale of boating mobile devices will be secondary for a very long time (I think) — but hat's off to Vexilar for putting together an able, sophisticated, and reasonably priced "toy".