The Navionics SonarCharts for Garmin conflict, messy business!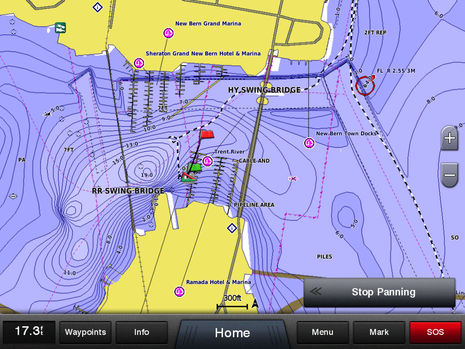 This screenshot shows the Garmin GPSMap 8212 installed on Gizmo displaying the same crowdsourced Navionics SonarChart bathymetric data that I recently enjoyed improving via the Navionics Boating app and Vexilar dinghy sonar. In fact, all the chart data seen above came from Navionics, even the beta version was fairly usable for navigation (I thought), and the finished chart cards are now for sale. But I doubt that many will be purchased once potential users realize how Garmin is reacting to this development! Navionics and Garmin seem nearly at war, and this entry will attempt to untangle what's happening. I fear there are no heroes in this battle, and it may even foreshadow further tensions in the critical world of chart and plotter manufacturers…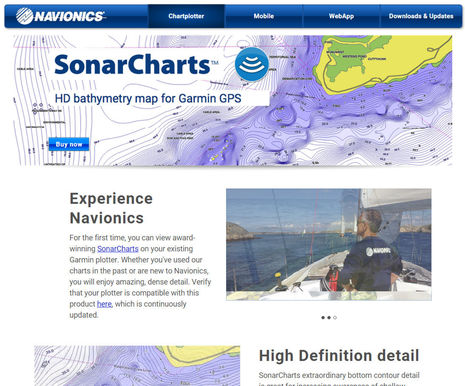 Navionics announced SonarCharts for Garmin during the Miami show, and the enticing HD bathymetry map for Garmin GPS page above went live shortly thereafter. The concept is attractive as the first real alternative to Garmin's own charts and one with nearly worldwide coverage and support for crowdsourced depth data that you can easily improve yourself. But a prospective buyer who clicks on the little, "Verify that your plotter is compatible with this product here…" link will discover a very disturbing caveat: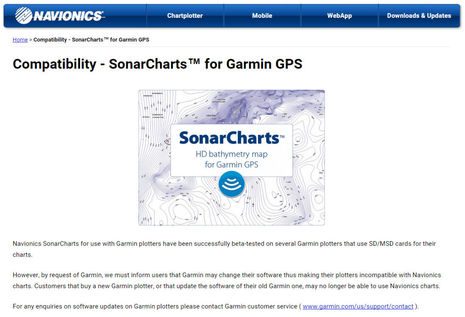 Indeed, Garmin has stated that they will change their plotter software to make these Navionics chart cards incompatible, no may about it. In fact, Garmin sent out a dealer notice making the same threat in early December when the somewhat public Navionics for Garmin beta program was getting started. So Navionics doesn't have grounds to act surprised about what is happening and the implication that Garmin made them put up the notice above also seems calculated. What happens when someone buys a Navionics chart card for Garmin and it suddenly won't work? Will Navionics blame Garmin or apologize and refund the sale? I'd think it would be a hassle either way, and that Navionics has an obligation to make this caveat crystal clear to all prospective Garmin card customers.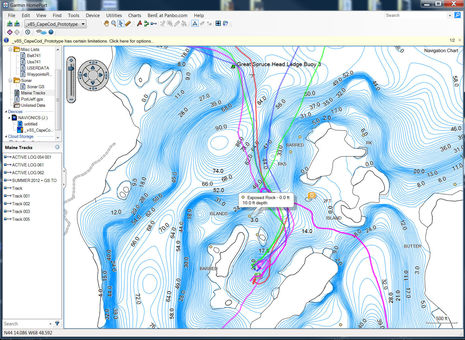 The apparent Navionics strategy is to get the product out there and hope that Garmin users will want it so much that they will shame Garmin into supporting it. And you can see the strategy bearing some fruit in this Hull Truth forum discussion like, "Well if Garmin does indeed break the Navionics chip from working with their equipment that does it for me ever buying another Garmin product." Yike!
But Garmin is playing hardball, too. I liked using the Navionics SonarCharts with Garmin HomePort Win/Mac software. Just combining track histories (which can go to Navionics as sonar logs), ActiveCaptain info, and the SonarCharts I helped make for the Barred Island anchorage above was interesting, and this free program can now play back SideVu, DownVu, and sonar recordings with synchronized track animation. So, it could be a great tool for someone surveying a pond or a wreck (as well as the fine planning and logging tool it's long been). But early this week I updated to HomePort 2.2.9 — which adds more sonar viewing features — and the Navionics SonarChart cards no longer work. Hardball!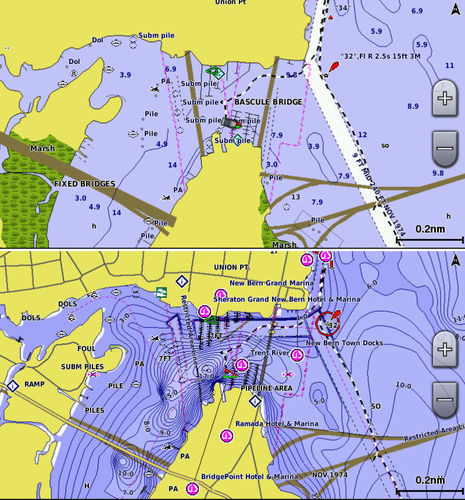 I also checked with Garmin this week and their position has not budged: "We acknowledge and regret that Garmin's response to the distribution of 'SonarCharts' for Garmin chartplotters by Navionics has led to frustration for many boaters. However, the basis for our decision has not changed… Garmin will continue to make the necessary changes to our marine products to ensure only content that is authorized to work on Garmin systems will do so." So, unless I never update the 8212 and 741xs again, the screens I'm illustrating this entry with will soon become history on Gizmo. As shown above, the SonarCharts can compare well with the BlueChart g2 charts built into most Garmin MFD's (I don't have a BlueChart g2 Vision card for this region, which would show more detail). Personally, I can't imagine not taking advantage of Garmin's generally terrific update policy. The big one in January, for instance, was full of valuable improvements like Race Start Guidance and neat DSC distress assistance.
So, how did Garmin and Navionics get into this messy situation, and what are Garmin users to do? Before getting into the business intrigue, let's look closer at the Garmin SonarCharts, which seem more radical than many have noticed.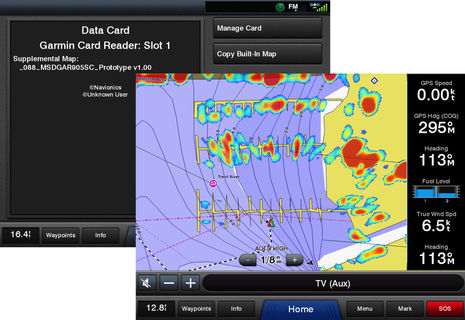 When they work, Navionics SonarCharts for Garmin are treated as a "Supplemental Map" and are only recognized if you insert the card after the MFD is powered up. They do work with radar overlay (above) and even in 3D mode (below), but they are not treated like regular charts. Specifically, you cannot create a split window display with BlueChart on one side and SonarChart on the other. This is important because the Navionics charts for Garmin do not include official depth soundings, just SonarCharts. In fact, I can't think of another Navionics chart product, apps included, that can't also display regular Navionics charts (based on official data) along with SonarCharts.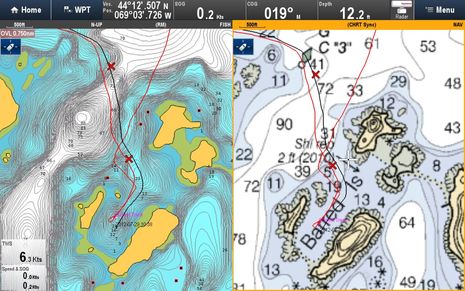 Consider this Raymarine gS12 screen showing that same Barred Island anchorage and also the moment I fully experienced the great collaboration between Ray and Navionics. Sonar logs had easily gotten to Navionics via their app's Plotter Sync feature and then the processed SonarCharts came back to a Navionics+ card so I could use them on a real MFD. Any cruiser using SonarCharts has better info on the anchorage now, myself included, but I don't use SonarCharts exclusively. Remember the New Bern, NC, SonarChart showing very shallow waters in two marinas where big boats have been berthed for decades? SonarCharts are almost the opposite of official hydrographic office data – nimble but possibly flaky, versus highly validated but slow to change.
That's why I'm using a Lighthouse NOAA raster chart alongside the SonarChart above — old school, new school style — and a regular Navionics chart off that same + card would have served as well. And note that Raymarine does not overlay navigation aids on SonarCharts, which I take as a statement that they should not be used for primary navigation. Actually, I wish Ray would relent on that point, as the aids help with situational awareness, but the bigger point is that perhaps Navionics's closest partner won't support charting concepts that Navionics is trying to bring to Garmin without any partnership at all. Or so they say…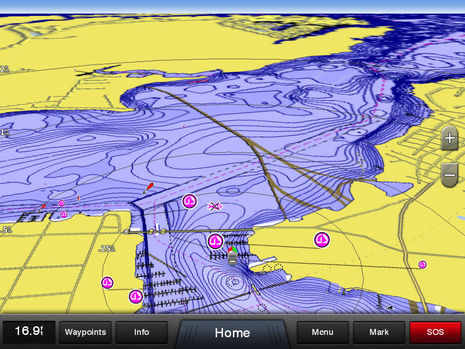 Here's more of Garmin's recent statement:
This beta Navionics product, and the tools used to create it, were developed without Garmin's participation, and without any access to our map design specifications. It may be difficult to understand our concerns about this content when a beta experience appears to "just work"' but marine navigation systems are complex and constantly evolving. Garmin's quality depends on our systems functioning to our specifications which cannot be assured unless we have the opportunity to work with a partner. There are numerous examples of Garmin's willingness to do this in all of the markets we serve. However, business relationships require agreements for requirements, responsibilities, and perhaps most importantly, the communication and coordination of changes that may have negative consequences for the customer if not handled properly.
Meanwhile, Navionics claims that it's Garmin who won't work with them, denying their application for a Map Product Creator (MPC) license. Navionics just "wants fair and equal treatment under the MPC, as they do with others like Fiskekort and TrakMaps."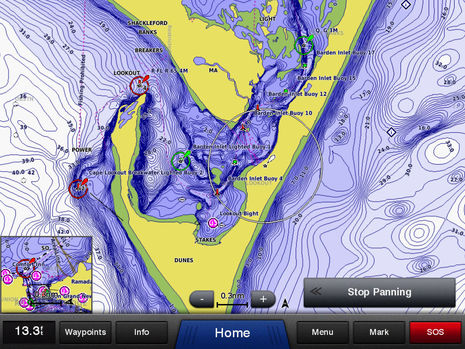 Navionics SonarChart for Garmin detail of an anchorage I hope to visit some day
Well, I think there's a big slobbering elephant in the room that neither company is acknowledging. Navionics is nothing like the other MPC license holders (and the license isn't necessarily open to anyone, anyway). And I believe that Garmin could let Navionics SonarCharts work safely with their MFDs if they wanted to. Raymarine, Navico, Humminbird and others have all shown that it's possible to support multiple chart formats, and the Navionics beta worked pretty well without any Garmin support at all. Imagine if they were actually working together.
It seems plain as day that approved Navionics SonarCharts for Garmin could put a significant dent in Garmin's own g2 Vision card sales and thwart any plans they may have for creating their own crowdsourced data system. Which is why some Garmin customers feel hostage to the company's business interests (apparently www.garmin.com/ideas is the best place to express SonarChart desires). But wait… there's more. Navionics acknowledges that Garmin has wanted to license its data for some time, though that's "an agreement architecture we have little interest in pursuing." In other words, it may not just be Garmin stubbornness that's keeping SonarCharts off their displays.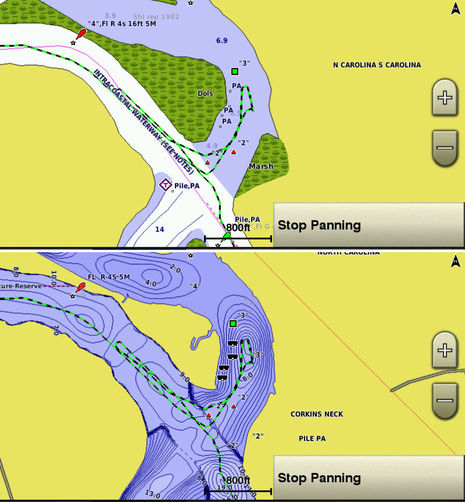 Garmin BlueChart g2 versus Navionics Sonarchart for ICW Callabash River anchorage, NOAA version here.
What I think we're seeing here is primarily a business conflict, perhaps even a Mexican standoff. No heroes. I certainly sympathize with Garmin customers who want more chart choices — at this point, for instance, Garmin is the only major plotter manufacturer without raster chart display. I'd also like to see crowdsourced depth data collection and display proliferate. (Wouldn't it be great if we could upload our data to some service that would make it available to any chart developer?) But Garmin's make-everything-themselves model has served many boaters well, and if they can integrate new chart formats into BlueChart, it might be great. Partnering with Navionics could also be great. Overall, chart sourcing and crowdsourced data are a big deal to all the navigation system developers, and we may see more public messes like this one.
Disclaimer: While I think I covered the facts of this complicated story pretty well — corrections welcome of course — my impressions are uncertain and evolving. What do you make of this standoff, and if you are a Garmin customer, what do you want them to do?