Digital Yacht Sonar Server, keeping it simple!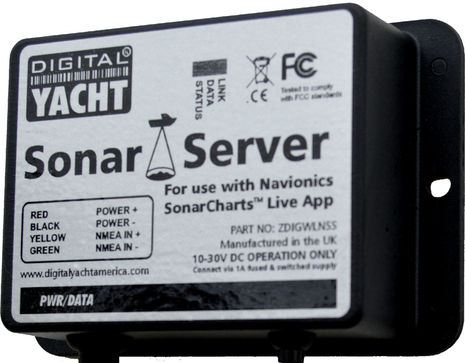 I'm really impressed with the Digital Yacht Sonar Server introduced last week, though it has almost nothing to do with the technology involved. In fact, I think the DY developers could have engineered this product in their sleep, as could several other companies that specialize in NMEA 0183 utility hardware. What's brilliant here is a simple, reasonably priced, and fast-to-market solution for certain boaters who are understandably hot to use the Navionics SonarCharts Live app feature on their phone or tablet. And Digital Yacht has backed up their marketing smarts with deep info on how to install the Sonar Server…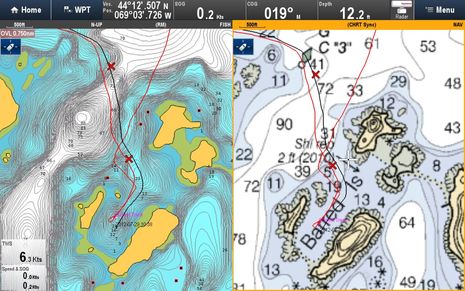 It's no wonder that many boaters are confused about SonarCharts, as they've evolved in many directions. Navionics started talking about user-generated depth charts as UGC 3D back in 2012 and rolled the idea out as the SonarCharts layer a couple of years ago. They became an optional view for many regions of the Navionics mobile apps — which all became Navionics Boating with free and in-app chart purchases early last year — and now they're included with almost every type of Navionics chart card, at least for many regions, though they don't necessarily display on all plotters that can show regular Navionics charts. At first, contributing your own data to SonarCharts was a complex task that involved recording track or NMEA data files, taking your Navionics card home to upload them, and then bringing it back later to download the freshly processed SonarCharts containing your soundings.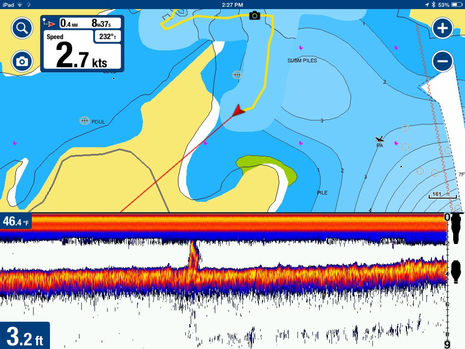 Last year, Navionics and Raymarine made that process a whole lot easier with a special form of Plotter Sync that integrates the Boating app with current Raymarine WiFi multifunction displays, though you need Freshest Data subscriptions for both platforms (and it only works with iOS Boating so far). That's when I started seeing how SonarCharts could improve cruising (like in the Barred Islands above). Then Navionics announced that the Vexilar WiFi sonar products would be integrated with their apps, which turned out to include the SonarCharts Live option I enjoyed testing in January (above). Only recently did Navionics make a version of SonarCharts Live possible using simple NMEA 0183 depth messages broadcast over WiFi.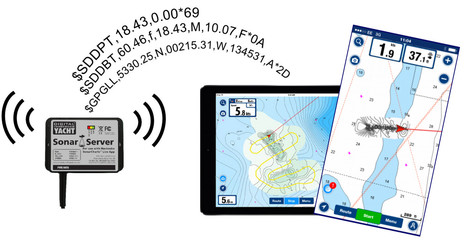 That's what is being neatly illustrated above using DY's new $120 Sonar Server. Note that GPS can also be included if your phone or tablet doesn't already have it, and that this form of SonarChart Live can only show live depth, not the fishfinder window possible with the Vexilar connection. But this app feature will be as easy to use as I found the Vexilar — Navionics Boating will simply enable it when it sees the Sonar Server (or similar) on WiFi and upload the data for processing into actual SonarCharts when it sees the Internet — and Digital Yacht has created a dedicated SonarServer.com site to make the install as easy as possible.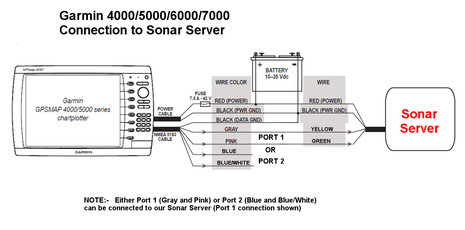 Digging down into the Sonar Server Knowledge Base, you'll find an amazing amount of well-presented detail about how to set up 0183 output on all sorts of displays, including older ones, and how to connect the not-color-coded wires. If, say, you want to collect sonar data to Navionics SonarCharts on your mobile but not mess with the Navionics/Garmin card fracas (good choice), there's one of several possibly useful DY diagrams above. And while I'm looking forward to soon testing Navico's much simplified sonar/chart uploading/downloading system (and comparing Insight Genesis Social Mapping to SonarCharts), any boater with some sort of Navico sounder like the Lowrance Elite 4 below can probably use SonarChart Live fairly easily. (I'll also try GoFree, Vesper XB8000, and other forms of NMEA-over-WiFi data with the latest Navionics Boating apps, as many may work as well as the Sonar Server.)
But simple and easy are really important. I may spend my work life deep into marine electronics, and many commenters here are similarly inclined, but average boaters are terribly confused by marine electronics, particularly the bleeding edge stuff like recording sonar and putting boat data onto WiFi. So a big tip of the hat to Navionics for making community-sourced sonar charting fairly easy (the open source folks should pay attention) and to Digital Yacht for focusing their considerable resources on a crystal clear solution to a very specific issue.