New in safety: Exposure OLAS Float-On, Vesper smartAIS deckWatch, and Digital Yacht Nomad portable AIS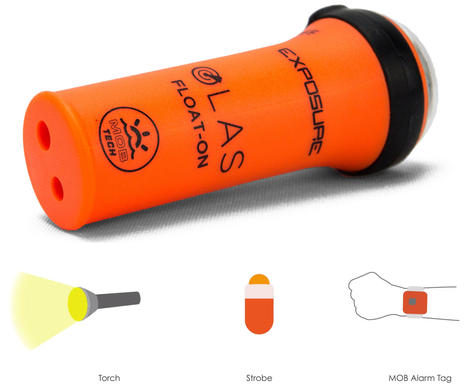 The Exposure OLAS Float-On is one hell of a flashlight (or "torch" in Brit speak). That's because it's also an automatic water-activated MOB strobe light and a Bluetooth MOB alerting device that can network with smartphone apps and more familiarly styled MOB tags. Details follow, along with several other interesting new safety products that also got the attention of the DAME Award judges at METS…
First, let's sort out the names. Exposure Lights is a UK firm developing technical "torches" for boating and other demanding niches; OLAS, as in Overboard Location Alert System, is the Bluetooth tag and app MOB system (above) that Exposure rolled out early this year; and the Float-On light is a brand new multifunction addition to the OLAS family.
You may notice that the original OLAS tags and apps seem very similar to the CrewWatcher system I beta tested in January. In fact, the OLAS Float-On and what is now coming to market as the Weems & Plath CrewWatcher were both DAME Award safety category nominees with CrewWatcher receiving the award.
I sympathize with the DAME judges' comment that starts "After much debate…" because try as they might to be simple to use, these are actually complex communications systems, and the real devil is in details like how well they manage false alarms caused by Bluetooth obstructions. We'll know more this coming year as lots of reasonably priced CrewWatcher, OLAS and also Sea-Tag smartphone/Bluetooth systems get out into the real boating world.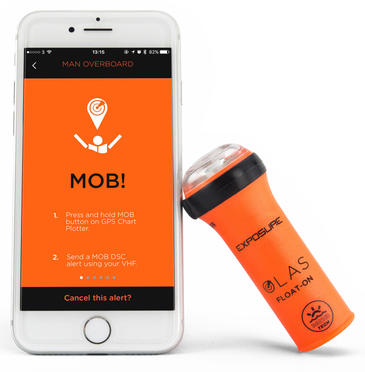 But assuming that one or more of these modern MOB alerting and location systems is truly practical, it seems smart that a compact flashlight/strobe could also serve as a Bluetooth tag. The Float-On may cost about $130 when it ships early in 2018, but, for starters, it's a floating waterproof rechargeable flashlight with three levels of illumination that range from 10 lumens for 20 hours to 120 lumens for 1 hour.
Apparently, the two goldplated contacts inset into the base, which enable automatic strobe activation upon submersion, — the Float-On is designed to float LED light up — also support a snap-on USB charging cable. I suppose that there are scenarios where you might regret that you used the flashlight as much as you did one fateful night, but then again a strobe seems the perfect complement to a MOB system that quickly marks where you went overboard but can't track you after that.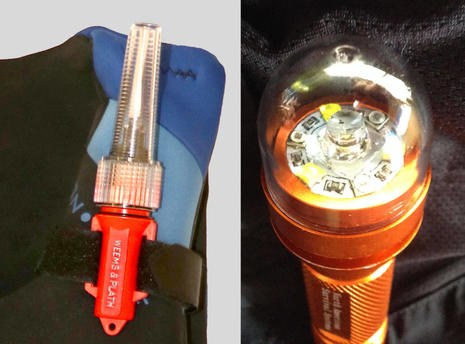 And, incidentally, there are two other new lifejacket strobe lights out this fall. The Weems & Plath Personal Rescue Strobe features a unique visibility-extending light cone — which I plan to test soon — while the North American Survival Systems EF-30A-1 adds three IR LEDs to the normal white lights so it's visible to search and rescue personnel wearing night vision goggles.
Add all this to the evolving field of AIS MOB devices and don't you wonder what future personal safety gear will look like?
Vesper deckWatch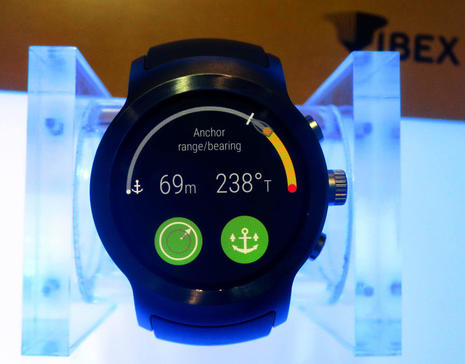 The Vesper deckWatch is the latest element in the smartAIS feature family that rolled out in 2017. It's an app that runs on Android Wear 2.0 smart watches and integrates via WiFi with Vesper XB8000 and Vision AIS transponders, delivering both the multiplexed boat data those devices have long supported plus new smartAIS features like smartly designed AIS collision, AIS MOB, and anchor drag alarming.
While Vesper only received a DAME nomination for deckWatch — besides the CrewWatcher win, the McMurdo AIS EPIRB received a well deserved Special Mention — the judges in Tampa gave it a 2017 IBEX Innovation Award. That was an interesting debate in which I got to participate.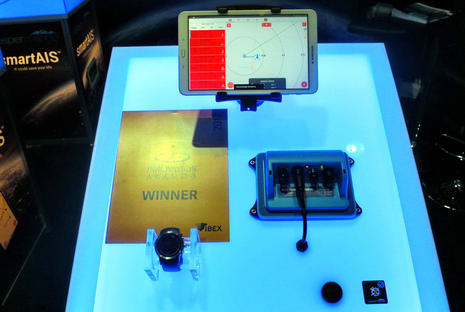 What strikes me as deeply innovative about deckWatch as well as the smartAIS phone and tablet apps is that while they make terriffic use of mobile devices to interface with powerful safety capabilities, the safety is not then dependent on the mobile devices.
In the IBEX booth photo above, note the external alarm and switch that now ships with that blue XB8000 AIS transponder. I suspect that using your wrist watch to setup and monitor an anchor watch is great, and I know it's great to setup and see Vesper's still-unequaled AIS alarming modes on an iPad, but I think it sensational that the buzzer alarm will still fire off even if the mobile is shut down or busy with something else.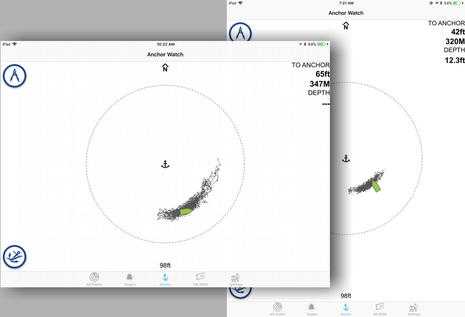 Staying with the smartAIS anchor watch feature, here's what it often looked like on my iPad as I recently puttered down Chesapeake Bay. Note that you can easily adjust where you think the anchor is relative to your boat, nice because few of us remember to establish a watch when we drop it, and also because the tracking will eventually improve your understanding of where it actually took hold.
Also note that with NMEA 2000 input, seen on the right-hand screen, the screen shows Gizmo's true heading as well as water depth. I'd like Vesper to add wind speed and direction time graphs to the screen margins when the data is available, and also to change the boat icon to a circle when only COG is known, but that's icing on the cake.
What's really smart about "smartAIS" is that the real brains are in the transponder, not in the tablet or watch. So even if I hadn't run the WatchMate app for hours, an up-to-date anchor watch track history would come up. And, most important if Gizmo dragged outside the watch circle I set, the buzzer went off even if I'd killed the iPad battery streaming videos before falling into a deep sleep.
Digital Yacht Nomad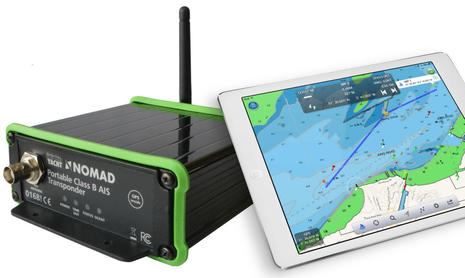 Digital Yacht's Nomad portable Class B AIS transponder received a DAME Special Mention and as someone who once did numerous yacht deliveries I certainly agree with the judges about its potential usefulness. Moving an unfamiliar boat which may well be brand new and untested — or in that scary gap known as "between owners" — is challenging enough. I remember how incredibly valuable the first handheld GPS receivers were for delivery work, and the Nomad could be the center of an amazing portable nav system.

The Nomad uses USB for both power and data, it has WiFi output as well as a built-in GPS with internal antenna, and its included QMAX 10-inch VHF/AIS antenna attaches with a suction cup. Add a USB power pack (like the versatile beauties from Weego), a tablet, and a charting app that can take in GPS and AIS over WiFi (Pocket Mariner SeaNav shown), and you could step aboard with a completely self-contained navigation system that not only displays AIS-equipped vessels along your route but puts your temporary ride on their AIS screens.
Now there is an obvious problem with moving boat-to-boat with an AIS that's still basically designed to be used on one vessel with one MMSI number. In fact, even in areas outside the U.S. where an owner can setup their MMSI into a new Class B AIS, they still can't change it later. But even here in the U.S. you can change the vessel name and dimensions using PC software, and the Nomad's USB cable certainly supports PC use too.
While I think that the Class B boat switching issue can be managed without causing trouble, or getting into it, a smaller and less expensive alternative for portable navigation is an AIS receiver. You won't get the benefit of transmitting your boat position, speed, heading, and (temporary) ID, and I don't know of an AIS receiver with WiFi built in, but DY's AIS100 has the power/data USB connection, and the similar AMEC Cypho-150S includes an antenna splitter.
Further off the beaten track — plus even smaller, less power hungry and cheaper — is the dAISy 2+ AIS Receiver. Note that the developer is quite frank about the performance limitations of dAISy's single chip radio, but I'll add that even the original single-channel dAISy did fairly well in my testing. I only saw slightly reduced range and sensitivity compared to bigger brand receivers using the same antenna, and the dAISy was easy to setup because there were none of the USB driver issues sometimes encountered with other AIS devices.
Finally, I'll bet that some clever DIY navigator could built an interesting portable nav system using the dAISy HAT with a Rasberry Pi micro computer, a combination that also seems good as the basis of an inexpensive self-contained Marine Traffic AIS reporting station. If you tackle either project and succeed, please let us know.