Man overboard safety options expand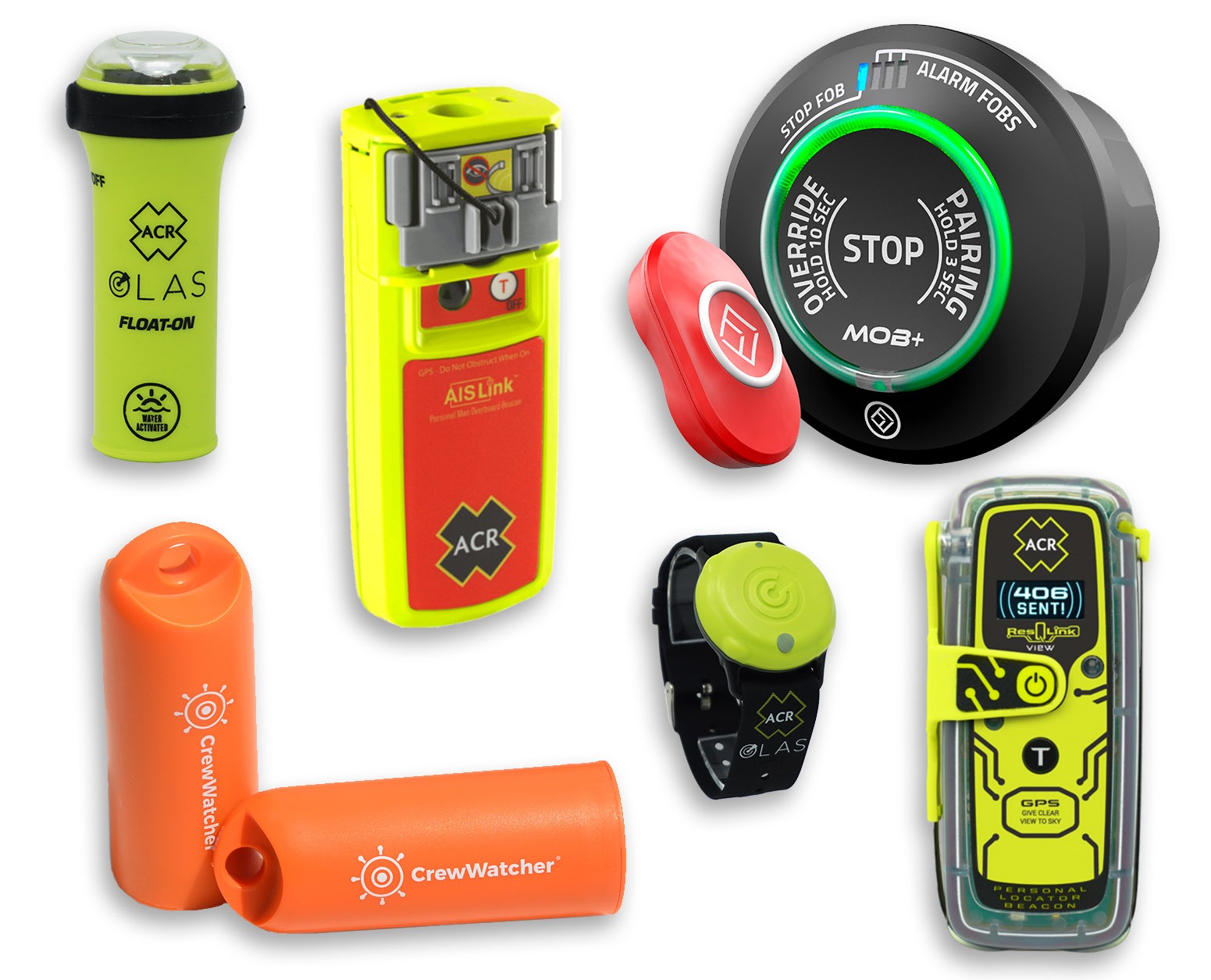 In man overboard (MOB) scenarios, time is frequently the difference between a happy outcome and tragedy. The sooner everyone on the boat is aware there's a problem and begins responding the greater the odds this will be a scary moment on which to reflect and not a life-changing event.
Wireless man overboard systems immediately notify, and in some cases shut down the engines, in case an occupant falls overboard. When someone goes overboard and visual contact is lost there is a 40% chance that person won't be recovered. Early notification of an occupant falling over board is crucial to improving the odds.
The needs for MOB systems can vary by your on-the-water activities. For an angler fishing alone the most important feature of an MOB system may be an engine kill switch. While, for a crew member on a cruising boat the first response should be to alert the captain of the boat.
Today, there are systems to meet nearly every need. The price of entry has lowered to less than $100 for a Bluetooth MOB beacon that can be monitored from your cell phone. But, systems can grow to monitoring up to 15 crew members on boats up to 100 feet.
CrewWatcher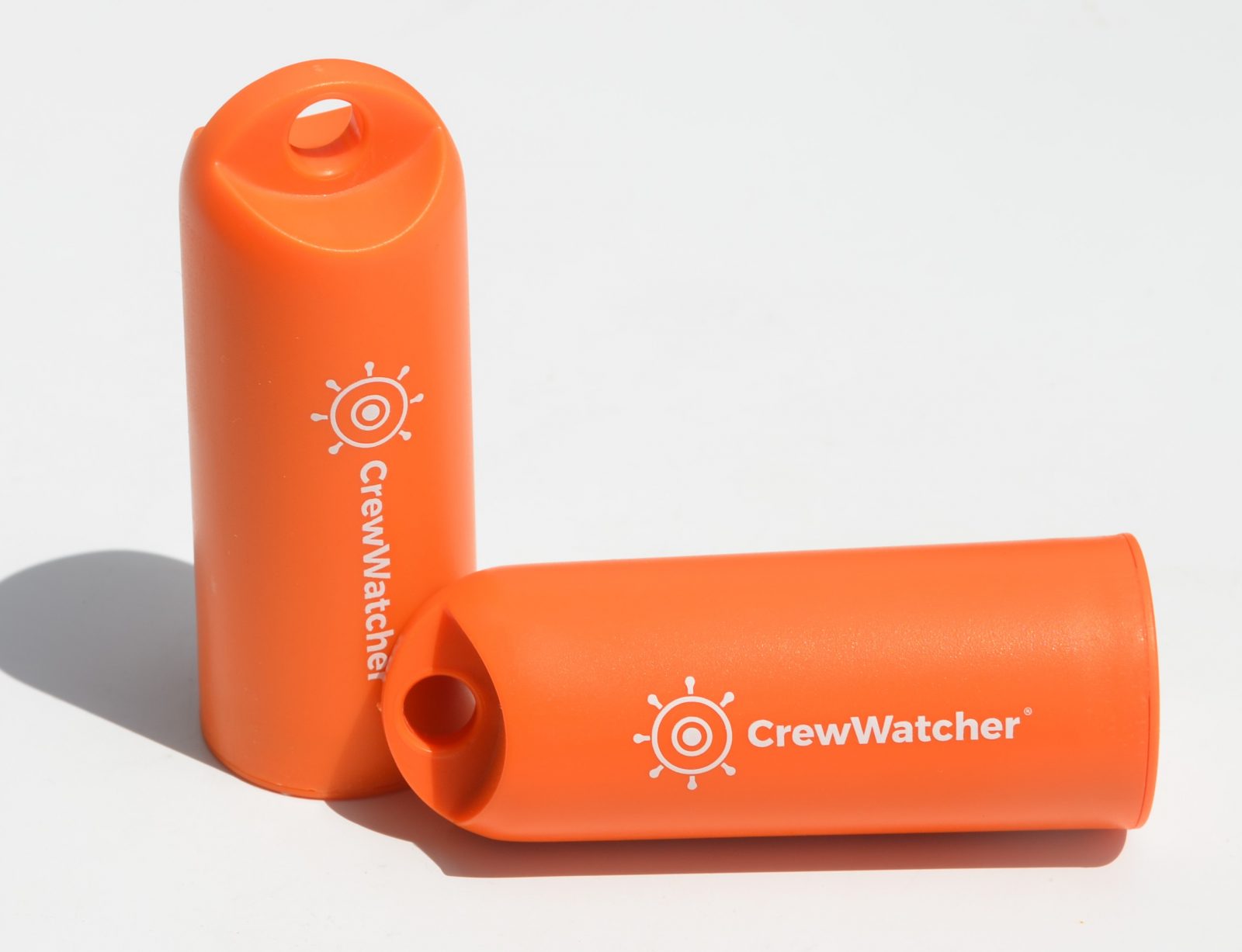 Weems & Plath's CrewWatcher is a small, $89, cylindrical, Bluetooth beacon about the three inches tall and one and a half inches in diameter. Ben Ellison tested a beta unit in 2017. It's designed to attach to a PFD or clothing and because it has a water sensor on the bottom should be worn outside any layers of clothing.
The combination of CrewWatcher beacons and the CrewWatcher app (iOS and Android) installed on your phone is all you need to ensure you are notified if someone falls overboard. A phone can monitor up to five beacons and those beacons can be attached to people, pets, and even objects like a towed dinghy. The beacon will set off the MOB alarm on the app if it goes out of range or if the water sensor on the bottom of the beacon detects it's in water. Because of this sensor Weems & Plath says you can also use it as a bilge alarm notifying you of water in the bilge.
Typical range in a clear area is around 30 meters but that will vary based on obstacles around the boat. The beacons have a non replaceable battery which lasts between three and five years depending on usage.
ACR OLAS
An ACR OLAS system starts with the ACR OLAS app (iOS or Android) and a watch-style tag or the Float-On combination floating flashlight and beacon. The latter is also a water activated strobe which can be recharged via USB Panbo covered the OLAS system in 2017 when it was introduced by Exposure Lights and before ACR partnered with them.
The ACR OLAS app works very similarly to the CrewWatcher app but adds a solo mode. In solo mode if a tag goes out of range and isn't cancelled within a short delay an SMS message is sent to a predefined emergency contact with location and time of the event. This will work nicely to inform someone on shore of an event as long as the boater has left the phone in a safe location on the boat (and not in their pocket).
The ACR OLAS system features a range of modules to expand the capabilities of the system. The USB powered and portable Core expands from six to 15 devices and offers an 85db siren and red visual alarm. The 12v powered Guardian offers the capabilities of the Core plus an engine kill switch to shut down the engine(s) in an MOB event. The Extender expands the range of the OLAS devices to support boats up to 100 feet. These modules aren't shipping yet but should be by the end of 2019.
Fell MOB+
The Fell MOB+ wireless man overboard system foregoes the app for a module installed in the dash (Panbo coverage towards the bottom). The module can pair with up to 20 tags at a time and monitor four tags. One tag is designated as the vessel operator and if that tag goes overboard the engine kill switch is activated and an alarm sounds. If any of the other three tags are activated just the alarm is sounded. The kill switch can be overridden by pressing and holding the button on the dash module.
The tags can be placed into a watch band style strap, attached by lanyard to a PFD or clothing, or clipped to a strap (or dog collar for four legged crew-members). The tags have user replaceable batteries which last for 300 hours of active usage.
Mercury Marine and Fell are integrating of Mercury's SmartCraft suite of digital instrumentation with Fell's wireless technology. They've announced SmartIgnition, a combination keyless ignition and MOB system and plan to offer more capabilities. Smart Ignition should begin shipping by the end of the year.
AIS MOB beacons and 406 mhz PLBs
The systems we've talked about so far are focused on ensuring that others on your boat are immediately aware if you go overboard. But, each of these devices can only tell you the location of the boat when the crew member went overboard, which may not be the actual location of the person in the water.
An AIS MOB beacon will, when activated, send a man overboard signal — with the current position of the person overboard — to all AIS receivers within range of the beacon. Panbo tested quite a few and Ben Ellison actually demonstrated this capability during an accidental deployment of an AIS MOB beacon. The location is updated continuously, not restricted to point of loss as is the case with the Bluetooth beacons. This means that both SAR organizations monitoring the area and other boats equipped with AIS receivers will be alerted to an emergency and can render assistance. In addition several of the AIS MOB beacons also send a private VHF DSC (digital selective calling) signal so that your boat's radio will ring with a notification (and in regions where it's permitted, nearby boats will also be alarmed).
PLBs (personal locator beacons) operate using the same frequencies and technology as EPIRBs (emergency position indicating radio beacon) to notify rescue coordination centers of distress. This takes place via a 406 megahertz link to the COSPAS/SARSAT constellation of satellites. PLBs equipped with a GPS receiver (all currently available PLBs include GPS) send a numeric identifier of the PLB and the location. Rescuers are able to look up that identifier and retrieve information on the PLB owner. Now, they're armed with information about who they're looking for and their location. The current location is regularly sent to the satellites ensuring rescuers know exactly where to search. Unfortunately — because the information is only sent to the satellite constellation, unlike an AIS MOB beacon — boats around the victim aren't notified of the emergency, and neither is your own boat.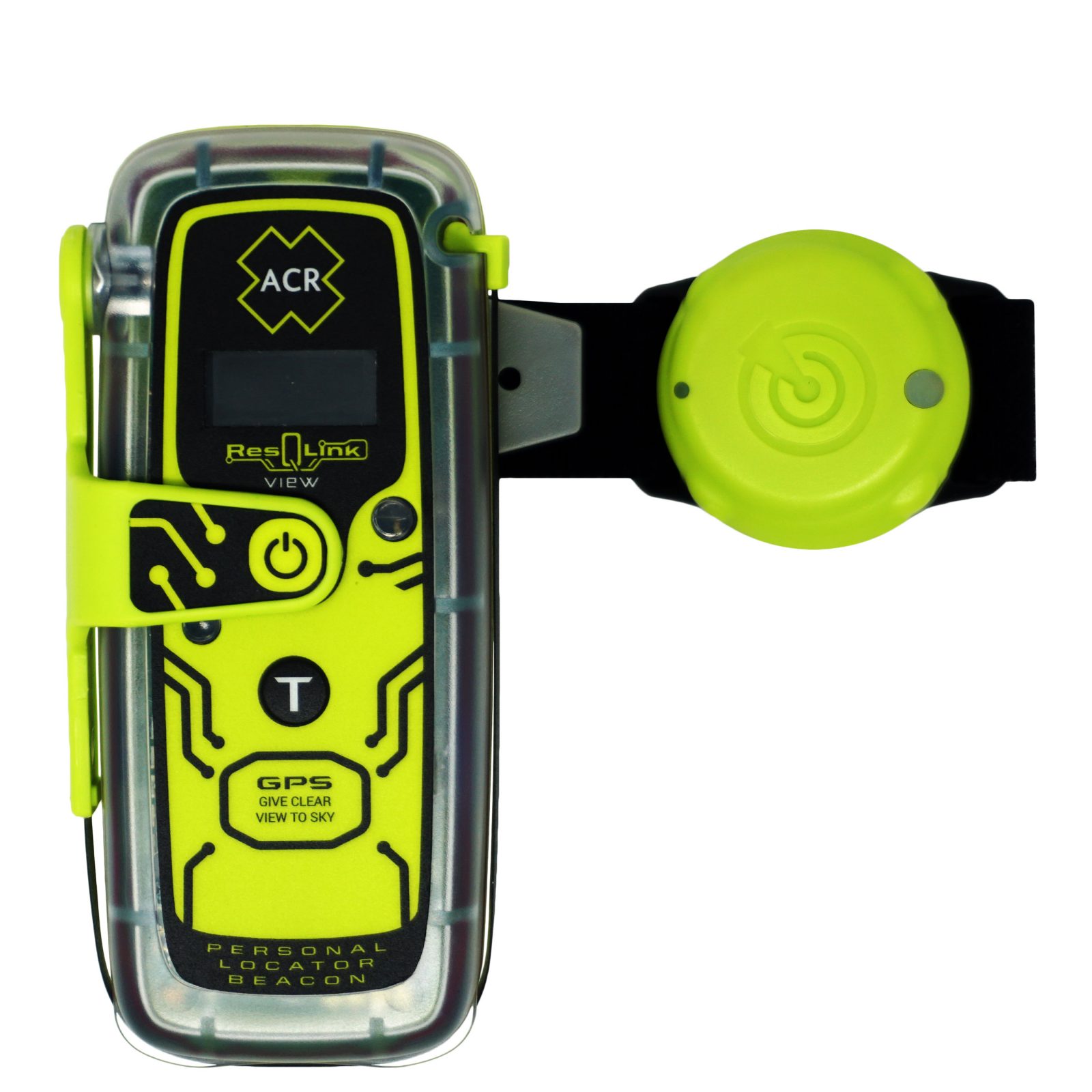 These technologies aren't mutually exclusive and in fact ACR plans to bundle the OLAS tags with PLBs to offer a package ready for any situation. The ultimate best case for safety would be a combination AIS MOB Beacon, 406mhz PLB, and Bluetooth MOB beacon. Currently such a device doesn't exist but it's likely safety equipment manufacturers are working on one.
Final thoughts
The recent example of the firefighters missing off the east coast of Florida serves as a sad reminder of the importance of safety equipment when venturing out on the water. There are many ways to increase the safety of the occupants of your boat and technology has made the job of ensuring everyone on board stays on board a little easier. As you prepare for your next day on the water consider what options make sense to help keep you and your crew safe. For many this is as simple as a couple of beacons that cost less than the day's fuel, but if you're preparing for a long passage on open water you're likely better served by the addition of an AIS MOB Beacon or PLB and possibly in addition to MOB tags.