Nigel Calder update, charts & HyMar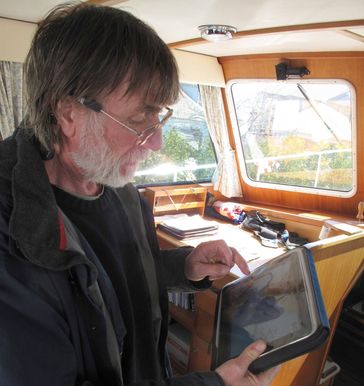 Nigel Calder and I talked non-stop for about six hours on Friday (and probably could have kept going if we were younger men). He visited because he's working on a new edition of How to Read a Nautical Chart
and wanted to check out the latest in electronic charts, particularly the mobile apps. I was happy to help with that, and I also got to ask some questions about Gizmo's systems and find out what's up with his marine hybrid project. I've always liked Nigel's chart book; while it's largely a nice reprint of NOAA's Chart 1 guide to symbology — no longer published by NOAA, though available for download — it also includes some terrific history of cartography along with analysis of where it's going electronically. I'll be particularly interested to see what he discovers when visiting the Chart of the Future project at UNH, which is apparently related to a new vector chart standard (interesting S100 PDF here). I was also pleased to learn that Nigel shares my enthusiasm for improving charts with crowd sourcing and even for 3D charting, and he's not a guy who's easily impressed with the latest thing…
In fact, it seems that though Calder would like to see fuel-efficient, environment-friendly hybrid marine power work as much as anyone — and has spent more time than most studying the concept — he's still not convinced! Since
I last wrote about
the HyMar research project, it's gotten
a good web site
where you can see the plentitude of partners and goals involved. But Nigel, who serves as chief technical officer, tells me that he is still struggling with accurate measuring tools so he can truly compare the efficiencies of diesel and electric motors, propellers, and batteries…and hence their various hybrid combinations. He's skeptical about published performance specs and deep into details of torque sensing, fuel flow measurement, specific diesel fuel energy content, etc. etc.
Frankly I don't understand a lot of the issues, but Nigel did help me see the hybrid concept in terms of my own boat and what only seems like my "efficient" habit of running her at displacement speeds. I do get much better miles per gallon at 8 knots than I do at 16, but that's because the superior fuel efficiency of my Volvo Penta at higher RPMs is masked by
Gizmo's
much greater hull resistance at semi-planing speeds. One goal of hybrid is to match an engine's fuel efficiency curve with a boat's hull resistance curve. In an ideal world, I'd usually be running an engine hard for short periods to store house and easy propulsion energy, but would still have some serious horsepower to apply when needed.
One of the hybrid issues that Nigel has written about in
Professional Boatbuilder
(
search back issue index here
) is the need for top end power in rough seas and high winds, and apparently his testing in Sweden is proving the truth of that concept. The last knot of displacement boat speed, sometimes left out of early hybrid attempts, takes a heck of lot more power, and it's the same power needed to make way when things get nasty. Which accounts in part for the hybrid boats that eventually went back to conventional propulsion systems.
At any rate, I'm going to keep my eye on
that HyMar site
, hoping Nigel's pursuit of truth hits pay dirt, but it's also nice to see some new players in marine hybrid. For instance there's
Hybrid Propulsion
in Portsmouth, NH, which has created the system that's diagrammed below and that may be cruising where I can see it this summer…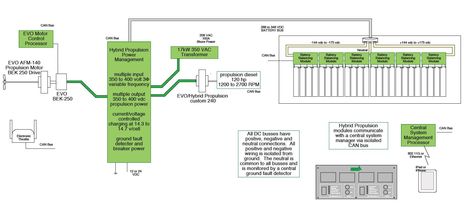 There's also
ReGen Nautic USA
down in Ft. Lauderdale, which showed off its hybrid Grand Banks
Watt Power!
(below) during the Miami Boat Show (though I missed it) and also has some
good diagrams
illustrating the difference between serial and parallel hybrid systems. And I was impressed with the simplicity of
Beta Marine's all-in-one 25-60 hp hybrid systems
when I saw them on display at the Newport Show. Finally, the huge German firm ZF is purportedly providing hybrid power and drive systems for a fleet of charter canal boats, though I can only fine a
this hardware catalog PDF
. Maybe readers know more about this project, or others, or have an opinion on the future of hybrid marine propulsion?