NMEA Technology Award, yike!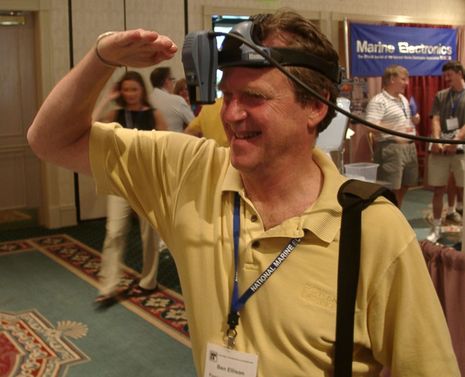 Who knows why I had my hand up like that, but I do vaguely remember the scene — Furuno showing off NavNet on some sort of military grade head's up display, I think — as one of many geek moments I've enjoyed at NMEA conferences. In my experience, there's no concentration of marine electronics expertise and enthusiasm anywhere that compares to the Conference's trade-only exhibition hall, and many of the seminars are great too. But the affair became a dite more stressful for me last year when I got involved in the NMEA Technology Award, which went to Navico's Broadband Radar with honorable mentions to Maretron's N2KBuilder and Navionics' Mobile (PDF here). This year may be even harder…

In today's press release about the award entries (PDF here), NMEA Director David Hayden is quoted thusly:
We're very excited about the product entries for this year's
Technology Award. They represent a wide range of hardware and software
innovations that directly benefit boaters by enhancing what they
experience at sea. Now it's up to our panel of distinguished and
talented judges to select the best of the best. We're grateful to them
for their thoroughness in making what will be a very difficult
decision.
All but the third sentence ring true to me 😉 Dean Travis Clarke, Tim Queeney, and I have quite a task before us, as you can see in this entry list (with company links):
FLIR First Mate handheld thermal imager, FLIR Systems, Inc.
GPSMAP 7215 chartplotter with G Motion technology, Garmin International
E-Series Widescreen multifunction display with HybridTouch, Raymarine Inc.
WASSP Navigator Software, Electronic Navigation Ltd.
MaxSea Time Zero Explorer navigation software, Furuno/MaxSea
TracVision HD7 satellite TV antenna, KVH
USAT 30 marine stabilized antenna, Cobham Satcom SeaTel
Simrad NSE multifunction display with version 2.0 software, Navico
Matrix AIS/VHF (GX2100), Standard Horizon
AIS WatchMate RX, Vesper Marine Ltd.
Fortunately we do have some criteria, as noted when the 2010 Award was announced: "The Technology Award
recognizes recently introduced products that advance technology within
the marine electronics industry. The award will be given to the product
judged 'best' based on a combination of innovative design, benefit to
boaters, practicality and value." If you have an opinion as to which nominees excelled in these terms, feel free to express it below…but, please, no trash talk.