NN3D in the U.K., and a Furuno USA apology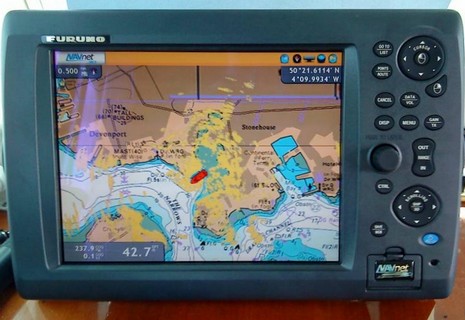 Seeking the cutting edge of marine electronics—any technology really—can be bitter sweet. On the one hand, for instance, it's wicked hard right now to actually get your hands on Furuno NavNet 3D equipment here in the States, so hard that Furuno USA just posted a long apology about it. Meanwhile a U.K. Panbo reader and electronics pro has just installed a full suite of NN3D gear, and is exceedingly impressed (as I was after a trip on a Furuno test boat in May):
DRS4D (4' radar): The dual range radar is "AMAZING"…went out on a small trial and it was very fast, very impressive. Note this was using out-the-box auto settings; I did not manually adjust heading, timing or tuning once. I loved the NMEA2000 port in the scanner, which made the setup so easy. Furuno even includes a terminating resistor in the installation kit so you can connect 1 or 2 devices to the antenna and put the resistor over the data lines and the DRS will auto pick it up (don't think NMEA will be happy with the "terminal strip and slap a resistor in" approach by Furuno but it works flawlessly). I ran a Furuno SC-30 and Maretron WSO100 into the DRS4D via this method no problem.

SC-30 (satellite compass): Very impressed with this bit of kit. It locked on to a GPS position while it was mounted at 90 degrees as we had the mast down tinkering with brackets. When the mast went up, it found a heading within 3 minutes and was SPOT on, no adjustment needed. The heave correction provided to the DFF1 was also very impressive!

AIS: There is an issue with NN3D losing AIS targets after a few minutes, but I believe the fault to be with the Comar unit rather than the NavNet 3D. I am going to be doing more testing next week in the workshop when we receive our shipment of MDF8's, 12's, and BB's, as if you use the FA150 or FA30 (50), there is no problem, so I think it may be a forming issue with the specific AIS strings.

DFF1 (fishfinder): Plugged in and worked excellently.





Fax30 (weather-fax and Navtex server): NN3D picks this up as "unknown fax" which I thought a bit strange considering the FAX-30 predates NN3D by a long way

As you can see (top, and bigger here), the MapMedia raster charts are very good on the MFD12, though I still prefer vector. I am pushing Furuno on a release date for the vectors in Europe.

There are some problems though. There is no port monitor for the 0183 ports or way to tell what sentences are being received by the system (I have flagged this to Furuno and they say this is to be looked into). The MFD12 was slower when radar overlay is linked to range (so the chart zooms in and out as the radar range changes) and the update of the radar overlay on the chart is about once per second. By slower I was expecting too much out of the little brother after using the black box unit. It is still faster than any other radar overlay I have seen!

Overall, the customer is very happy, and I am ecstatic about how the NN3D performed.




I too was hugely impressed with the SC-30 satellite compass and will write more about it soon. But, Yanks be warned, Furuno doesn't even have a U.S. price for this item yet. I also understand that the FI-50 instruments are widely available in Europe but very hard to get here. What gives? The Furuno USA apology sounds heart felt, but is short on details as to when all this gear will really be available in quantity, yet our U.K. friend seems to rolling in it (he says he's adding three more stations to that NN3D network next week!). This is a completely wild conjecture, but could the Furuno mother company in Japan be favoring markets outside the U.S. because our dollar has gotten so weak?
PS Here's a Hull Truth thread on NN3D MFD12 deliveries here in the States. One guy just put up pictures of his new helm with big empty cut outs where the dual MFDs should be. Ouch.