OSCAR: artificial intelligence at your masthead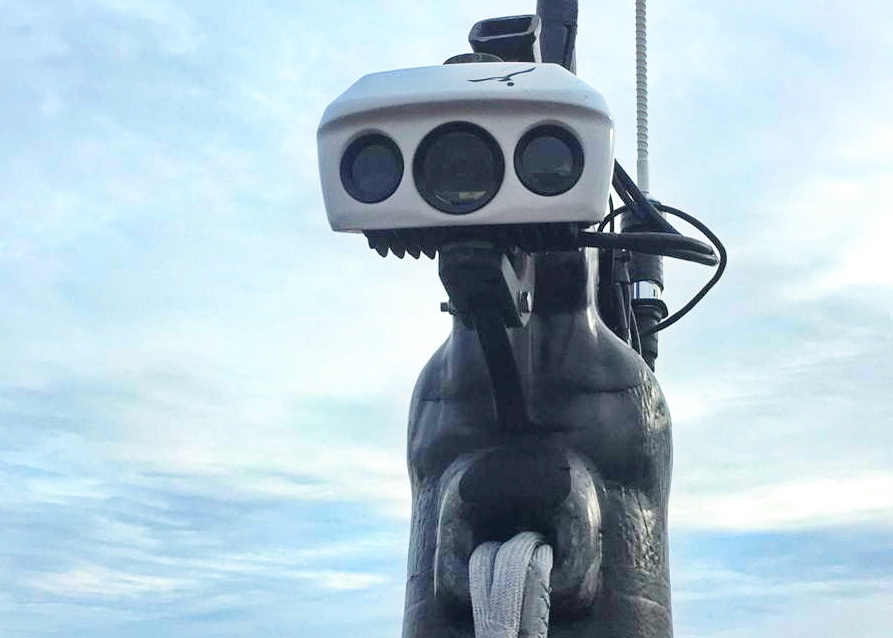 The product name "OSCAR" is an acronym for the very valuable, though challenging, collision avoidance work attempted by the multi-camera masthead pod above, along with its processing unit and display apps. Which is Optical System Cognition And Ranging. But the developers also anticipated the usage I've noticed in videos showing extreme offshore racing sailors using the technology: The skippers tend to call the system "Oscar" like he's an extra crewman they're really glad to have on board.
OSCAR combines thermal and color cameras to maintain a 24-hour masthead watch that is constantly scanned using artificial intelligence to identify floating objects and warn the crew as necessary. But can it spot a barely awash container? In confused and breaking seas? In time enough to avoid it? Well, that's what I mean by "challenging work" and while I don't know the answers, Oscar seems to be devoting more brainpower — artificial and otherwise — to the task than any other "smart" marine camera system I know of.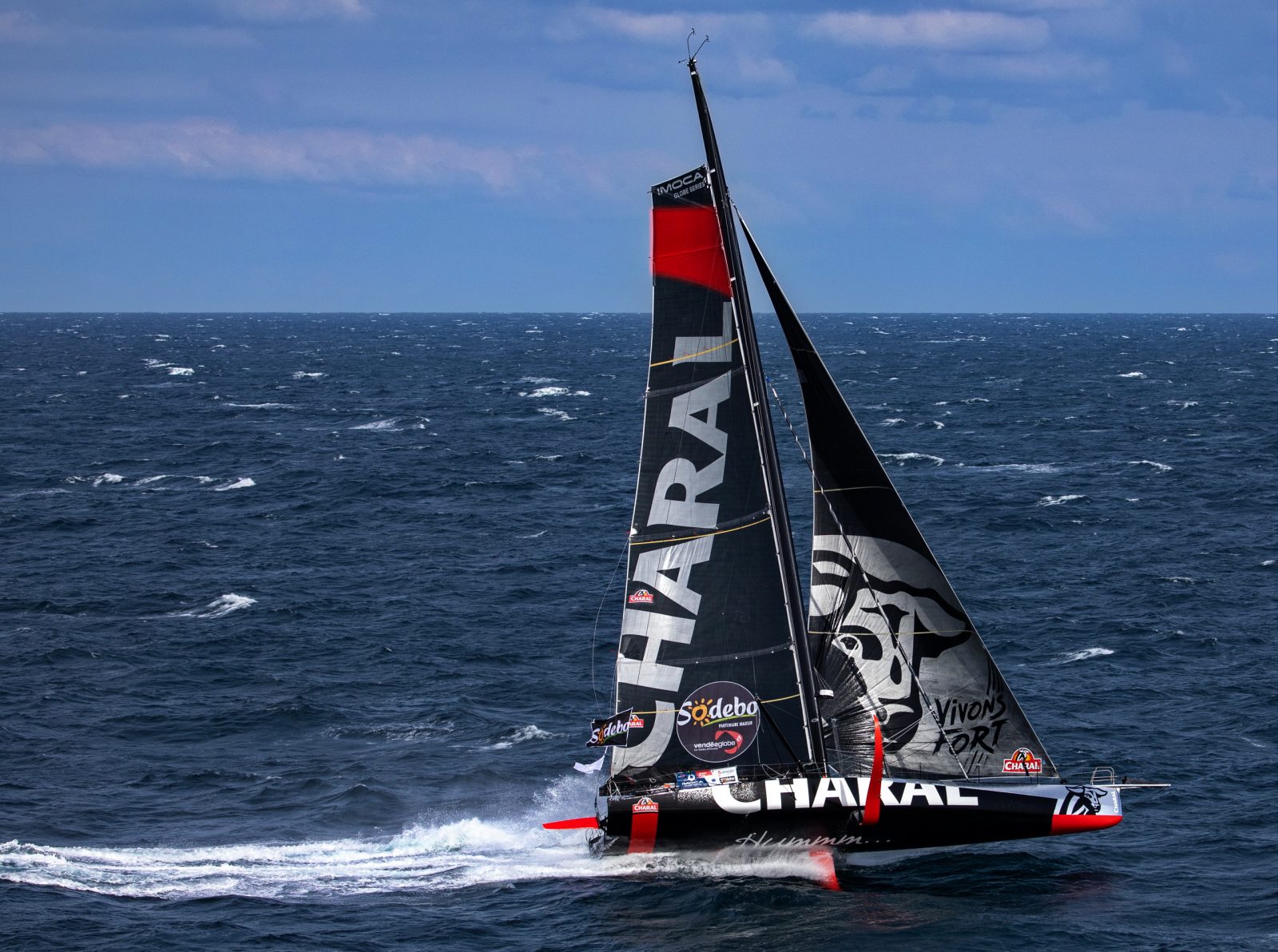 According to the OSCAR story, Raphaël Biancale returned from a six-month sailing trip and used his previous experience as an automobile engineer to invent a form of AI vision meant to help sailors "navigate waters by night in complete safety." Of course "complete safety" is a very ambitious goal, and that's why it's fantastic that OSCAR systems are now being used by 18 top-notch sailors in what might be the most demanding product test imaginable — the non-stop Vendée Globe race around our planet. When you sail as fast as possible for approximately 24,000 nautical miles, the major issue may well be damaging your boat or one of its many appendages by hitting an unidentified floating object (UFO), as indicated in the Wikipedia listing of the eight Vendée races already run since 1989.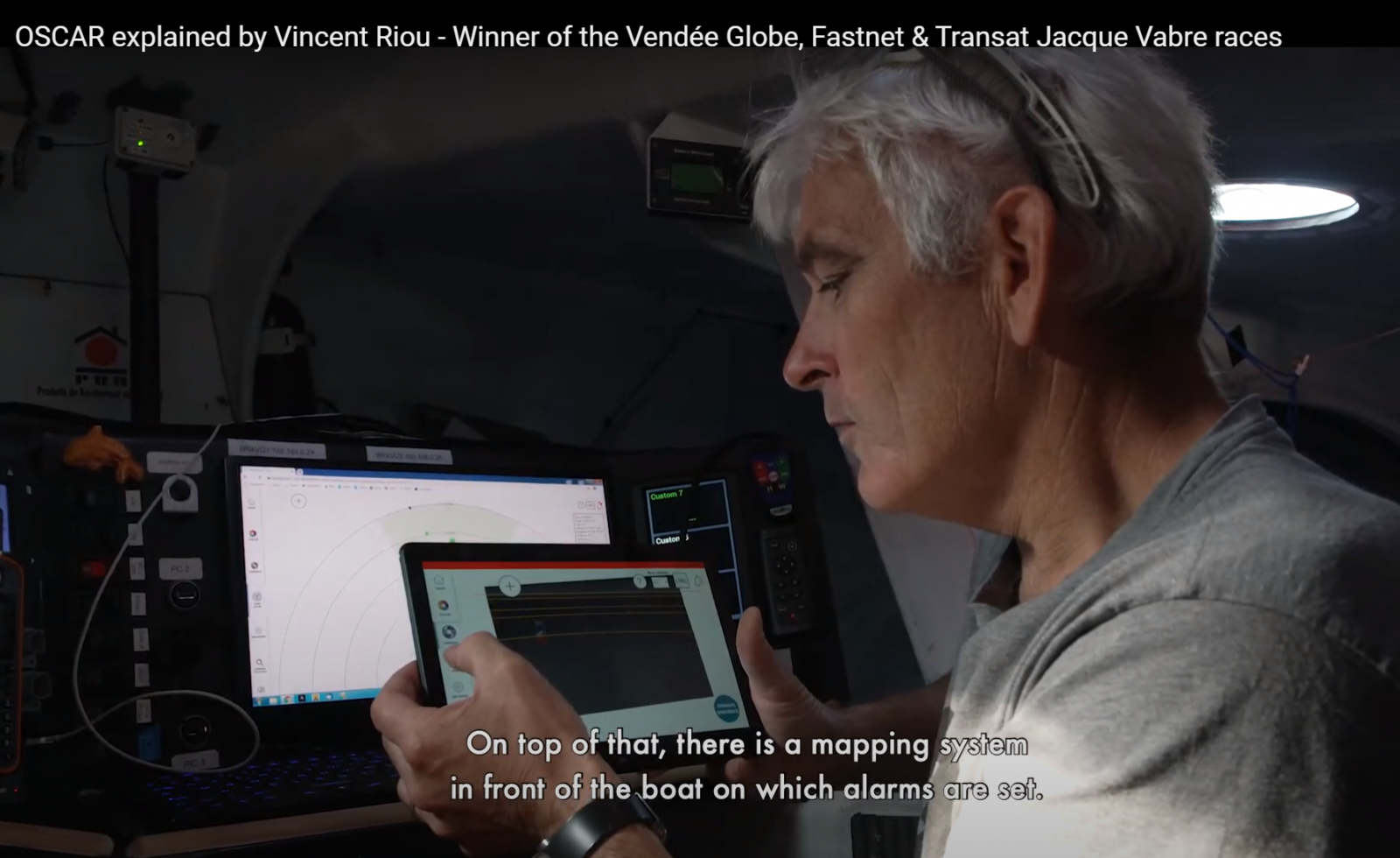 Better yet, deeply experienced ocean racers like the "Swiss army knife of Breton sailing" Vincent Riou have been helping to develop OSCAR for years, and you can watch his system explanation on YouTube. (Riou is not in this year's Vendée, but he's certainly not forgotten; in fact, I mentioned how Riou on PRB rescued Jean Le Cam in the 2008 race in my entry about when my new hero Le Cam rescued Kevin Escoffier after a newer Riou PRB broke badly last week!)
Another good way to get a feel for Optical System Cognition And Ranging is the OSCAR online demo, which uses actual system recordings (like the ones that hopefully get back to the developers at BSB Artificial Intelligence as part of the system's ongoing learning aspect). In the screens above I'm trying the color and thermal video streams and note how the Racing model's single color camera has a 120-degree horizontal field of view while the two thermal cams laced together see a 50-degree swath out to the horizon ahead. Note too how a user can click on a detected object to see its range and whatever Oscar thinks it is.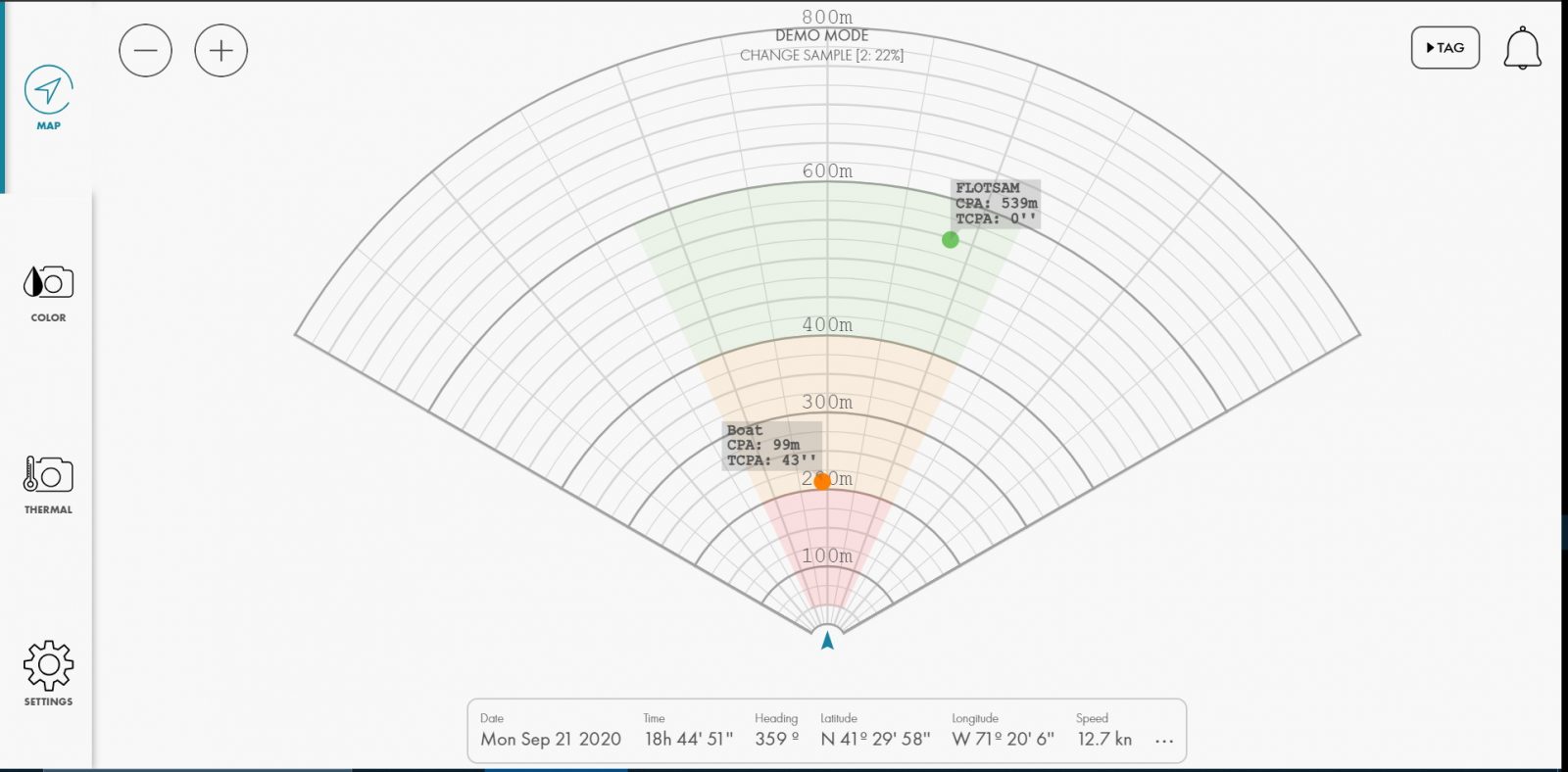 But I suspect that the preferred display is often the map view, and that the audible alarms generated by a "red dot" are the most important feature, especially for the single-handers. Note that OSCAR has a NMEA 2000 interface and in the demo you can see the many instrument values, like wind speed and direction, that can be added to that bottom data line. I also gather that Oscar can send collision avoidance instructions to an autopilot, at least on an experimental basis, and I hope to learn more about that level of system cognition soon.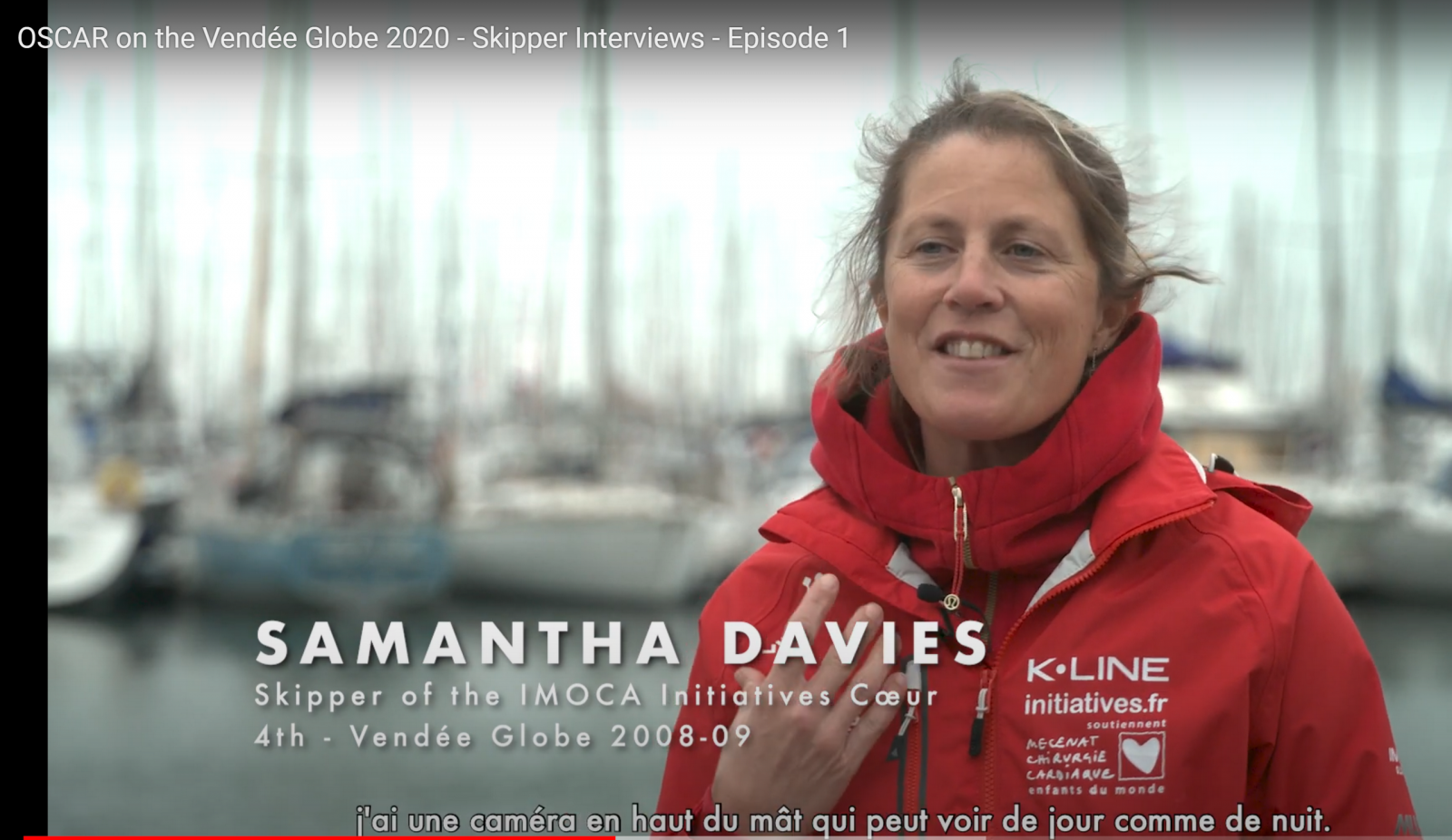 So how are the OSCAR users doing on day 31 of the Vendée (tracking map here)? Well, it's a little sad to watch the skipper interview video (screenshot above) because the great Sam Davies is now in Cape Town repairing damage sustained when her keel hit a whale or similar object at 20 knots and Escoffier recently jumped off Yes we CAM! to join a French frigate. Also, the race favorite Jérémie Beyou on Charal had to turn back 600 miles after the start because something damaged a rudder (and he's now in last place). And that may not be all the damage that OSCAR-equipped racers have suffered so far.
But then again, Oscar certainly can't see underwater semi-floating objects and PRB may have simply hit a wave especially wrong, plus the damage is news while the near misses are not. One racer said that the system is worth having even if it only sees 50% of the UFO's, and I might settle for less.
At any rate, there are many Oscars still on the course and hopefully they're helping contenders like Romain Attanasio (who is also Sam Davie's partner) and Boris Herrmann (who could be the first Vendée winner not from France). And all the race systems include hard drives collecting video clips and object/boat data, so hopefully we'll eventually see instances when the AI lookout made a difference (while OSCAR also improves its optical cognition).
But OSCAR is not just for extreme racing, and can display on an iPad or a familiar multifunction display like the B&G Zeus3 series. Apparently Furuno TZT3 MFDs can also run OSCAR, and Garmin support is in the works. Plus demo sample #1 looks like a common but still nerve-wracking night cruising scene to me.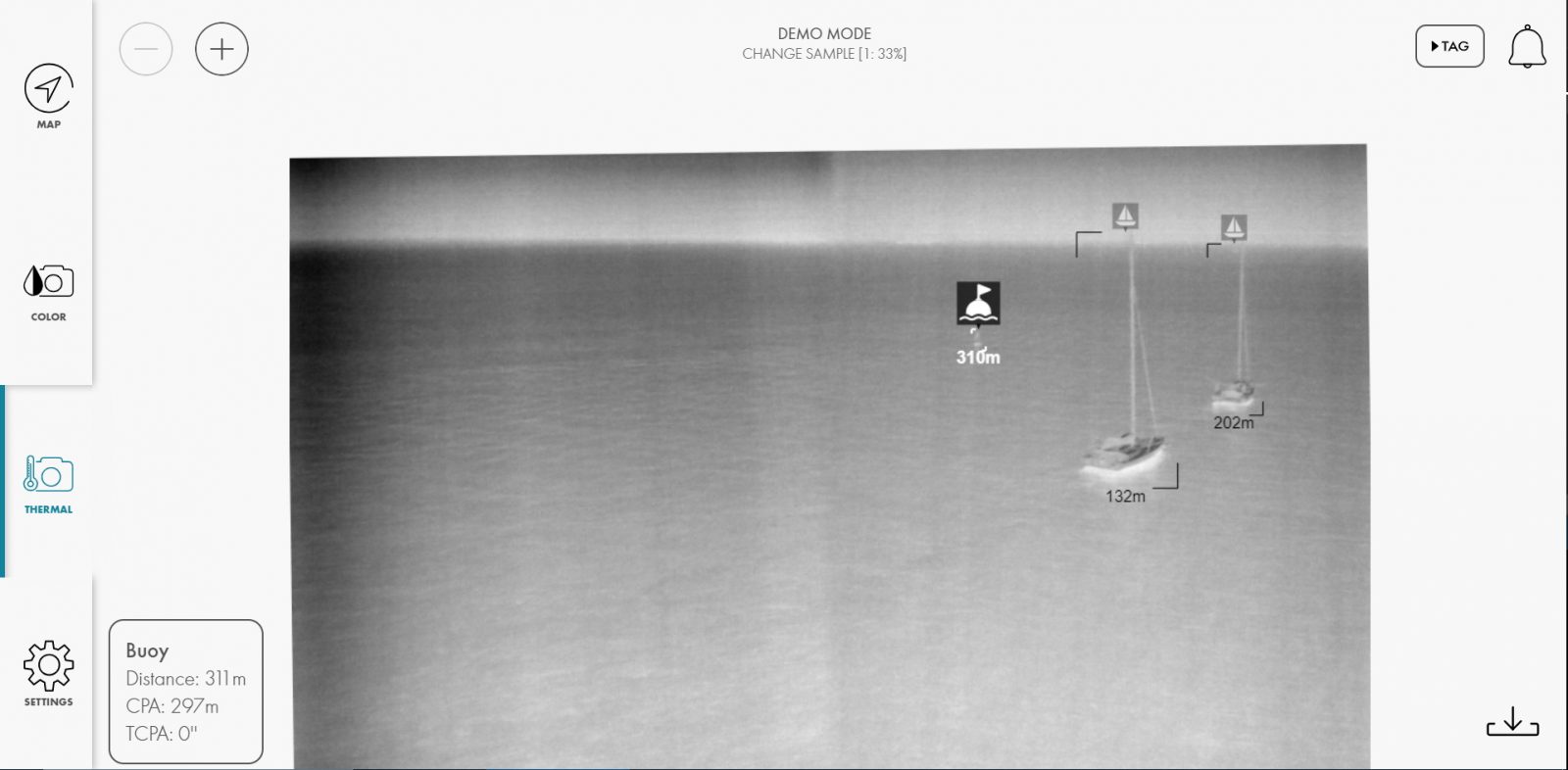 Actually, OSCAR's stabilized and augmented camera views remind me of the advanced and AI-assisted imagery seen in recent FLIR/Raymarine cams and also in Ray's DockSense Control (and DockSense Alert) systems. So when I learned today that the next version of LightHouse3 will also support OSCAR, it seemed like a nice "tip of the hat" to a unique new marine safety idea.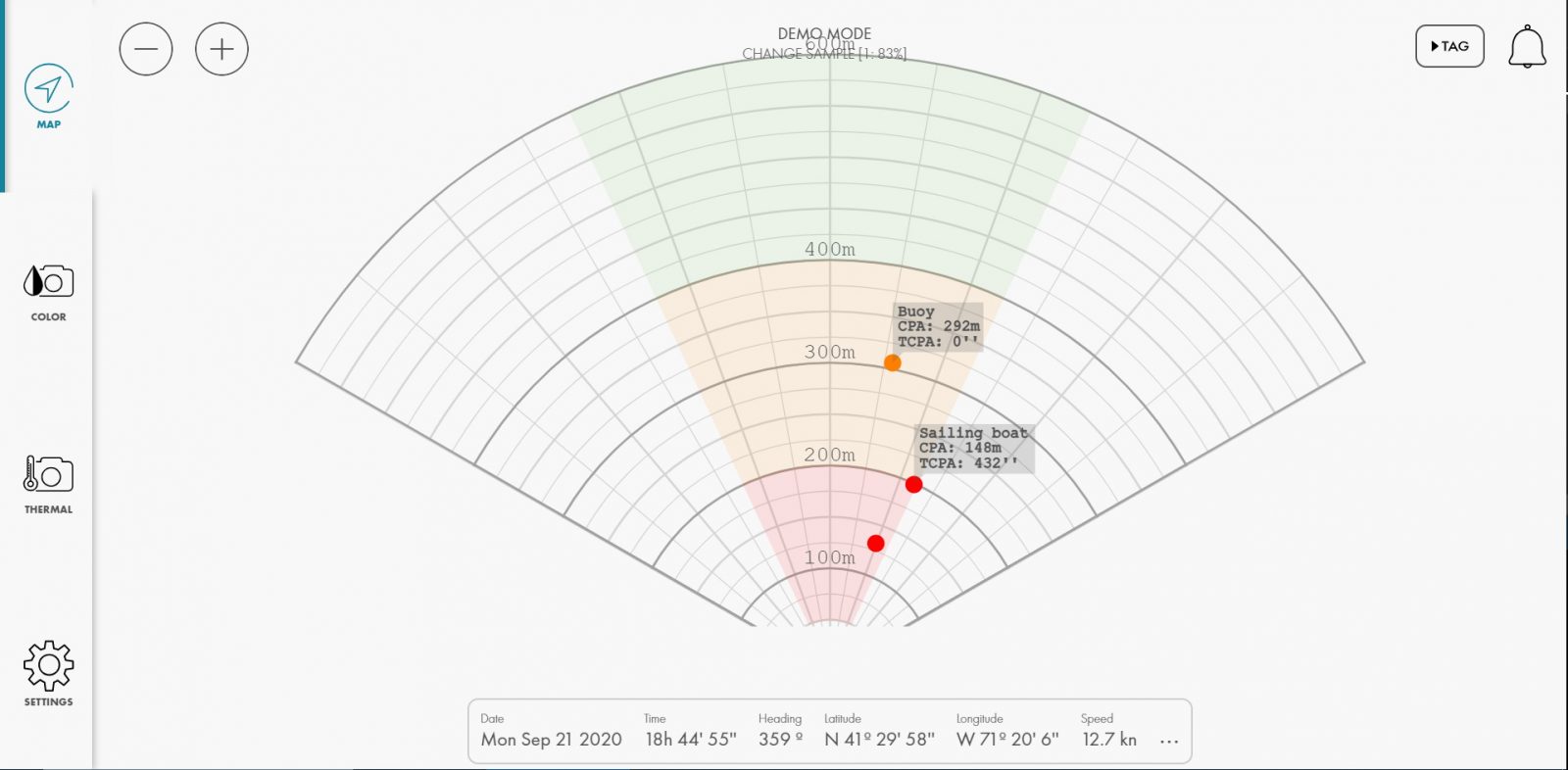 And while all these advanced AI vision products are currently quite expensive for many boaters — I think an OSCAR One 320 is about $10,000 (and they still seek US distribution) — the core technologies are used in much bigger markets, and we should benefit eventually. Heck, my relatively humble Toyota RAV4 can detect highway lanes and vehicles ahead quite accurately, and even control throttle and wheel to help keep me stay safe while on cruise control. Can you too picture Oscar joining your crew?