New FLIR M300 cameras – visible light, thermal and color thermal
At the NMEA Conference last week, FLIR previewed the M300 line of marine cameras with five models including the company's first visible light only camera. They also debuted Color Thermal Vision (CTV) and MSX edge enhancing imaging technologies. Ben Ellison and I took a night ride on the FLIR/Raymarine demo boat in busy Norfolk Harbor and saw how all this technology can enhance situational awareness.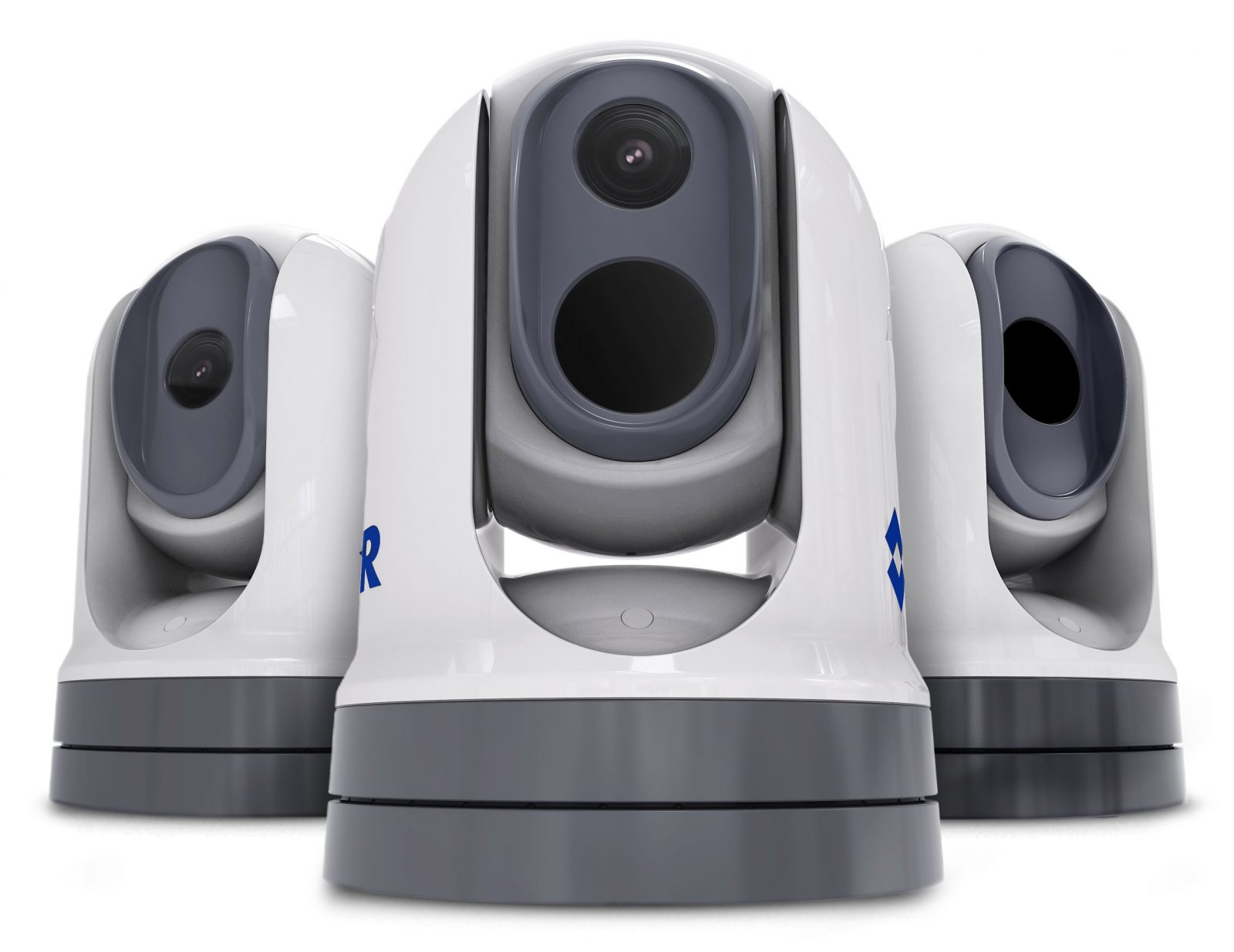 The M300 line adds horizontal stabilization to the previous generation's vertical stabilization capabilities. To offer horizontal stabilization FLIR has added an attitude heading reference system (AHRS) to all cameras in the line. This means that all cameras can supply acceleration data to a Raymarine Axiom to enable ClearCruise AR without a separate AR200 sensor pack.
CTV & MSX
When paired with a Raymarine Axiom or Axiom Pro MFD, the dual payload models — color and thermal camera equipped — in the M300 lineup can use information from both sensors to present a colorized-thermal image (Color Thermal Vision or CTV) or use the superior resolution of the visible light camera to enhance the edge detail.
CTV is a major advance in this new generation of cameras and it's pretty impressive to see out on the water. In their press release announcing the new cameras FLIR says, "This proprietary multispectral imaging technology for the FLIR M300 Series and FLIR's Raymarine Axiom line of navigation displays blends thermal and high-definition visible color video for enhanced identification of buoys, vessels and other targets at night." The Raymarine Axiom screenshot above demonstrates not only the ability of CTV to add color to the thermal image but also ClearCruise AR overlaying flags on top of AIS targets.
MSX uses the superior resolution of the visible light camera to provide greater edge detail than the thermal sensor alone can provide. Thermal sensors don't display edge detail well in cases where there's minimal thermal contrast between objects and with distant objects. MSX allows the detail from the visible light camera to be overlayed on the thermal image. This is the first time FLIR has made MSX available in one of their marine cameras though it has been used in their industrial diagnostic cameras and FLIR One smartphone cameras.

Visible light only model
In a first for FLIR, the M300C ($6,500 MSRP) is a visible-light only camera. With a minimum illumination of 0.0008 lux, FLIR is confident (and we saw proof on our demo ride) that this will enhance the situational awareness of many boaters in low light situations. Like all M300 models, the M300C features two axis stabilization, automatic defrost, and 360 degree continuous pan with 90 degree tilt. The 1/2.8 inch Sony Exmor CMOS sensor is paired with a 30x optical zoom and 12x digital zoom. Without a thermal sensor the M300C won't be suitable for SAR or true zero lux situations.
Thermal only models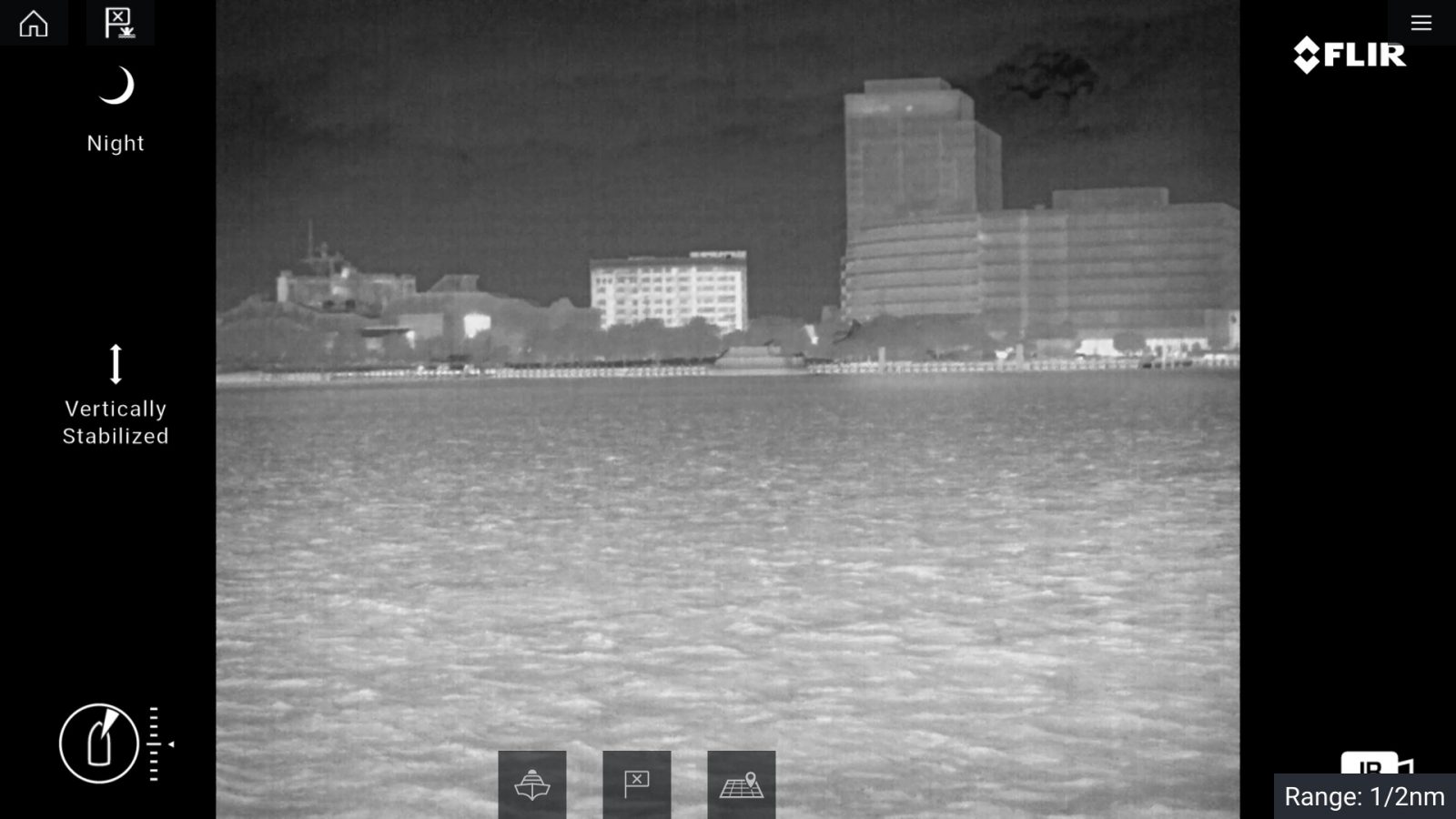 The M300 lineup has two thermal only options. Like all thermal capable cameras in the line, these models utilize FLIR's Boson core. The $8,500 M332 features a 320 x 256 pixel thermal sensor with gyro-stabilization, pan and tilt. The $14,200 M364 sports a 640 x 512 pixel thermal sensor with the same features as the rest of the line.
Dual payload cameras
The top of the M300 line is occupied by the $20,500 M364C and $29,500 M364C LR dual payload cameras. These cameras are differentiated from each other by their field of view. The M364C has, like all the other thermal cameras in the line, a 24 degree field-of-view, while the long range M364C LR has a narrower 18 degree field-of-view. Both cameras use the 640 x 512 pixel thermal sensor as well as the 1/2.8″ 1080p visible light sensor fitted with a 30x optical zoom lens.
Broad compatibility
All M300 cameras will work well with MFDs from Furuno, Garmin, Navico, and Raymarine. The cameras support touch-enabled pan, tilt and zoom, video over IP, HD-SDI and analog video output, vertical and horizontal stabilization, slew to cue to allow AIS, MARPA and slew to touchpoint, and full access to the outputs of thermal and visible light cameras. The M300 cameras are the first FLIR marine thermal cameras to add ONVIF support. ONVIF will make it easier for other platforms to connect to the cameras without implementing FLIR's custom API. This will enable compatibility with security products that already support ONVIF. In fact, I became aware of ONVIF support because GOST happily mentioned the compatibility.
Better with Axiom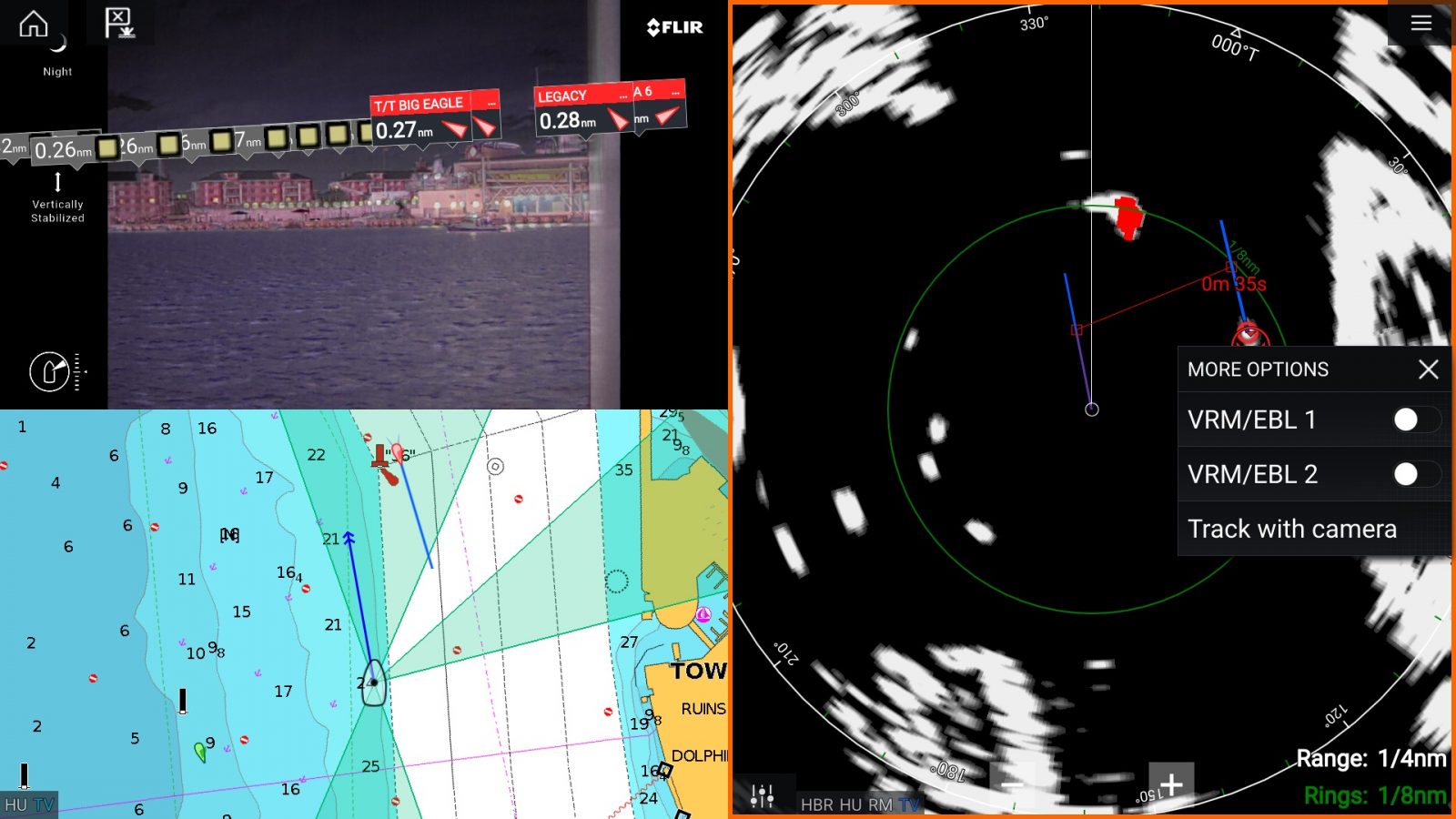 These are highly capable tools for night vision and search and rescue uses when attached to any display. But, when paired with a Raymarine (FLIR owns Raymarine) Axiom or Axiom Pro MFD the capabilities grow dramatically to an exhaustive list of situational-awareness-enhancing tools.
ClearCruise AR augmented reality overlay
Color Thermal Vision
MSX edge detail enhancement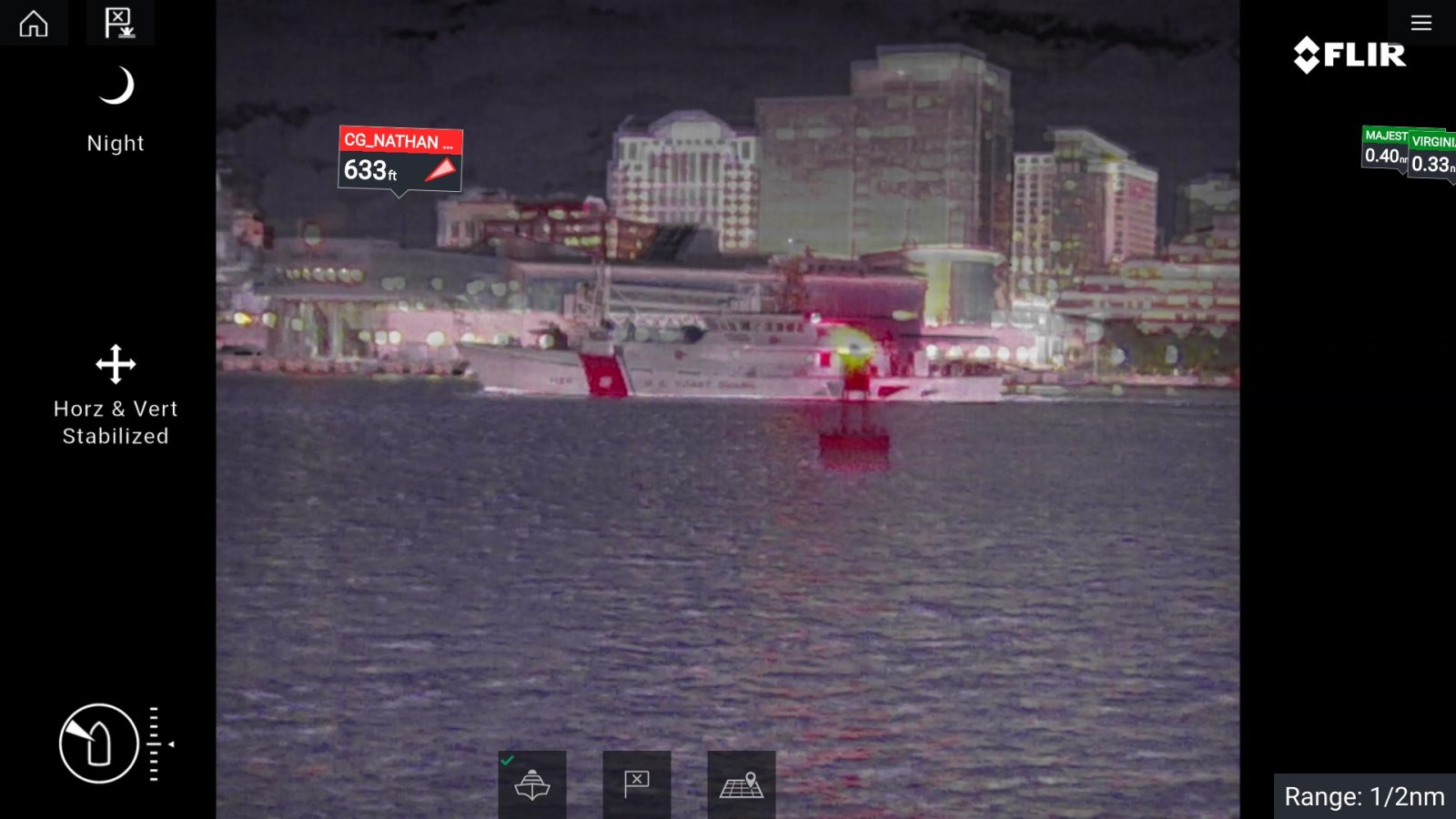 But, all of these features are only available when the cameras are paired with an Axiom or Axiom Pro. The screenshots and video above show quite a few of these technologies in use together and demonstrate the utility of the features layered together. The Axiom line starts with the $650, 7-inch, Axiom 7. Even if you have a large installation of another manufacturer's MFDs I believe the investment in at least one Axiom is money well spent to get the most out of these cameras.