Flir thermal cameras get Raymarine ClearCruise Augmented Reality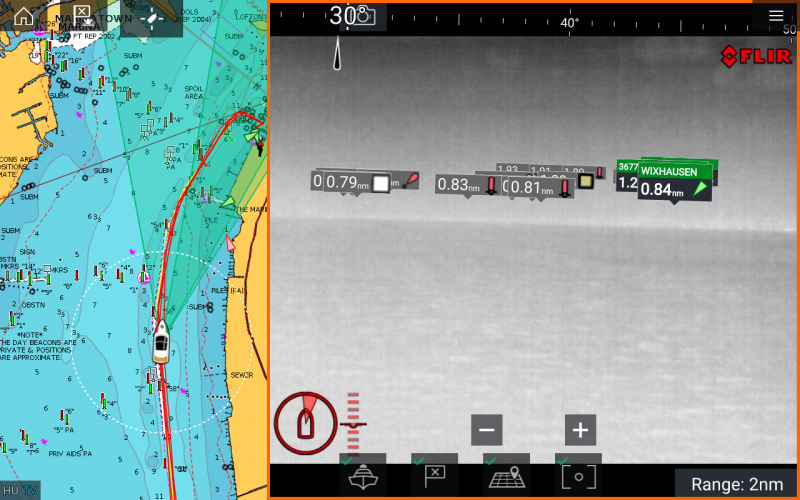 Raymarine's ClearCruise AR (augmented reality) is very cool technology and it's getting even cooler with support for pan and tilt thermal cameras. Clear Cruise AR overlays information about chart objects, AIS targets, and waypoints over a camera image displayed on Raymarine MFDs. Though the first version — unveiled at IBEX in the fall of 2018 — only supported fixed visible light cameras, I've thought its greatest value would come when overlayed on thermal images.
While I appreciated the original ClearCruise AR, low-resolution nighttime video based on heat instead of light can really benefit from AR aids to interpretation. There's a lot of processing going on to make the magic happen and Raymarine kept the first version of ClearCruise AR simpler by only supporting fixed, visible light cameras. But now the combination of ClearCruise AR and FLIR cameras makes for some really powerful night-time situational awareness.  
Raymarine may have created some confusion by naming separate features both ClearCruise and ClearCruise Augmented Reality. ClearCruise highlights non-water objects detected by a FLIR camera on-screen — Ben E. discussed his use of ClearCruise around Hampton Roads — and only works with FLIR cameras and Raymarine MFDs. ClearCruise AR is Raymarine's augmented reality technology that until the release of LightHouse III 3.9 (also known as Annapolis) was only available on fixed visible light cameras.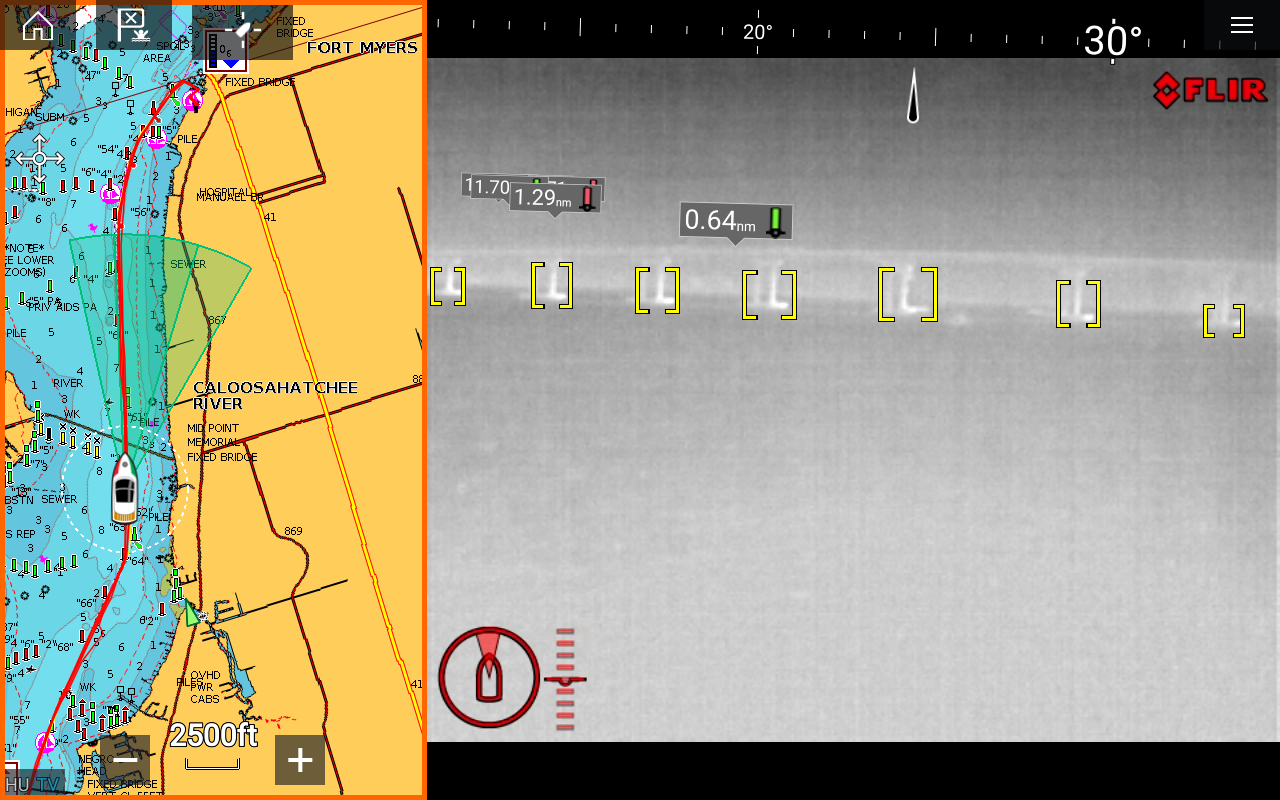 Now, a boat equipped with FLIR's $2,500 M132 or $3,500 M232 thermal cameras, a $500 AR200 sensor core, and an Axiom or Axiom Pro MFD can take advantage of thermal night vision, ClearCruise fixed object detection and identification, and ClearCruise AR's overlayed AIS targets, ATONs, and waypoints. That's a lot of information displayed on your MFD and a significant leg up navigating at night.
ClearCruise AR supports multiple cameras aimed in multiple directions all with AR overlays. In the screenshot above if you look at the green shaded areas on the chart display on the left you will see there are actually two pie-shaped pieces shown. Each of these pieces is displaying the area and range of the two ClearCruise AR-enabled cameras. On Have Another Day that's the $700 CAM210 fixed, visible light camera and the M232 pan and tilt thermal camera. So, while the M232's pie piece will move depending on which way it's pointing the CAM210's will remain fixed. In the screenshot above the fixed CAM210 is set to 2 nautical miles while the M232 is set to 1nm.
ClearCruise AR doesn't yet support displaying MARPA targets as AR labels but Raymarine says they're working on adding it in a future release. Raymarine is also planning on adding digital image stabilization for the M132 and M232 cameras — the only cameras in the current lineup without stabilization — using the AR200 sensor core. This stabilization, like ClearCruise and ClearCruise AR will only be available to boaters using their cameras with a Raymarine Axiom or Axiom Pro. Other manufacturers MFDs can see and control those cameras but won't get t the AR or stabilization features.
The addition of ClearCruise AR to thermal cameras furthers Raymarine's advantage in image processing. I think the influence of their corporate parent, FLIR, is clear in their impressive list of capabilities in this category. And, it's certainly very nice piece of mind to know that I have even more options in the toolkit for safely navigating at night and in limited visibility situations.