Thermal imaging, coming to your boat eventually?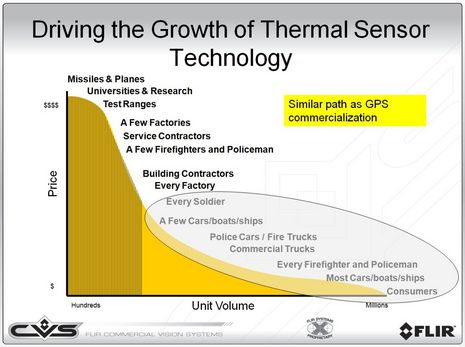 This graph is a thermal sensor manufacturer's dream — and was, in fact, created by the marketing department at FLIR — but, hey, that's us way over to the right. I'd love to see the price of thermal cameras go so low, and unit volume so high, that "most cars/boats/ships" have them. Like GPS, once you understand how well the technology works, you want to have it aboard. I remember well the Magellan Nav 1000 (below), which seemed totally magic 20 years ago, but was actually quite crude and cost over $1,000…

Actually, thermal cameras are at least part way along that seductive price/adoption rate curve, largely driven by FLIR, which seems to dominate most aspects of the technology. Consider this little-known factoid about the recent Maersk Alabama vs Somali pirates saga: FLIR thermal sensors were in use on the USS Bainbridge (the Navy vessel that rescued the Captain), and on the drones flying overhead, and on the sniper rifles. I learned this because a FLIR representative recently visited Camden, and even set up the new high res M626L on a hotel balcony. It's amazing how much more detail and range you get from 640×480 pixels than you do from 320×240, which is the norm for less-than-mega yacht thermal cams. The M-Series is what I'd like to install on Gizmo's masthead, and use to learn what seeing with temperature, instead of light, really means. I think FLIR is going to let me do that, which is great, but, at $20,000, the M646L is four times the cost of FLIR's entry level Navigator, and equates to the entire cost of a pretty good dual helm MFD system with radar, sonar, and a decent selection of NMEA 2000 sensors.
I do get a kick out of this image I found of what was arguably the first handheld GPS. I recall trying one on a delivery when Magellan first brought them out and, though "intuitive" did not apply, falling into a state of deep techno lust. Thermal imaging has already evolved to be a lot easier to use, but let's hope it follows this "white brick" down a steep cost/unit incline.