FLIR buys Raymarine, good for everyone?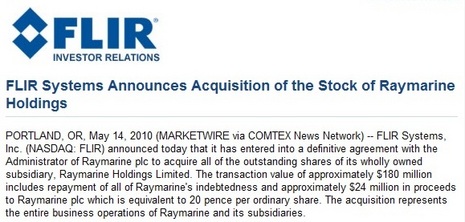 "We are all very happy here," reads the email I just got from a contact at Raymarine, and that sure makes sense. The agonizing process of getting sold is over, and in the end they were bought (full announcement above here) by a strong company which is not a direct competitor but is "very serious about commercial and recreational marine." That phrase, already demonstrably true, comes fresh from Lou Rota, FLIR's VP for Maritime Business Development. Rota also told me that there are no plans to move or substantially change Raymarine operations, and that FLIR is very hopeful that it can continue to work closely with manufacturers like Furuno, Simrad, and Garmin in terms of integrating its thermal cameras into their navigation electronics. I suppose that Garmin, which recently made a very public bid for Ray, may be unhappy about this turn of events, but…

I, for one, am very confident that Garmin will continue to do very well in marine electronics without absorbing Raymarine. In fact, the entry I was going to write today is about two of its newest products, both now installed on Gizmo and both quite noteworthy. But I'll let that wait until Monday. I think the whole world of marine electronics, and its fans, should celebrate this weekend. With Raymarine in very solid hands, and the boating economy a little better than it was, it looks to me like the Big Four (plus one?) are poised to compete with gusto. The deal that went down today was pretty confusing, but maybe there's even some comfort for Garmin, if it forced a higher price. And its offer can certainly be seen as proof positive that it, like FLIR, is very serious about marine electronics. From where I sit, it's all good.
PS In response to some of the comments below, here's a graph of RAY stock for the last year. I don't pretend to understand all that went on, but obviously it could have been worse.