Pocket Navigator SP, with a fab weather page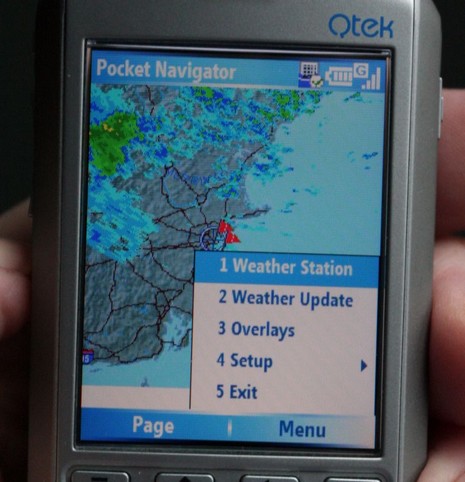 Yes, indeedy, that's nearly real time Nexrad weather radar showing the rain around Boston this morning, and it was loaded automatically when I rotated to this page in the new Smart Phone edition of Pocket Navigator. This is not a subscription service; the software is simply using the phone's web browsing ability to grab a small file from NOAA, and whereas the base map is resident a download covering New England only requires 2–10 k-bytes, depending on the amount of rain. On this particular phone and the Cingular service I'm trying, it takes a few seconds via GPRS and costs about a dime a download. Note that this is not animated radar—which was particularly noticeable today as the rain was moving east to west (very unusual here)—but at a dime a look, it's easy to monitor the trends. The developer, Richard Stephens, also had set the phone up with several links to NOAA text weather predictions, buoy reports, and the like, which are similarly low bandwidth and work nicely.
This phone is also a pretty darn good micro chart plotter when used with a Bluetooth GPS, as illustrated in this larger photo. It even has a 1 gig mini SD card inside, so chart storage is not an issue! Of course the screen is even smaller than the PDA I've normally used this program on, and the touch screen is much missed (that's why the menu choices above are numbered). But, then again, if you go everywhere with a smart phone in your pocket, how nice to be able to view charts, topo maps, weather radar, etc. Note that this version of Pocket Navigator is part of Memory Map Navigator 5.0.7, and is not yet included with the more stripped down version of Pocket Navigator that Maptech markets.
Update 5/4: Weather radar animation is planned for the next version of Pocket Navigator (PN) Smart Phone, and the Smart Phone implementation will be added to the Maptech version of PN soon. So what, then, does the the less expensive Maptech PN lack? The major Memory-Map advantages: a version of the PC program that is a full GPS navigation program, not just a chart and route manager; the ability to read lots of chart and map types besides Maptech's; and, finally, more frequent and timely updates of PC, PDA, and SP programs.