Ray ST70, hand's on #1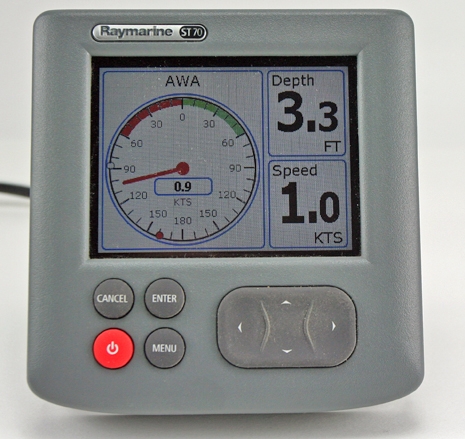 This ST70 not only plays pretty well with the various non Raymarine sensors on Panbo's NMEA 2000 test network, as mentioned earlier this week, but it's also loaded with neat surprises. One is those little minimum and maximum dots on the outer ring of the digital Apparent Wind dial above. Many instruments will track min/max of some values, but I've never seen one that does it graphically like this. Have you? Plus when you press that menu button from this page, your first choice will be to reset those min/max values. Friendly.

And have you ever marine electronics, heck any consumer electronics device, that tracks its current drain, internal temp., etc. as seen below? I've got lots more to detail about the ST70, and about Garmin's new V3 firmware for its 4– and 5000 series, which also plays nicely with the same N2K test sensors. I plan to make a list of all the PGNs available on the network versus what's available on these displays, but omissions don't seem major, and can always be fixed in future firmware updates. In initial testing, both units also seemed to handle redundant sensors well. But my lab time is over for about 10 days as I prepare for a Monday flight to Miami, a couple days of Innovation judging—no robes, but having reviewed the entries, I'm excited to participate—and one busy boat show. Per usual, Panbo posting may be erratic.