Raymarine ST70 Plus, like music to my ears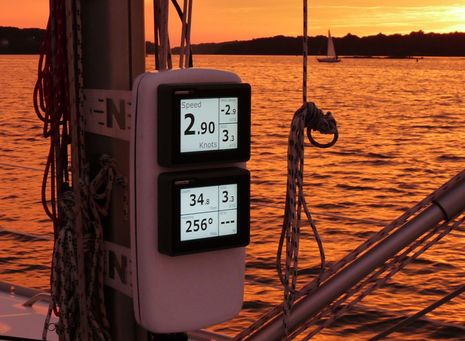 A review by Dan Corcoran: The Raymarine ST60 Graphic, ST70, and the Garmin GMI10 began a transformation away from specialized instrument displays for wind, depth, speed, compass, and autopilots in large part due to the availability of sensor information from data buses like Seatalk and NMEA-2000. Although the days of single purpose instrument displays with direct connect sensors and dedicated digits or analog needles has not yet come to an end, mostly due to cost and power advantages such displays have in an environment where sunlight readable displays is a must, the time is near…
The Raymarine ST70 Plus pictured above is similar to the ST70 but with a larger screen, wired remote control (picture below), and with a capability for multiple displays to be linked together to work in concert so that features such as brightness and display modes affect all displays together with few clicks of the remote.
The pair of handsome displays pictured above spent the 2010 season as guests on Breeze Pleeze mounted in an Ocean Equipment mast mount NavPod. During the season the displays were tested on the water in lots of different weather and sailing conditions as Breeze Pleeze beer can raced on Wednesday nights, navigation raced or cruised weekends, crossed the Gulf of Maine, and generally had lots of opportunities to set up these displays in many different configurations. The displays handled all weather and light conditions with excellence, as they did the wide range of weather conditions they were exposed to out on the mast.
Much like the ST70, using a configurable general purpose display like this is not unlike switching from using a cassette player to an Apple iPod. In both cases you generally comprehend the difference in the technology improvement to be incremental, but then find yourself surprised that the product is revolutionary. I mean, cassette vs. the iPod, they both play music, just different storage mediums right? However, it is the utility the iPod and iTunes brings to managing and enjoying your music that is evolutionary and astounding. I could say the same of the VCR vs. a TiVo, TV stored on a hard disk a big deal? Yes.
Well the ST70 and ST70+ vs. dedicated displays is similar evolutionary.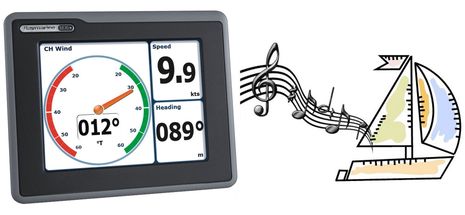 The title of this piece — "Like Music to my Ears" — describe my experience with the ST70 and ST70+. These displays are configurable to show my boat performance data to me the way I want to see it. A little treble, a lot of bass, done! With my hands on the genoa and main sheet, the displays easily visible with a glance at the NavPod, I can watch my performance while keeping my head out of the cockpit. As I adjust each sheet, I am rewarded with a melody that makes me feel like I am in tune with my craft and master of the wind on my face.
And, much like an iPod allows you to customize your listening experience with playlists and other features, the ST70+ lets you customize how you consume your boat data with something like a playlist. Like grouping songs together for a purpose (exercise, relaxation, etc.), you can group boat performance data based on how you want to consume it (racing, cruising, fishing, etc.).
With Breeze Pleeze I had set up my ST70+ screens for start-of-race, windward/leeward racing, navigation-style distance racing, cruising upwind, cruising downwind, and cruising with wife at helm. With input from the crew, I'd frequently change the set up for different race strategies. The conversation usually goes like "Hey Dan, I expect a strong cross current, can we display the compass in the bottom corner next to the COG for today's race?". While each display is capable of displaying 6 values, at a distance of 15 feet I found three or four values to be optimum if we lose the fancy graphics and display digits only. Most boats on the race course with mast displays can only display one value per display, such that a mast with three displays would display three performance measurements, while our two ST70+ displays were configured for six or seven measurements total.
Unlike the ST70, the ST70+ displays are very bright. At night I generally turn the brightness down to 30 or 40%, which becomes a challenge the following day to brighten (at 40% the display is blank in daylight). Breeze Pleeze has a ST70 (no plus) in her cockpit installed three years ago. While I will turn up its brightness to 100% often, I found it unnecessary to ever put the ST70 Plus brightness over 80%, probably owing to a separate 12v power feed on the ST70+ rather than powering from NMEA-2000.
The power consumption of a bright color display is considerable compared to a conventional display, but for the enjoyment I receive from this product, I think a better comparison should be my stereo system (sing to me baby, sing) and for that they are about equal, and in fact I use the stereo much less now. These displays are truly like music to my ears, providing me constant feedback on the performance of my craft and my sailing skills. The power consumption for ST70+ at 80% brightness, my typical setting, is 0.65 Amps, even the two displays together are much less than my stereo playing Jimmy Buffet from the CD. In the evenings at 40% brightness the consumption is just 0.45 Amps. (Other brightness's; 100% = 0.95 Amps, 90%= 0.75 Amps)
The NavPod in the picture above is a great match for these displays. The mount was exceptionally easy to adjust to the mast during installation, and is designed to leaves space for the Cunningham (sail adjustment) to go behind the enclosure to the deck, and the enclosure includes security features to protect the displays from walking off the boat without a special tool.
Being in love with the display it pains me to say anything negative. I could complain that it's not an option to show rudder position or that the brightness is hard to adjust the morning after a nighttime cruise (auto-dimming would be useful, or maybe an automatic brightness bump above 50% on power-up?). I could complain about the price, with an MSRP of $ 1,465, but we all know how love can hurt.
I just can't say enough good things about these displays. As they are evaluation units and need to be returned, I find they are exceptionally difficult to remove from the mast (an emotional thing). I was at the boat yard twice this season with tools in hand to remove them, yet they are still there.
Perhaps you can all help me out in the comments below? Maybe there is some additionally needed test to perform before I give them up, or another display you all would like me to evaluate next, that could ease the sense of loss? Go ahead and comment below.
— Dan Corcoran is an avid sailor and leads ServiceSPAN a back office work center automation technology company.