Raymarine 2006, tantalizing hints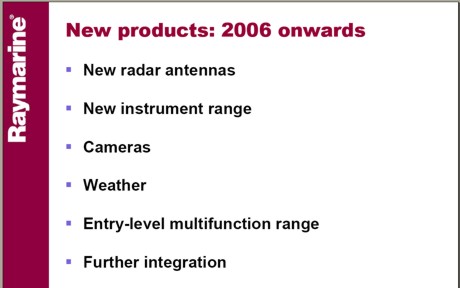 Look what I found while surfing around Raymarine's investor Web pages. That's all there is, so here's some guessing:
* New radar scanners — maybe using Ethernet for fast, flexible connection to the new SeaTalkHS network, and/or able to turn at double or variable speeds for dual ranges or high speed running (like Simrad)?
* New instrument range — might it be SeaTalk2 (NMEA 2000) based like the fine ST290 range, but less expensive?
* Cameras — perhaps relabeled gear from the security industry, but now branded, distributed, and warranted by Ray?
* Weather — is this the "relationship" with The Weather Channel Marine, announced a long time back, now bearing fruit, probably only on the E Series? Via Sirius, with tunes?
* Entry-level multifunction range — hmmm?
* Further integration — AIS receivers, even transponders? Music, etc.? Systems monitoring and switching? Text communications? Web browsing? What?
I'm posting this in the wee hours because I'm off to New York City and a cruise up the Hudson. I'll be sleeping here tonight. Posting will be spotty for sure until I return next Tuesday.