Raymarine A60, revisited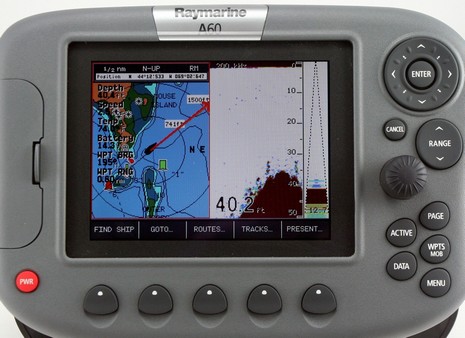 I remembered this Raymarine A60 today because Jim Hebert just did an up-to-date bench test over at Continuous Wave. I tried the unit alongside a Garmin 545S last summer and wrote about it for last October's PMY. It also came up when the WAAS satellite change happened and I gather from Jim that Raymarine was never able to fix the RS12 GPS that's bundled with the A60. An expensive fix is possible, but note that it did well in my testing without WAAS, and that the Raymarine A-Series page indicates that its price has dropped a lot since my PMY piece.

I liked a lot about this plotter/fishfinder, except that the screen resolution bothered me a fair bit. Jim got the screen below using the A60's screen capture feature (which I completely missed, and sounds excellent…and dare we hope it's in the new E-Series software due next week?). At any rate, that is the entire 320 by 240 pixel 5.7" screen below, even if it looks tiny on your high res monitor. If you put it in Photo Shop or similar and zoom it up until it measures 5.7" diagonally, you'll get an idea of how pixelated the A60 is. (Use a real ruler right on your monitor, not a measurement calculated by software that doesn't know your actual screen size.) You can also see it in a bigger version of the photo above. At any rate, the extra cost of the 6.5" A65 may seem high for a screen less than an inch larger, but you'll also be getting four times the pixels.