Raymarine A60, a Garmin blocker?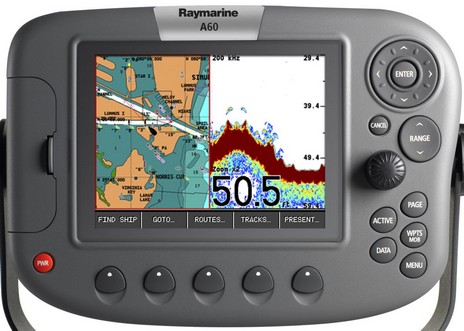 It seems a bit unusual that the folks at Raymarine just announced a new A60 plotter/fishfinder that they didn't mention at the Miami Boat Show, but I imagine they're hustling to meet the Garmin juggernaut. After checking out the A60's specs, and manuals (where I snipped the diagram below), I'd say it's a worthy competitor to, say, the Garmin 545s. You get a slightly bigger display, 5.7" over 5", a killer digital fishfinder, and Ray's C/E-series soft key interface made even simpler as it's stripped of radar, AIS, wind, and other elements the hardware doesn't support. The A60 comes with a Navionics Silver card covering all U.S. waters in almost complete detail, plus you can use Gold or HotMaps fresh water cards. The Garmin, of course, has BlueCharts built in, plus you can get g2 Vision cards with hi res photos and 3D, even add XM weather, but is a 5" screen big enough for that sort of use? (Though note that the 545 sports high pixel density, 480 x 640 versus the A60's 320 x 240.) At any rate, there's already a discussion going at The Hull Truth comparing the Garmin with Raymarine's A65, the similar 6.5" model that preceded this new one (at a significantly higher price). But, watch out, I think FlipFlop425's post is wrong about the 545s having a digital fishfinder. (And, by the way, are any of the new Garmins shipping yet?)
PS 4/18: Yipe, I made mistakes above! It turns out that the internal fishfinder in the Garmin 545s does use digital signal processing, plus you can use its CANet port to connect to an up-to-2kW GSD 22 module. Also, it and the other smaller new Garmins are now shipping (with the 4000 and 5000 series soon to follow). Apologies to FlipFlop425 and also to Garmin's media guy (whose Blackberry jukeboxed when it started working again early this morning!).