WAAS weirdness, part III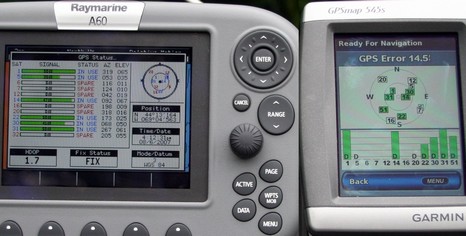 I didn't get on the water today (my current PMY column alluding to house projects undone is true, worse than implied actually), but I did find a spot down the street that has a decent sky view to the Southwest where the new, and possibly troublesome, WAAS satellite #51 lives. Which is why—if any neighbors are reading—my truck was parked there with three chart plotters running on the cab roof for a few hours. It can take a while for a GPS to find and download WAAS corrections, which probably explains why I failed to see WAAS differential corrections on the Garmin 4212 last Thursday. Garmin assures me that, "As for the new WAAS satellites, all of our newer receivers include firmware that will recognize these new satellites. It might take a few minutes to discover the new PRNs, but they will be picked up eventually." And the picture above, bigger here, proves it. There's #51 and all satellites in use are being Differentially corrected.

I haven't heard back from Raymarine, but a commenter on the SSCA board reports being told that an update is planned once the satellite changes are complete. The A60/RS12 above, at the same time and place as the Garmin, did not seem to see or use #51, also known as PRN 135 (the PRN standing for, get this, Pseudo Random Number).
Meanwhile, a relatively new Northstar M121 I've been meaning to spend more time with seemed to find #51 fine, and, though the color supposedly means "not in use", it was reporting a DGPS fix (below). And on Friday, that fairly old Magellan Meridian at right was indicating a couple of WAAS corrections (the little red 'W's). In other words, there's no telling whether your particular WAAS GPS will get the corrections now or not, plus we're learning here that every manufacturer seems to have a different way of indicating WAAS on a GPS status page! But, again, I doubt that many mariners have a critical need for WAAS accuracy. Check all the satellites the Ray A60 is using—and, mind you, it did not have a wide open sky view—and notice that it thinks its HDOP accuracy is a very good 1.7, while the Northstar is only claiming 5.5 with differential fix in the same place an hour or so later. (HDOP = Horizontal Dilution of Position, another beaut of an acronym.) And the Garmin 545 with 6 WAAS corrected satellites only guesses itself a couple feet more precise than the 4212 with 10 uncorrected satellites. I'd sure want to get any WAAS GPS I had on a boat (or in a car) working right with the new satellites, but I wouldn't freak about not having it for a while.
PS Heck of deal over at PlastimoUSA's surplus sale: discontinued Navman Tracker 5110i & 5110 (external antenna) greyscale plotters for $175.