14′ of boat, 24″ of screen, & more WAAS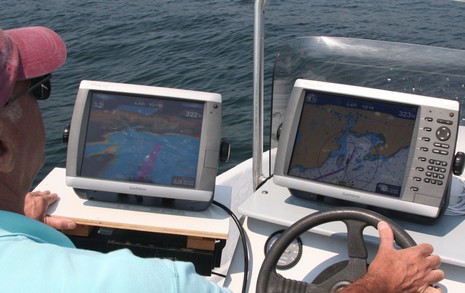 Had some fun this morning, showing my friend Jack the Garmin 5212 and 4212 in action while cruising around a very busy Camden Harbor (classic boat races again). Jack's no geek but has a lot of plotter time, especially on Garmins, and he really liked these new machines, even the Mariner's Eye 3D view. Now you will see on the bigger image that there are lots of fingerprints on both screens but mostly it's the photo/sun angle; they weren't nearly so noticeable in use. Mainly, I think, because both screens are so very bright even in direct sun. The finger prints are particularly bad because some doubter said he bet the screen wouldn't work if I had saltwater on my fingers. Easy enough to test, and it worked fine!

In fact, Garmin tells me that the only way they've been able to affect the touch technology is by laying a 5000 Series in a tub of salt water. But why the finger prints on the 4212? Well, I keep trying to use the screen like I do on the 5212, an indication of how natural it is. I do think a 5212/4212 helm combination makes a lot of sense—for those rock'n'roll conditions when fixed buttons will always be better than moving your finger around a screen—but you'll have to learn which is touch and which isn't. By the way, even in a harbor full of amazing boats, you get some major attention with two 12" multifunction displays on a 14' boat!
I was also curious today to see if the Garmin GPS 17 included with the 4– and 5000 Series was getting WAAS corrections, per yesterday's news, and the answer seems to be no. You can see that the calculated error was only 17' (and the plotting seemed fine), but I think there would be a D showing on the signal bar if it was WAAS corrected (later learned that #51 is the new WAAS satellite covering my region, but the 5212 manual doesn't indicate if WAAS corrections are shown like they were on previous Garmins). I'm also not seeing an "SD-Fix" (Satellite Differential) on the Raymarine A60 with its included RS12 GPS, (though the problem may be the heavy tree cover outside the lab). Could it be that two new, major brand GPS units need to be upgraded to receive the new WAAS satellites?