Raymarine AIS intercept graphics, better collision avoidance?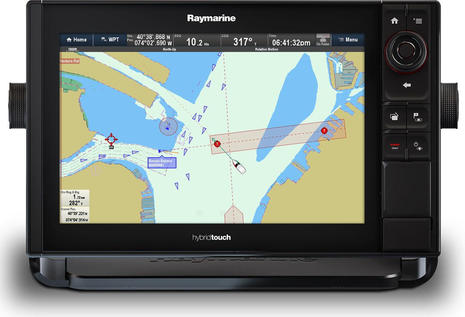 Given the recent strong interest in MARPA collision avoidance, let's look at Raymarine's new AIS target interception graphic overlays. I've only had a little on-the-water experience with this and other collision avoidance features that came in the LightHouse Release 15 update last October, but I sense that a lot of boaters will appreciate the intercept zone concept, plus it may encourage other brands to follow suit or work on other ways that our very talented multifunction displays (and PC charting programs) can help us avoid unpleasant surprises. First, though, I have one substantial gripe…
I grabbed this screen during a Raymarine demo ride in Fort Lauderdale and I believe that it illustrates in strong graphic terms why the optional intercept zone feature should be able to filter out stopped targets instead of, or in addition to, making the zones circular for vessels under 2 knots. If the circles above were eliminated, you'd see the one moving vessel that's within the chosen intercept distance (which may be set a little long). Actually, I think that a near-zero-speed AIS target filter is a valuable option for any AIS display, or at least the ability to reduce such vessels to dots or tiny icons so that more active targets show up better. (It can't simply be zero speed because a GPS will often show occasional SOG on a boat that's tied up.)
But the screen above does indicate that target vessel size is one of the variables that Raymarine uses when determining the size of an intercept zone — which I like a lot — and you can also see a couple of the useful new target icons they've introduced…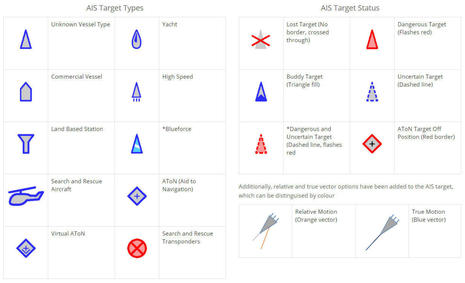 It strikes me as good whenever a regular screen can deliver more information a skipper may value without button clicks, as long as it doesn't further confuse things, and I think we're looking at a nice example here. Some of those icons should be showing on any AIS display — like AIS SARTs and AToNs (though Garmin may still be behind on AToNs) — but I don't recall an MFD screen tipping me off to High Speed craft or (sailing) Yachts before. Note that with LightHouse 15, Raymarine now also offers a choice of Relative or True Motion vectors for AIS targets.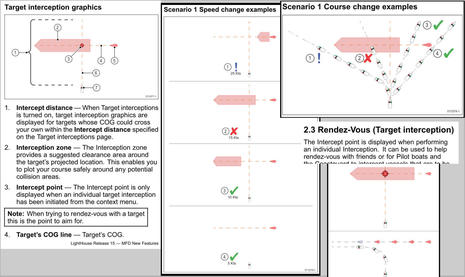 Before going on to my one brief experience with Ray's AIS intercepts on Gizmo, please click bigger the manual snippet collage above (or, better yet, download the LightHouse 15 New Features PDF). This is a different way of doing things, and it takes some getting used to. An interception zone may be something like drawing a Closest Point of Approach (CPA) but a "suggested clearance area around a target's projected location" is a larger, vaguer space, though it may make more sense in the real world. Notice how the interception zones dynamically change with your speed (or the target's) and also how course changes that put you behind the zone, like #3 and #4, mean you will pass behind the target (though that's not completely obvious in the diagram).
Also note that Rendez-Vous is an additional intercept function individually applied to targets. The name comes from its usefulness for coming alongside a vessel, as I once experienced on the Penobscot Pilot, but in fact that means marking a CPA of zero distance, and some boaters will no doubt use it for that critical bit of information.
So, here I was motoring into Rockland Harbor on October 15th with Lighthouse 15 freshly loaded into Gizmo's test Raymarine system. I'd activated target info on the one moving AIS target I'd spotted and was digging into the new AIS Collision Avoidance menu to try the Target Interceptions…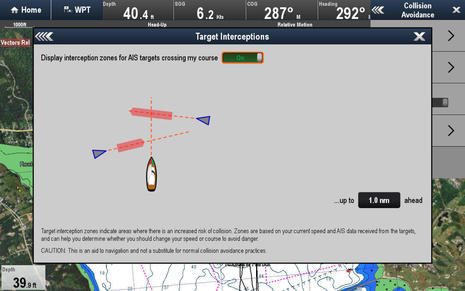 Wow, it's nice to have a menu item expand to nearly full screen with text and illustrations explaining the function, as well as an on/off toggle switch and fields to set the function's parameters – all in one. (There are other screens like this new in LH15, and they reminded me of what one commenter would like to see added to the Raymarine sailing features I tried. I'd like to see them everywhere.)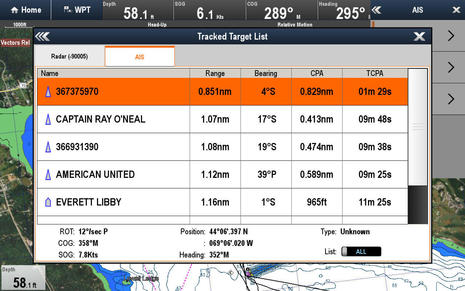 I also had a look at that active target on Ray's new Tracked Target List, which separates AIS from MARPA, employs the new AIS icons, and also shows bearings as Port or Starboard of the bow, which I may well prefer once I'm used to it. Note that the target, which I could see as an island ferry like the Everett Libby, had a CPA of 0.8nm and a Time of CPA of 01m 29s away. These values did not cause an alarm, which was fine with me…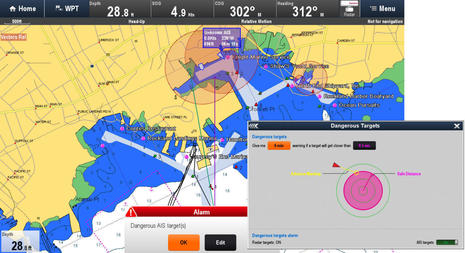 But — doh! — not much later I did get alarmed, even though the ferry had backed into its pen by then and thus joined all the other stopped AIS targets. Now AIS intercept zones and AIS/MARPA danger alarms are separate functions, but again a near-zero-speed filter would be appreciated. In fact, Ray has also tweaked its Dangerous Targets function, as explained in the screen I inset above (not to scale). Again, I appreciate a visual explanation of what a combined CPA/TCPA alarm looks like, but I see plenty of room for a line reading, "Ignore targets traveling less than ___ knots."
I have expressed my filter desire to Raymarine product development people and I gathered that while collision avoidance is considered a work in progress, it also involves consultation with the liability department. Maybe that's why MARPA target alarms can't be turned off like AIS targets can? And, by the way, I don't know if Raymarine is considering intercept zone graphics for MARPA targets, but they seem at least theoretically possible.
And I did lurk around Rockland long enough to get some more realistic experience with intercept vectors, as seen with two moving targets below. I need a lot more use time to know for sure — which won't likely happen until spring (sigh) — but AIS interception zones seem to offer a useful animated aid to understanding where collision danger exists and how that spot moves around as you and/or the target vessel change speed and/or heading. Perhaps a reader has already had more experience with Raymarine's new feature, or maybe you simply have an opinion one way or another?