Raymarine C Widescreens, impressions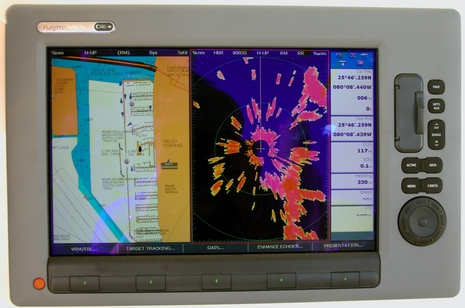 I got aboard a demo of the new Raymarine C-Series Widescreens last week and was fairly impressed. While I don't really care that these 16 x 9 aspect ratio screens are "theater like", I do believe in getting the biggest display possible, and this format helps, because the fit-onto-helm constraint is usually vertical. (You can see demo boat helm here.) The format also seems to work well with some styles of split screen navigation, as I attempted to illustrate above. If I'd had more time I'd have put both chart and radar in look-ahead modes, and set the soft key menu to auto hide. Note that the screen, at 1280 x 800 pixels, looks sharper than my photo shows, but is purportedly still about as bright as the existing C-Series. Raymarine has tons on the new MFDs here, and I have some niggles below…
When I first wrote about the C Wides, one commenter was critical of the new "Unicontrol"–which replaces cursor pad, rotary knob, and OK button–and I've heard similar from other early lookers. I tried it briefly and agree that it probably isn't as quick at, say, spinning through the alphabet to name a waypoint, but let's reserve judgment until we've had a chance to really use it. Besides, product manager Rob Peterson claims that the Unicontrol "simplifies the mental mapping" a new user goes through, and, Lord knows, we all need more simplification in our interfaces.
Another complaint I've heard is that the new Widescreens are not compatible with existing Raymarine analog radar domes and that the wiring harness has changed, and hence upgrading from an older C-Series will be painful. But there are (somewhat surprisingly) three NMEA inputs and two outputs in that new harness. Plus putting radar processing in the scanner and sending it down via Ethernet, while dumping proprietary radar connectors, is the (good) industry trend. In fact, that seems to be the main explanation for Raymarine's new Digital Radomes. Though I notice that the 18″ model is now 4 kW and rated to 48 miles, I heard that the real performance bump will come with HD versions.
Rob Peterson told us that the new Widescreens sport processors that are 2.5 times faster than the current C's, and hence about 15% faster than the current E Series. Considering all the above and support for dual radars, dual ranges, and other features previously reserved for E-(and G)–Series, you have to ask how the heck the next E-Series will top the C Wides. I did, of course, and Rob mostly just laughed, maybe a little maniacally.