Scanstrut waterproof iPad case, & adjustable mount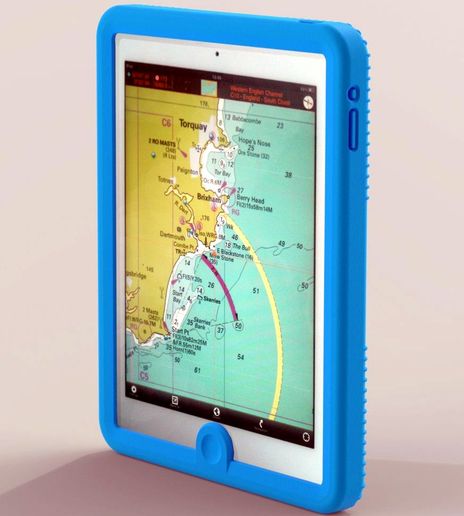 It may be a bit early to discuss this Scanstrut iPad case because it's not scheduled to ship until February, but I know a lot of boaters are wondering what's possible in this realm, and besides it goes with yesterday's iPads-on-yachts-of-the-future entry. Plus, as noted in this Scanstrut blog, the case is "short listed" for a DAME award in two weeks. And I got Scanstrut to share some information on the optional mount that can go with it…
So while Scanstrut's "positively buoyant" and "semi-rigid, two piece" case is rated IP67 dust and waterproof — and is said to be slip resistant if left loose on a chart table or cockpit seat, and shock resistant if dropped — it's still only 22mm (.87-inch) thick. I'm guessing that figure is for iPad2 model, but there will also be a model for the original Pad. They'll retail at $129 in a choice of three colors and, while they're designed with a hand strap for mobile use, that $79 adjustable mount seen below will become available in March.
The mount will also work with various small Lowrance, Garmin, etc. plotters and fishfinders and I believe there will be ways to attach it to rails as well as flat surfaces. The release lever and ball system purportedly allows for quick angle and rotation adjustments, and looks like an evolution of the mount on the Scanstrut Deck Pod I've been long term testing (and which Scanstrut recently redesigned, removing the somewhat obnoxious logo bump and making other improvements).
Altogether this looks like a smartly designed case and mount but I wonder about a couple of things. While Scanstrut says that an iPad's volume, on/off and home buttons (and the Pad2's cameras) are fully usable, what about the USB port? And assuming that the charging port can't be made properly waterproof, how easy is it to get a pad out of the case and back in? Also, might there be an adapter for RAM mounts so that someone could use that universal system instead, and even the Tallon Elite Socket?
It's also worth noting that well-regarded LifeProof will soon introduce its waterproof iPad2 case, that DNDistribution offers two waterproof models, and that I've already tested a number of water resistant and waterproof mobile cases. Anyone know of better options?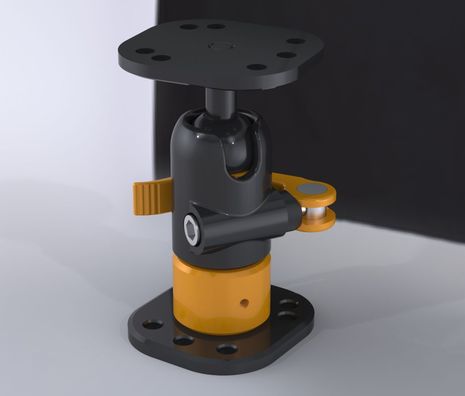 PS, 11/8: Here's a shot of Scanstrut's new rail mount. Another thing I'm wondering about using these mounts with the iPad case is how easily it can be dismounted.