Simrad Remote, a NMEA 2000 surprise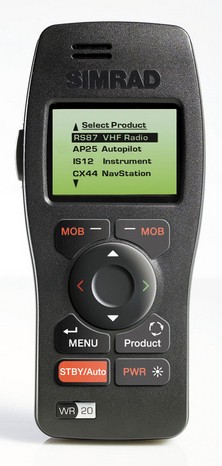 It made sense to me that Simrad's WR20 RemoteCommander shared an innovation award with the Northstar 8000i at the Miami boat show. It uses Bluetooth to wirelessly connect ("up to" 300', as they say) with a boat's SimNet (aka NMEA 2000) network, and Simrad has equipped it with custom messages able to duplicate nearly every button push on all its SimNet-equipped devices. (These are the proprietary messages I was talking about here, and a good example of how they can be used innovatively). Potentially you can use this remote to power steer with your autopilot, zoom your chart plotter, change channels on your VHF, just about anything. Plus, if you do have the Simrad RS80 Series VHF that's SimNet enabled, the remote can also be a wireless handset (the Bluetooth audio going directly to the radio, not through SimNet). The remote can also display one to four lines of data from many sources on the network, including non-Simrad sensors. And finally, it is supposedly ready to work with Simrad equipment that hasn't even been developed yet, though I don't understand how.
By the way, Simrad's purchase of Lowrance seems to be a done deal. It's interesting that both companies have done a lot with NMEA 2000, though in different ways. I wonder how their product strategies and lines will be merged, if at all.