Sirius vs XM, the coverage footprints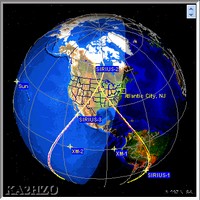 Looking at the animated version of this graphic too long may make you ill, but it does nicely illustrate the very different schemes that Sirius and XM chose in their efforts to blanket North America in audio and data, including, of course, our recent obsession…live marine weather. Both schemes seem to work fine around the U.S., especially on boats with their naturally wide open sky views, but how far offshore, north, and south can you receive Sirius or XM? A lot of cruisers would like to know, but the company Web sites seem vague on the subject. For one thing, I don't think they themselves are positive about their footprint edges, and don't want to over promise.
Another issue is that XM and Sirius may broadcast into countries where they are not licensed to, and where someone thinks they should be. You may recall a long period when Canadians could only subscribe to satellite radio using U.S. addresses, even though most could get it fine. XM and Sirius were not bragging about their Canadian coverage then! Both Audio services are now licensed in Canada but, head's up, Sirius Weather isn't yet. Which brings us to some legalese in the Raymarine Sirius literature suggesting that your expensive weather receiver might not work if you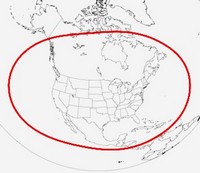 go outside U.S. territorial waters. Not true; I checked!
And judging from the unofficial footprint map kicking around the Internet (right, and slightly bigger here), Sirius will deliver fine service in Canada, out past Bermuda, down to around Antigua, across to maybe the Canal, and actually further into Alaska than shown (so I've heard). I understand that XM is similar except that it doesn't reach as far south, which seems confirmed by the unofficial XM footprint map below, created by WxWorx, the company that's developed a PC hardware/software system for XM Weather. They'd like to hear more reports from XM users on the edge, and I'd like to hear from anyone who knows more about how far either service reaches. Thanks.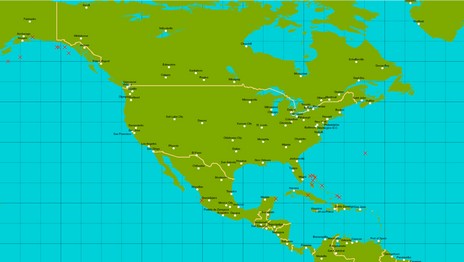 PS, 7/28: We've been kindly sent links to a good collection of footprint maps and to a related forum discussion in which one poster describes getting XM in the Azores using a dinky home antenna (though it was before some changes in XM's satellites).