SOB!, free PC charting w/ AIS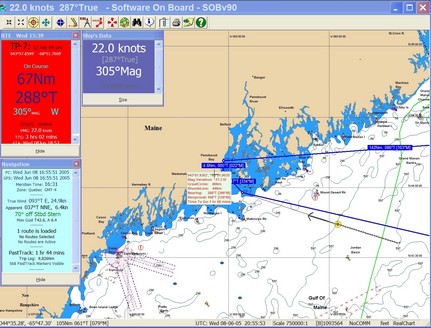 A reader from Sydney, Australia, wrote to say that he's happily using a NASA AIS Receiver with a program I hadn't heard of called Software on Board (SOB) from DigiBoat. I gave it a brief looksee, above and bigger here, and was impressed that SOB comes with a 15 MB C-Map world map that's detailed enough for large area voyage planning. For actual navigation you need full detail C-Maps on a CD or memory card (which you can buy from DigiBoat, ergo the business model). On the other hand, it doesn't support other chart types, and I found the interface a little difficult—no standard drop-down menus and oddities like those scroll bars in the data windows (probably related to my particular screen resolution/font setup). It's totally irrelevant, but I also wonder if SOB is as common a swear in Australia as it was in the house I grew up in?
PS: SOB does require registration and a key to access all features, but it really is free at the moment (it may eventually become shareware).