Sonos WiFi HiFi tested: excellent at home, maybe for boat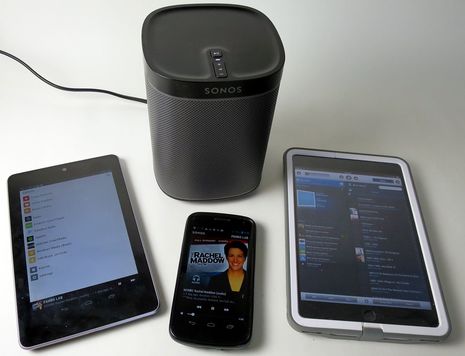 I knew little about Sonos wireless hifi a month ago. While the ads suggested an elegant Apple-like design, I had the impression it also came with Apple-like premium prices and was certainly not suitable for boats. But now that I've lived for a month with the relatively new Play:1 seen above, I may have been wrong on both counts!  Many reviewers have already praised the little speaker/amp's hardware and audio quality compared to similar wireless speakers. I want to detail the superb Sonos audio access and control software that you can tap into with just one $199 Play:1(though adding more components will be a huge temptation) and also discuss how Sonos can make sense afloat.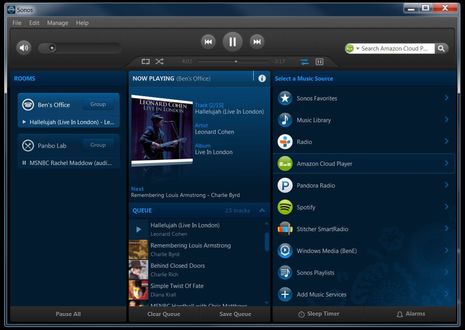 There's a lot happening in the Sonos Controller PC app screenshot above and I hope you'll click on it for a bigger view. Starting at left you'll see that I have two "Rooms" set up — Sonos loaned me two Play:1's and also a Bridge for review — and that each is playing a different source. I can control either room from my desk or with any of the mobile iOS and Android apps seen running in the top photo. I can also group the two rooms to a single source or set up the two Play:1's as a stereo pair in one location.
   On the right are my primary music sources. Some are Sonos standards like Favorites, Playlists, and a remarkable selection of online Radio stations (for instance, they even list the two small community radio stations in my area plus a scanner feed for the county sheriff's department).  I had to set up other sources like the Music Library (in my case, two iTunes libraries on my main PC), along with my Amazon and Stitcher accounts, but all that was so easy that I've been experimenting with Pandora and Spotify and will probably try others in Sonos's deep Music Services list.
   The middle column shows what I'm listening to in the selected room, along with a queue that could be an old iTunes playlist, a list of today's podcasts collected in Stitcher, or a custom mix of many sources that I can save as a new playlist. I've messed with a lot of audio players over the years, but this is a whole new level of easy everything.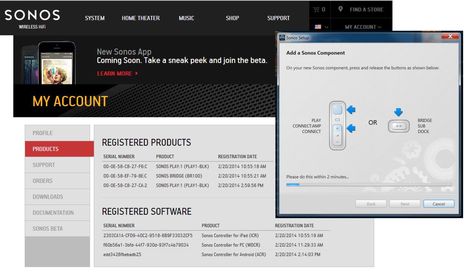 Setting up or changing the Sonos hardware system is also extraordinarily easy. In fact, the automatically collected product registration data seen on the Sonos site above suggests that once I'd registered and downloaded the iPad software, it took just seconds to get a Play:1 and the Bridge operational. Just plug the Bridge into your WiFi router and AC power, "Add a Sonos Component" in the app, tap the button on the Bridge…done. Plug the Play:1 into any AC outlet in the wide range of the Bridge, add component again… done. Note that the Bridge is not necessary if you can run an Ethernet cable to a Play:1 or any other Sonos component; they can all serve as bridges. I tried this and didn't even have to add the Play:1 component again; it just replaced the Bridge without losing any settings except the unsaved music queue.
   Note, too, that by using the Sonos Connect I'll get a new "Line In" audio source that will be anything playing on my living room stereo and perhaps more importantly, my old but able living room stereo will become a Sonos Room that we can use with any of the Sonos app controls and digital music sources. And I say, "will," because this indeed was one of those dangerous product tests that led to a personal purchase. I've ordered two Play:1's and a Connect that should get here before I have to return the loaners. I've learned enough about Sonos to commit to at least a small home system, but the boat remains a question mark.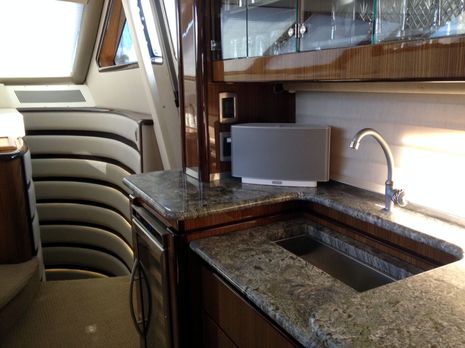 For some cruisers like me the main problem with using Sonos onboard is AC power. While Gizmo has an efficient Victron inverter, I only have to use it when running the boat's work/entertainment PC and monitor/TV. By contrast, the yacht seen above probably has constant AC and it makes a lot of sense to use that big Play:5 as a portable speaker that can sit at the wet bar or easily move out on the sun deck in good weather (or be stowed in a locker if there's danger of it banging around).  When the yacht has Internet access, probably a lot of the time, all the Sonos audio sources are available and it's also common these days for such a vessel to have a PC music library or possibly just a Network Attached Storage (NAS) device, which Sonos also supports.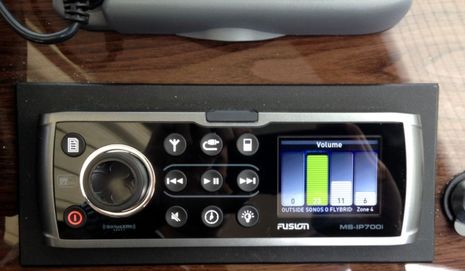 Marine Professionals in Fort Lauderdale, a company that's installed a lot of Sonos gear on yachts, also sent me a photo showing how a Fusion IP700 marine stereo can use a Sonos system as a wireless speaker zone. The possible configuration — Fusion speaker zone to Sonos Connect audio in, Sonos Connect audio out to Fusion auxilary line in — sounds complicated but the results could be easy-to-use yet spectacular source and speaker placement flexibility even on a relatively small boat. And note that the small Play:1 can be bracket mounted — though the audio design won't suffer jammed on a book shelve either — and only uses about 8 watts at volume and 4 in standby mode. However, my boat experimentation will have to wait.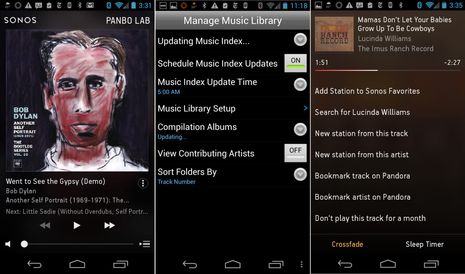 I'll close with some shots of the new controller app that Sonos has in public beta test. For me, it sealed the deal. While I was already impressed with how well everything I've described currently works — it seems almost magic how quickly most sources start playing, for instance — it's also great to see that Sonos is not resting on its many laurels. (Check this credible WireCutter "Best Whole Home Audio" review.)
   The new player is lovely and intuitive, and if you want, you can dig deep into settings like managing your library (middle screen above), but what really got me is how well it supports third party sources. In that third screen above I'm able to interact directly with Pandora, and the screen below shows how the new Universal Search feature can reach across multiple sources. Suddenly, my music collection is not just more accessible than ever; it's now the hub around which I can explore endlessly. Sonos likes the tag line "Steam all the music on earth" but their system reminds me of "To the future and beyond!"