Sony Marine CDX-M60UI, Jeffrey Schwartz review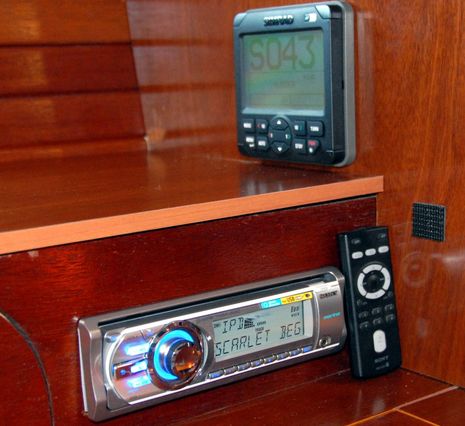 Seen above is the Sony head unit Jeffrey Schwartz installed as part of an elaborate stereo system on his Benateau. You may recall that Jeffrey has also installed the Mas-Tech M200 Yanmar-to-N2K system discussed here recently, which he wrote a thorough comment about. Now his thoughts on the Sony…
The need to change out the stereo system on board our 1996 12 meter Beneteau was brought upon by a devastating lightning strike that hit our boat. This strike took out all electronics including the existing "aging" top of the line Sony head unit and other related sophisticated stereo equipment. Since the original head lasted well more than a decade and sounded fine I decided to replace it with a similar Sony model, the CDX-M60UI Xplod Radio/CD/Mp3/Digital Player unit.
Although the power of 52 watts x 4 at 4 ohms is not all that much, this set up originally had three separate Phoenix Gold power amps for the four Alpine marine speakers in the cockpit as well as the Diamond Audio speakers in the salon. The speakers were mostly OK after the lightning strike, but some of the crossovers were blown out and since the original power amps had such a high audiophile reputation I decided to have them repaired by the factory.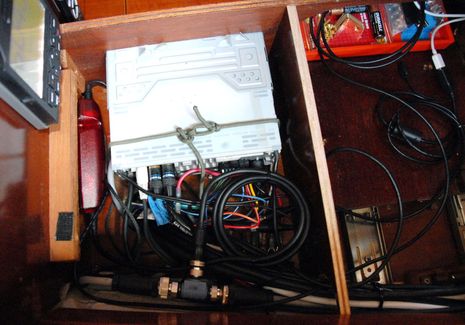 Another reason that I chose the Sony Marine CDX-M60UI is that it had a similar install foot print, similar cable hook ups as the original Sony head unit and the new model has a CD slot under the faceplate vs. the audio cassette the original Sony had. The new model has rear "UniLink" cable connection to hook up other Sony accessories available which I used for the new Sony 10 CD changer CDX-75MX that replaced the original "fried" model. The CDX-M60UI has many other accessories available such as the RM-X50M/L a round wired remote control (the head does come with the small and easy to use RM-X151 wireless remote, seen in the top photo), an optional Rotary commander RM-X4s, the XT-100HD an HD radio tuner, and there is a separate Sirius Sony Package that would allow the M60UI to display satellite radio on its face. The Sony XA-300 auxiliary input adapter for other Sony UniLink receivers is also compatible with this head unit. For boaters that need to put this unit in a wet environment there are "universal" marine face covers; the Metra 99-9005B and Scosche ACM1 that fit the M60UI and the head unit can be installed with up to a 45 degree mounting angle. This marine model has "Conformal" coating circuit boards and UV-resistant faceplate to protect it from the "marine" environment".
Installation was straight forward, a plastic face trim ring removes from the metal frame to be able to mount the unit into a cutout area; all connections are located in the rear except for the front panel mini-jack Auxiliary input. Wiring harness was clearly marked and color coded. The three pairs of RCA preamp outputs for front, rear and subwoofer were easy to access, as was the USB port which I use with the matching iPod cable for my Nano. IPod info comes up on the front display. The subwoofer volume can be adjusted separately and of course it has Balance and Fader level controls for the speakers. There is a 3 band EQ with options for seven music types and can also play MP3/WMA/AAC files in addition to standard store bought music Cd's. Wiring the unit was also straight forward with option for "Power" to be supplied to the unit even with the "supply" breaker off. This way the presets are not lost each time you power the circuit panel off.

The LCD display can display two lines of text; source, artist, track, playback time, menu, clock and is dimmable. Of course there is an AM/FM antenna input terminal and you can preset 18 FM and 12 AM stations. This model has many other special options that it can do, we don't use them and would not think that many do but its special features are too many to list but can be seen on the web at Sonystyle.com web site product page.
One item that I personally like is the fact that it has a "rotary" knob for volume…I prefer rotary vs. push button…call me old fashioned. The unit sounds fine albeit it is being heard via three Phoenix Gold "audiophile" power amps with high end Diamond Audio speakers in the salon area, four speakers with two tweeters and crossovers and one subwoofer. The cockpit has four Alpine M600 speakers with crossovers and two tweeters. Overall I believe this Sony M60UI is well built, easy to install, has a solid feel, looks great and sounds good; it does all that I want it to do for a relative low street price of between $130.00 – $199.00. No issues and would install this model again if I had the choice.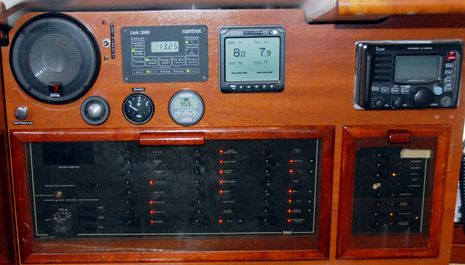 How about a big thanks to Jeffrey. And I'm throwing in a final shot behind that handsome main panel with the Diamond Audio speakers, largely because I've been spending lots of recent hours with typical cruising boat wiring complications like this. I thoroughly understand that they exist to support the gadgets we love, but, man, don't we need a simpler way? — Ben