Tacktick Micronet, part 2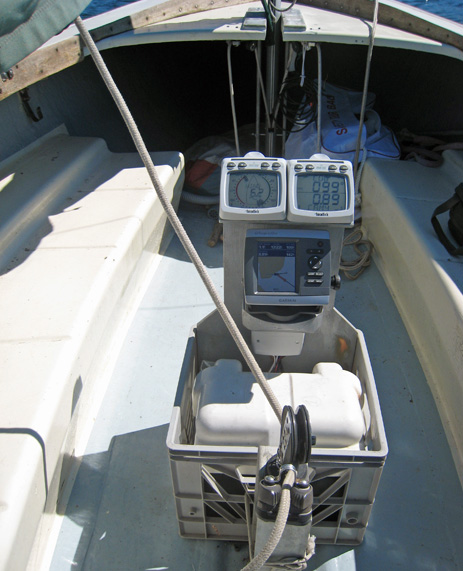 I don't think I'll be offered a job in any department at Lyman-Morse, but check out how I turned a milk crate and some wood scraps into Annie G's new electronics test station. On top are the Tacktick displays already discussed, then there's the wee Garmin 430, and the secret sauce — hard to see — is a Tacktick T122 NMEA Interface.

It was relatively easy to wire the Garmin's NMEA 0183 output and one of its 0183 inputs to the interface (more on that later), and the results are grand. As you can see in this closeup below, bigger here, the dual line Tacktick is showing COG and BTW (Bearing To Waypoint, including some of the waypoint name) from the Garmin, and the plotter is showing wind info from the wireless Micronet sensors. There are lots of ways this could be useful, like getting more chart display by putting desired numeric data on the Tacktick. Note also that on the bigger new Garmins the wind can also be shown, or only shown, as a rose around the boat icon.
Note too the slight differences in the numbers, which in the case of BTW (143 degrees vs 144) probably has to do with the 0183 data rate. But in the case of wind speed (5.2 knots vs 5.4), I'm pretty sure it's because I asked both systems to show "True Wind", and each does it differently. Tacktick uses Speed through the Water to correct Apparent Wind Speed and Direction, which is what most sailors are looking for and sometimes called True Wind relative to boat. But I think the Garmin uses COG and SOG to correct the Apparent Wind it's getting from Tacktick, the normal style of GPS plotters that might accurately be called True Wind relative to earth. Some systems that can deliver both, like the Raymarine E-Series, call the latter Ground Wind. At any rate, I took this whole rig sailing in sometimes light air last evening, and it was good.