Teak Isle, Boat Outfitters, and Qi wireless phone charging
Yes, you can have wireless phone and tablet charging built into your boat right now. What's more, the Qi wireless charging standard that's powering the demo above is picking up support at a rapid rate, and the company building it into boat cabinetry is top drawer (so to speak). In fact, you should know about Teak Isle and its DIY retail outlet Boat Outfitters even if you don't give a hoot about induction charging…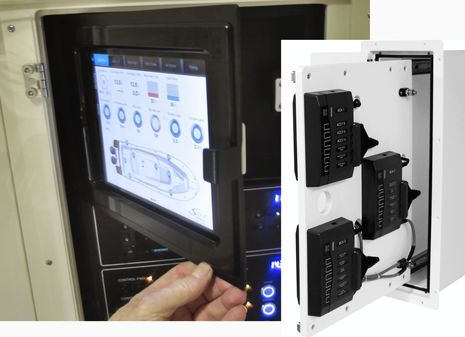 I've learned that if I spot a bit of nicely designed and executed cabinetry at a boatshow, there's a good chance that Teak Isle Mfg. was responsible. The example above is a clever iPad case/door I saw on a Scout at the 2014 Miami Show. The iPad is used primarily to run the boat's CZone switching and distributed power system, and behind the door is sliding access to several CZone power modules, which is great if you ever have to use the blade fuse circuit overrides.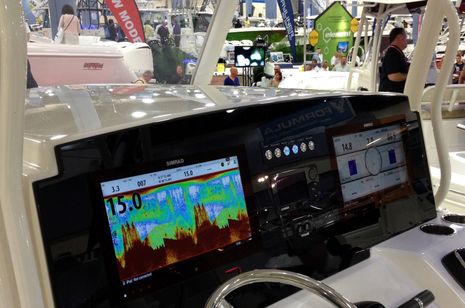 Teak Isle also makes fine dashboard panels, though they don't say much about it on their website. In fact, the panel above features slick but tricky full flush mounts for several of the screens…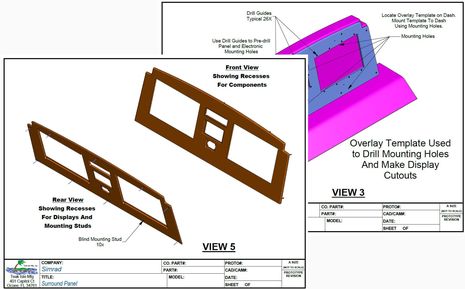 …as illustrated in the diagrams above. Full flush takes absolute precision to look right and in this case the panel is even blind fastened for an even sleeker look. It also comes with a precise drilling and display cutout guide to help the installer prep the underlying helm panel correctly. I forget how many full-time designer/draftsmen Teak Isle employs, but it's a whole team. President Pat Brown has also described the remarkable variety of manufacturing runs the company completes every week and how hard they work to keep all the parts, designs, brands, etc. databased.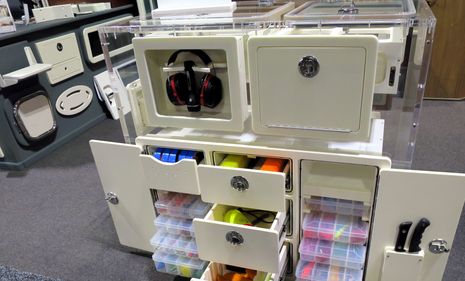 It's those databases that make the company's retail Boat Outfitters division especially useful. It's quite possible that your boat is covered and that you can easily find replacement doors, drawers, hatches, hinges, etc. You can also order a semi-custom electronics box and there are lots of interesting standalone items like several Qi charging stations.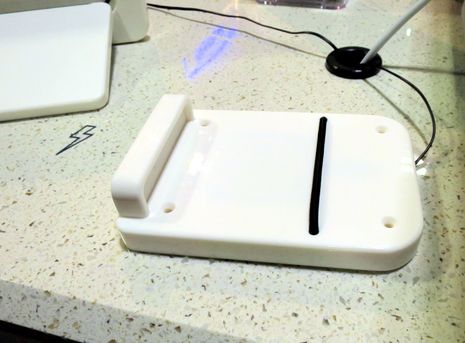 Above is an unmounted Teak Isle/Boat Outfitters upright phone charger being demonstrated at IBEX. The nearby lightning bolt symbol is how the company marks a Qi charger location when it's not obvious. Teak Isle can build the LG TechTop charger into most any panel material (except Corian, apparently because LG also makes the directly competitive HI-MACS counter material seen in these photos). Note, too, that so far the inductive transmitter only works with AC power and should be protected with a GFCI outlet (according to the Teak Isle FAQ). Qi charging is probably less power efficient than a direct USB connection, but I can't find any detail on that and Pat Brown said it's minor.
When you consider how many human hours get sucked up plugging USB cables into phones and tablets these days, inductive charging seems quite attractive. And the Qi standard seems more and more doable. Samsung, for instance, offers a Qi compatible case for my Note 4, and evidence mounts that the Apple Watch has Qi built in. Heck, Ikea just introduced Qi charging tables and lamps and the Riggad work light I like is just $80. There are also a lot of 12v Qi chargers available, though none look as yachty and solid as Teak Isle's.