The Geonav writers event, part 2 at last!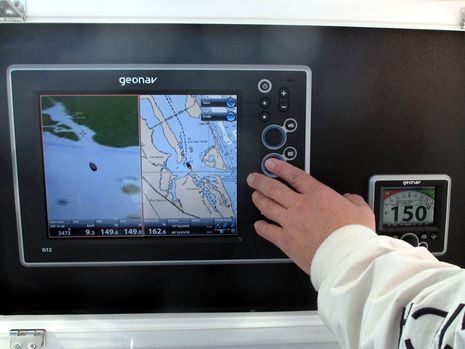 In January I wrote about the impressive business story behind Geonav, but I neglected to follow up on the products I saw demoed in Florida. It's true I was disappointed that the GIS Series and MID 110 weren't ready to show yet, but it was interesting to see the G12 MFD and the GSC 110 autopilot above in action. Note, for instance, the Jeppesen C-Map 4D cartography on that screen above, NOAA raster layer included. I've waited a long time to see 4D on the water and my first impression was quite positive. Following are more images and impressions…
Above is more C-Map 4D on the G12, the screen here split between top down vector and raster views. Panning and zooming seem fairly fast and smooth even though the G12 software was still Beta. Note too the readable data windows.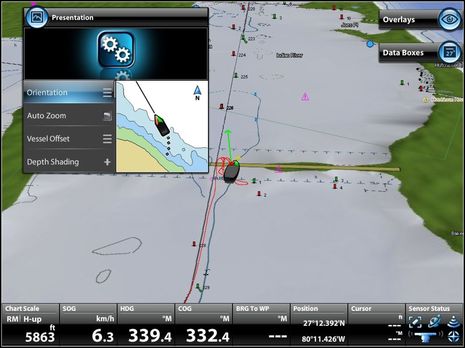 This screen shows some of the "Blue Logic" interface Geonav is developing. The dialog box upper left is illustrating possible changes to the (window) Pane set up while the two soft key labels/icons upper right offer alternate Pane Manager dialogs. The interface seemed like it be would fairly easy to learn and it looked snappy, I thought. You can download the G12 Quick Start Guide here to learn more…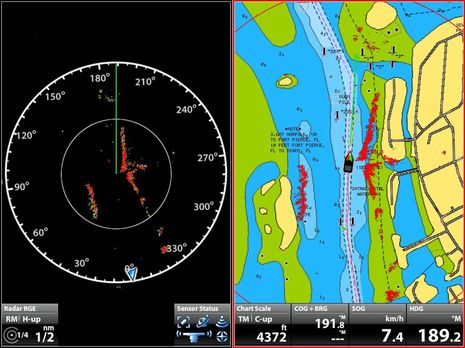 And here's what the G12 looked like when rebooted to a Navionics Platinum card, which didn't take long. Geonav calls the feature DualFuel Cartography and so far they're the only MFD manufacturer to offer it with the "sort of" exception of Furuno, which has both C-Map and Navionics core data for NavNet 3D, but went their own way with the extras available on Platinum+ and 4D cards. We were also running a Geonav GRH 44 radar during this demo and while it doesn't have the feature set seen on some other "HD" sets, it wasn't bad…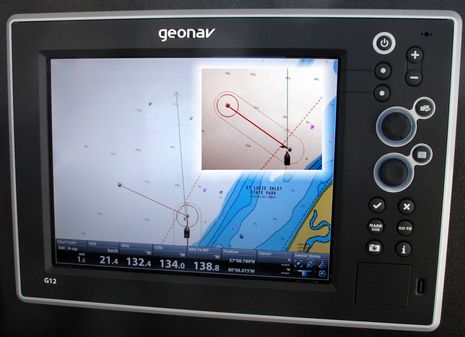 But I don't think I've ever seen autopilot behavior illustrated on an MFD the way the G12 and GSC 110 work together. What you're seeing on the main screen above is a defined cross track error lane and alarm circle at the target waypoint. The inset shows how the graphic switched over to the next waypoint before the pilot began its turn. I'm not sure how this AP behaves when you dodge off the track line and then re-engage a go-to waypoint — discussed at length here — but these graphics suggest that the helmsperson will be well informed.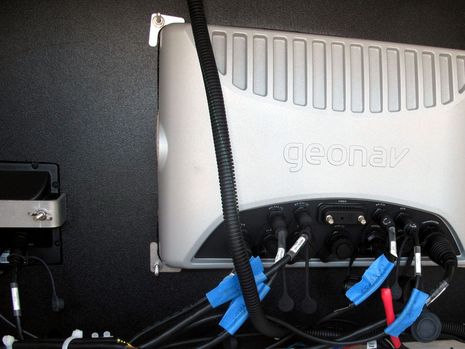 This final booty shot shows nice industrial design and a lot of connectivity on the G12, though all those serial ports are needed in part because the stand alone (with built-in fishfinder) G12 doesn't have NMEA 2000 like the networked GIS Series will. Note too the cut out and bracket for the autopilot head at left. It installs exactly like
the MID 110
I'm about to test on
Gizmo,
and, while it and the AP have beautiful high res color screens, I wish they were also designed for hole saw and face fastening installation like most modern instrument displays. Is anyone else out there trying Geonav gear? Also, if you have questions about it, I think Geonav will be visiting me soon.