The SA 7,000 mile test sail, and TackTick mystery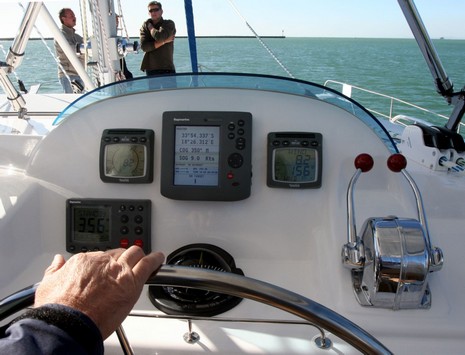 This is the helm of a Robertson and Caine Leopard 46, sometimes thought of as the Moorings Leopard 46 since this huge charter company is the builder's main client. R&C is the biggest boat shop in South Africa, 14 hulls under construction when I toured the other day, one being launched every six days (the pressure was palpable). The boat above was just commissioned and may already have left on a 7,000 mile delivery to a Moorings base in the Caribbean. The electronics surprised me in two ways:
* The plotter is the same damn Raymarine RC425 I was disappointed to find on an older Moorings Leopard 42 last winter. I didn't even think this unit was still available. I guess its presence speaks to how easy it is to navigate where this boat charters, and how unwilling the actual owner is to put better gear in the hands of charterers.
* But that doesn't explain the TackTick wireless and solar powered instruments (bigger helm shot here). Apparently the Moorings has specified these on all new boats, and no one could tell me why. I think TackTick gear is very cool, but am really surprised that the Moorings would want to deal with another supplier, and more expensive gear at that. Anyone know the story?
Long distance deliveries, by the way, are part of South Africa's boatbuilding success. The young man on the bow above has logged 35,000 miles already this year, and the hand on the wheel belongs to R&C's delivery manager who's talking daily via Iridium to at least two vessels bound to the Caribbean, West coast of Mexico, Med, Australia, somewhere. It's quite possible for owners to join these trips. In fact, Admiral Yachts, which specializes in cruising cats for Americans, includes with every boat sale a pair of plane tickets to Cape Town, two weeks in seaside apartment while your boat gets launched, and then the services of a pro delivery captain/instructor to get you to the Caribbean. That's the story in the photograph below, bigger here, as Harlin and Brenda Allen watch their Admiralty 38 Banana Split leave the factory. Look for them in Trinidad in about six weeks. It was a pleasure meeting them, and we all enjoyed the South African expression for "wide load". Aren't all boats Abnormal Loads?