Life next to the Fast Lane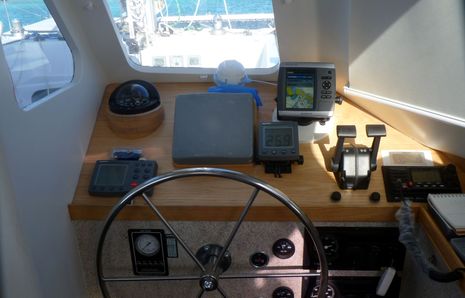 "Or how I gave up a boat load of electronics and learned to be happy sailing with just two gadgets!" is the subtitle of this guest entry by the good Sandy Daugherty. And while it may set a new length record for Panbo entries, I think you'll agree that heavy cutting would have been foolish. The man's got a story to tell, and he tells it well. Over to Sandy…
My old cat is loaded with N2K everything from the mast to the keel, with MFD's that display everything everywhere including under water and over the horizon. It stayed home, and I sailed off to the Bahamas in a boat with just two modern gadgets. Siesta is a Chris White Atlantic 42 catamaran, and she is everything people have said about the marque, and more. A light dagger-board catamaran with a forward cockpit, generous sail area and sparkling performance. But she is ten years old, with dated Raymarine instruments and radar. She had a Garmin 182 and MaxSea for navigation.
My partner in the Boat is Old School; I think he would be content crossing oceans with an astrolabe and a sun stone. I barely managed to talk him into a current chart plotter and a DSC radio. I chose a Garmin 545 chartplotter with an XM Weather receiver, and Standard Horizon's Matrix AIS VHF Radio at the inside helm, and a Garmin 78sc at the helm. Installation was simple, after I spent a half hour on the phone with a very knowledgeable and kindly Standard Horizon Technician who helped me work through a Senior "DOH!!!" Moment. Or two. So, with a fearless crew and sufficient trepidation, we took off on my first Blue Water adventure.
The plan was to join the Caribbean 1500 as part of a group stopping in the Bahamas. Our eventual destination was George Town in the Exumas. We were still bolting in safety equipment the day we were supposed to start, but we got under way finally at three in the afternoon, with gray skies and blustery winds in advance of Hurricane Tomas. We were thinking about sailing overnight to arrive in Hampton on time, but the weather cautions on the VHF were, er, CLARIFIED by the XM weather display. There were a lot of shocking colors across our path. Wisdom being the better part of valor, we ducked into a convenient marina and tied up for the night as a string of thunderstorms marched through the area. The NOAA forecasts say they are out there but the XM weather depiction says exactly where. Two points for good decision number one, with a lot of help from my two little friends.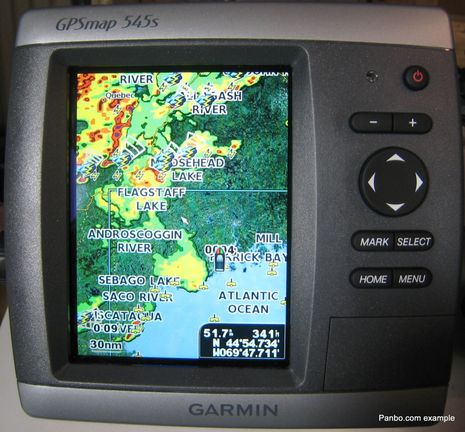 We departed the next morning well rested and more than a little pleased with ourselves for being so wise. Sails up, and a broad reach down the Bay was great until another Technicolor image started creeping up on our path. We started checking the cruising guides for a place to duck into, and scrolled around the chart plotter's display, and discovered a likely looking spot that was only casually mentioned in the guide. But it had two advantages: Garmin said it was deep enough, and that we would get there in daylight. Good decision number two with the help of my little friends. There was an AIS signal from inside this hurricane hole, and that made it easy enough to call and ask about local conditions. "Come on in" they said. We set the anchor as Mother Nature set the sun, were warned by a few big fat rain drops, and retreated to the Salon as the skies opened up, and the rains came. The winds clocked around twice during the night, but the anchor held. Trees were blown down a quarter mile away, and the little 5″ Weather display indicated that the worst of the thunderstorm passed within a half mile of us. Ho Hum, Dinner was uneventful.
Out before dawn, we set off for Hampton in occasional drizzle and fluky winds. The AIS reported we were meeting a US Naval Warship, but we never saw her on the radar. She materialized out of the fog and haze moving majestically in the opposite direction, all haze gray facets of radar defeating panels and structures. Silent thanks to my little friends, that Ship never registered on my radar!
I had spent two days trying to short-cut my way into using MaxSea without the books and got nowhere. I kept going back to the Garmins because I had been using their interface thru a number of iterations, and was comfortable. I knew that I could stay safe without cracking the book, and could learn any new features very easily because the Garmin approach and feel was familiar.
We arrived but missed the fanfare. I'm sure they had arranged for a band, dancing girls and television cameras in honor of our achievement; we had made it from Annapolis to Hampton. I should have called ahead with our ETA. We managed this magnificent accomplishment with two Garmin GPSmaps, a Furuno numbers-only GPS, a big laptop with a complicated software package, a hundred pounds of charts, chart books, cruising guides and guides to the guides, and a Motorola Droid with Navionics. Oh, and a medium laptop with Coastal Explorer, and a netbook with CPN and some charts on loan from certain unidentified internet sources. I can safely say that at any given moment I knew where we were, most of the time, until…..
A word on networking non-networkable devices. Consider my logic: Garmin has a PC software package that can upload and download routes and waypoints to and from various devices, right? I mean, you can put routes and waypoints on an SD card for the 545 and you can connect the handhelds via USB, right? So it should be easy to put the same routes and waypoints on a 545 and a 78sc, right? This is a multiple choice question; the answers are
A. not if the power / data cord for the 78 gets salty
B. not if the SD card reader develops a bad connector
C. not if the laptop with HomePort quits on the second day for no apparent reason
D. even if you later ship it off to the Lenovo Hospital and they send it back saying nothing is wrong (and it now works)
E. You got it! All the above.
Did I mention that the high power WiFi antenna that worked fine in Annapolis, Maryland completely packed it in Hampton Virginia? No? Well it did. It probably had something to do with State Jurisdiction, or the Oyster Wars, or something. So cruising the internet for help and leadership was out. And I couldn't get email on the Droid because my credit card info was stolen, a new card issued, I didn't tell my provider who cut off my email. Just normal stuff.
The Caribbean 1500: this should be a separate chapter in my life story, and be mentioned in my epitaph, somehow. If you walk into this Frenzy stone cold, it can be alarming. Meetings, briefings, parties, get-togethers, inspections, and a very long list of things I didn't have aboard, that could only be found at West Marine for a terrifying total but you had to go to three different stores to get it all together, and then you had to mount it! And I'm terrible at delegating. But it all got done: the life raft arrived and got mounted, the Man overboard Pole got assembled and mounted, the magnetic compass got swung, the autopilot got reintroduced to the hydraulics, the life jackets got flashers and whistles and bells and bangles, the raw water impeller got replaced, and so on. Mother Nature was so amused by this circus that she threw in a Hurricane just to prolong the show. We waited four days before the Bahamas bound boats were gathered up and sent to…. Charleston! Not Marsh Harbor. The THEORY was that we could run down the Inshore Current by sticking close to shore and going to Charleston to wait for a favorable weather window.
This was my first real taste of offshore. But we had waited so long, and worked so hard getting the boat ready that we were going to go for it even if the other engine quit (I didn't mention one engine quitting before? Piffling details.) And it did, an hour and a half out of Hampton. But we had sails didn't we? I consulted my little electronic friends but they didn't object, so off we went.
It was the aftermath of Hurricane Tomas. He was chased up the Eastern Seaboard by a ferocious high that had meteorologists screaming in their sleep. The ocean looked like the view into an old-fashioned washing machine with a load of greasy jeans. Sorry, I wax poetic at times.
The Gulf Stream goes north. The Inshore Current goes south. The winds go crosswise, and the mid-ocean rollers join the party at a line that just coincidentally coincided with our course. Wind and wave limited the heading, and the lack of one engine limited the controllability of the vessel, so the most manageable direction was down wind, with a main at the third reef wing and wing with a Genoa furled to the second reef. Seven knots kept us in company with the other boats; one turned back.
As we all know, and Wikipedia reminds us, The Benjamin-Bona-Mahony equation has improved short-wavelength behavior, as compared to the Korteweg-de Vries equation, and is another uni-directional wave equation with cnoidal wave solutions. Further, since the Korteweg-de Vries equation is an approximation to the Boussinesq equations for the case of one-way wave propagation, cnoidal waves are approximate solutions to the Boussinesq equations. So sailing in this stuff is bad mojo.
Through it all, Siesta took it very much better than her crew, but we were all well dosed on Bonine and no one got sick. In fact, I think we rather relished the challenge. However, the wind abruptly died as we arrived at the entry to Charleston, and good decision number three was to avail myself of the fine services of Towboat US. Strange port. Strong currents. Unfamiliar channels with markers lost in the surrounding city lights, one engine. You bet your bippy I was glad to call them! It's already paid for, right?
Another wait. Another test question: what are the three most dangerous things on a cruising sailboat? A clock, a calendar, and a return ticket. My Crew is getting close to the end of their vacations. After three days, the little weather window that appeared to be opening looked a little too inviting, but off we went. The confused seas have moderated somewhat. We plan to arrive at the entry to Marsh Harbor at dawn on the fourth day. We settle into port and starboard watches, and just keep grinding our way thru steep seas and adverse winds to the Bahamas. Several boats in the party have AIS transmitters, and we arrange to stay within reception of the lead boat. Gray skies and cold weather suddenly give way to short sleeves and blue patches! The water changes color, and we are in the stream! We watch the water temps to discover we are in a favorable eddy, and all is right with the world. We could put up more sail but that would get us there in the dark. What the heck, this is working.
Little Miss Garmin predicted a precise arrival, and we met the rising sun at exactly the right place. Try that with your sextant and tables, Mr. Christian!! Arrival was pure theater: one engine quit. We sailed in and at the last moment got the recalcitrant thumper to play long enough to get into the slip and tie up. The skipper lay down on the deck and made a long noise like a dying whale, but he had a huge grin on his face, and became largely coherent within the hour.
The weather closed in that night, all the passes were in rage conditions, some to behold and fear forever. The 1500 boats had departed Hampton days before, and were passing outside the Bahamas when tragedy struck, a boat trying to enter the passage six miles south of us grounded and a crew person was lost, the first fatality in the history of the Caribbean 1500.
Page 83 still waits in Annapolis, her ultrasonic wind sensor and her forward scanning sonar are quiet. She is patient, and knows I will come back and feed her more electronic morsels, delectable and rare. But I have learned that as much as I love being surrounded by buttons and beeps, it is possible to go to sea with a Garmin 545 and a Matrix AIS, get there when you need to, and be safe the whole way. Heck, I would have been just as happy with a 400 series Garmin.
And all that other peripha-nav-analia we had? The Droid kept track of the whole trip on its tiny little screen, but it had to stay inside the whole time. It wasn't a phone past 25 miles out. The Netbook wouldn't charge and quit on the third day. The medium laptop went on strike as mentioned above, and I never got the big Nav Sea machine to do more that receive sailmail and play spider solitaire. The purpose-built, marinized Garmins and Standard Horizon radio never batted an eye, but XM weather suffered frequent lost signal in the south eastern Bahamas.
How about bad weather in a forward cockpit? There were moments when the bows bounced nine feet going into and over some of those Gulf Stream Elephants. That was what it took to get a bucket full of spray in the face. I've gotten much wetter sitting on the high side of a big monohull. Then when it was raining you got rained on. That's all. That's the total price paid for being able to see the sails, all of the sails, and to feel the wind the same way the sails feel it. Your decision.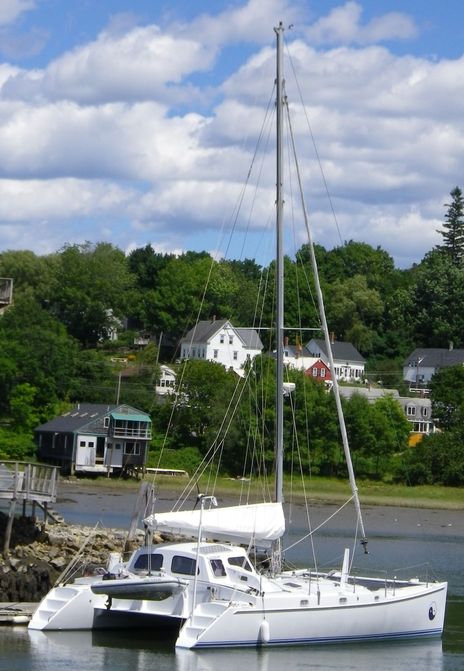 This first-time guest entry was written by Sandy Daugherty. How about a big round of Panbo plaudits!