Triple eye candy, the NVTi 5000/6000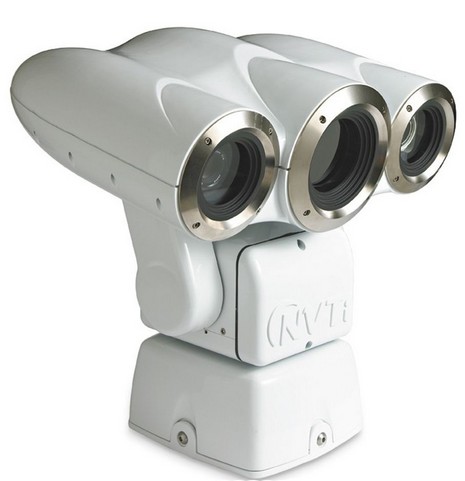 NVTi's new 5000 and 6000 series multi-camera night vision gear got a nice mention from an interesting blog called Core77, which noted how the industrial designers behind the striking look above did a study of the yacht aesthetic which led them "to embody notions of speed, precision, durability and sex appeal as the camera's key characteristics. The camera head, consisting of a brilliant white aluminum body and tungsten rings, and its motor base are separated, allowing the unit to appear sleek, agile and vigilant on the deck." (Which happens to be my personal on-deck goal as well.)
It's funny to see this baby and the company's now rather plain-looking earlier designs all lined on NVTi's product page. From there you can also find out about the various improvements the company has made on a technology that had already impressed me quite a bit. You can get wider field of vision on the thermal cams, yet more zoom on the low lights, plus 2-axis gyro stabilization on the whole shebang, and—very cool—the ability to lock onto a target selected off your radar screen. "…be it a floating container or another vessel, the cameras will automatically track to that location. Locking onto the object, the cameras will follow it until the craft passes by safely." I'm guessing that this feature uses MARPA, but I'm not sure; there's a picture, none too great, below, and good tracking videos here. All nice, but do note that this new design starts at $73,000.