Vesper Marine 2012, WatchMate Vision & AIS XB-8000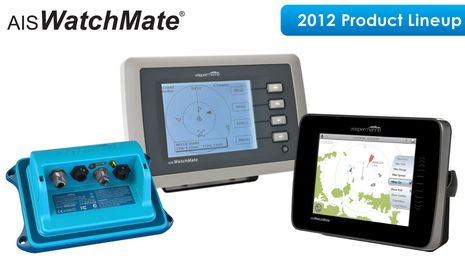 At METS next week, Vesper Marine will be previewing two very interesting additions to its line of AIS products. At left above is the black box (well, blue green actually) AIS XB-8000 Class B transponder and at right is the WatchMate Vision Class B with its sunlight-viewable color touchscreen display. When added to Vesper's existing WatchMate series of monochrome devices — which includes the plain AIS target display 670, the receive-only model 750, and the full Class B 850 — it seems like the company will have a model for every taste. But the two new units have some pretty special attributes…
Both the XB-8000 and WatchMate Vision include NMEA 2000 ports as well as NMEA 0183 and USB. That's nice because it means that the AIS target data can be easily distributed to most any modern multi-function display on a boat, and also because N2K makes it easy for the Class B to pick up heading data off the network. Heading is not a requirement of Class B, but it does make your target look right on other vessel's screens when your boat is stopped.
And both of Vesper's 2012 Class B transponders also contains a WiFi radio, extending the integration possibilities even further. As I understand it, both will work right away with iNavX (for iThings) and Vesper will also offer an app "which has deeper integration allowing you to remotely control and monitor (eg. have alarms popup, silent them remotely, mark the anchor, go into silent-mode, interrogate status, etc.)."
In other words, even owners of the black box XB-8000 transponder will have access to Vesper's sophisticated AIS plotting and alarming routines, and its nifty anchor watch function. All of which worked great for me this last season, though I've yet to write a full review of the WatchMate 850 (and now my main complaint — no NMEA 2000 — is more than taken care of).
Another aspect of Vesper's WiFi implimentation is that either the Vision or XB8000 can "serve as an access point so you don't need other hardware" or can "be configured as a normal WiFi client and join an existing network so it can coexist peacefully without requiring you to constantly switch WiFi networks on your tablet/phone/computer." The devices also "support WPA/WPA2/etc. security in either mode."
And did you notice how sexy the WatchMate Vision interface appears? For one thing there's a global base map to help orient your AIS situational awareness, at least when you're near land. Plus there's an app-style touchscreen icon system that you can see below, and which is purportedly usable "even when hands are wet or wearing gloves." Note also the touch gizmo that's just right of the screen, which apparently controls the "WatchMate Wheel" menu that you can see in the top photo. I haven't actually seen a WatchMate Vision, and I don't yet know the price, but I can't think of any dedicated/integrated Class B AIS feature that Vesper left out. Can you?
At any rate, I'd certainly visit the Vesper Marine booth if I were going to METS, and am happy to report that our man in the Netherlands, Kees Verruijt, is going and will report once again on Panbo. Meanwhile, you can find thorough Vesper WatchMate Vision and XB-8000 press releases here.