Victron Color Control GX, more than a power display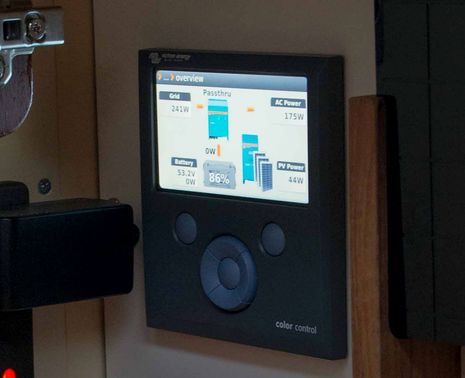 The photo could be sharper, but I like it for two reasons. First, it's confirmation that an ambitious product, which doesn't even have a manual yet, actually works in the field. Second, it's doing interesting work on an intriguing new vessel that has deep Panbot roots. You'll learn much more about the boat on February 4th when we celebrate Panbo's 10th birthday, but today, please say hello to the Victron Color Control GX…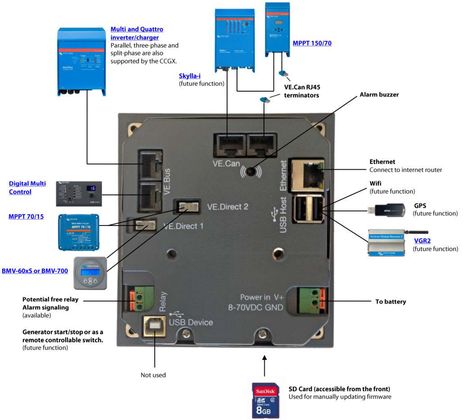 While the Victron Color Control GX may look like just a particularly nice power data display, it is, in fact, a tiny Linux PC with a whole lot of connectivity and a very low power draw. The diagram above, which you'll find in this datasheet PDF, only shows some of the possibilities. Either one of the "VE.Can" ports, for instance, can connect to a NMEA 2000 network with just an adaptor cable. 
By the same token, these screens are just a small selection of what's possible. And to fully appreciate the "overview" power flow graphics check out the Victron blog video that shows the animations. As you learn about the Color Control, you'll realize that it is designed as much for terrestial solar panel installations as for boats, but I suspect that also accounts for its 500 euro retail price (about $680 U.S.) and check out all the boat specific future items — like tank monitoring and integration with electric drives — in this blog entry by Victron principal Matthijs Vader (who called me from Holland recently).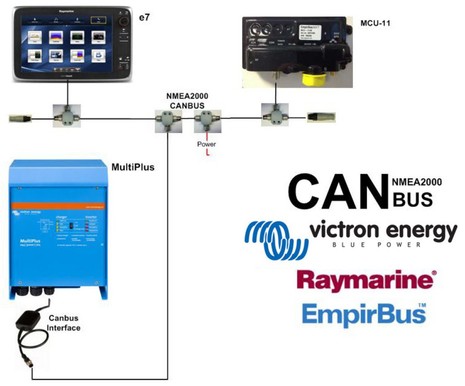 Understanding how the Color Control will eventually monitor tanks requires a side trip into Victron's NMEA 2000 strategy. For the most detail, check out the data communications piece at  Victron white papers. The essence is that even the other two VE protocols supported by the Color Control, VE Direct and VE Bus, can become N2K with the help of Canbus interfaces. That's how Victron integrates with Raymarine and EmpirBus in the diagram above, and also a way I could get the Victron gear on Gizmo talking to both my display network and to the Color Control.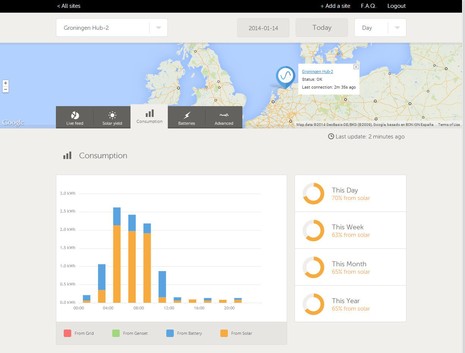 There's a good reason to want the Control Control even if I had, say, my charger/inverter info showing on existing displays, and that's VRM.victronenergy (Victron Remote Monitoring). The Ethernet port (and eventual WiFi) on the GX is there so that it can connect to the Internet when possible, where it will supply a free private site keeping track of your info. You can see demo Color Control installations there now, and obviously, more data is coming as the little PC learns to read tank, GPS and other feeds.
   Victron even hopes to make the Color Control open source so other developers can use it, and Matthijs has apparently already contacted the BoatLogger folks about integrating with their project. He also told me that eventually the device will be able to serve live and historic data, just like the web site does even when a boat is not online. And of course, there is already a mobile app. It's all a bit unfinished at this point, but do you see the bright future I do?